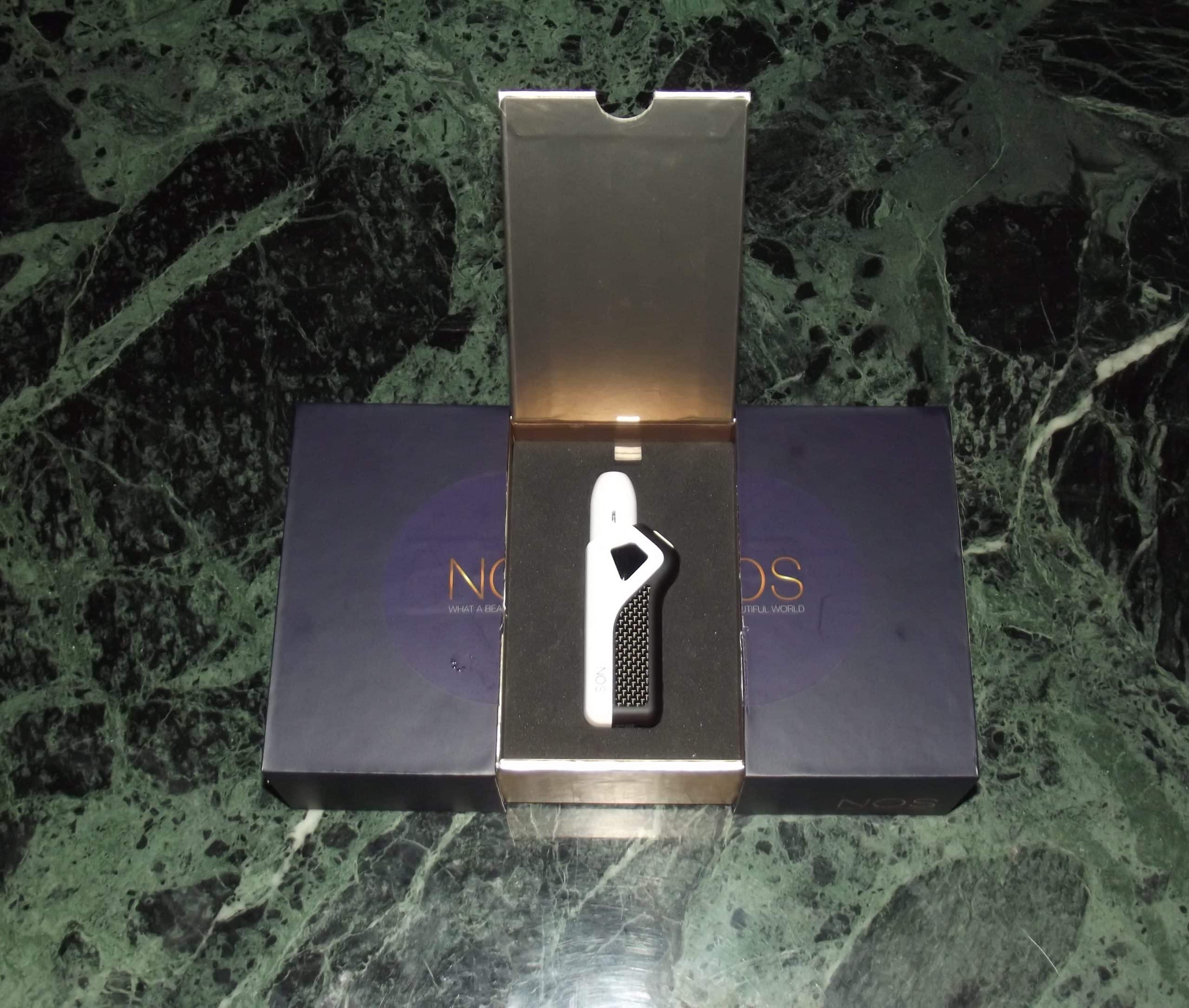 Reading Time:
6
minutes
When Heat not Burn UK launched, we had a real struggle finding new devices to talk about. There was the iQOS, and then there was . . . OK, there was the iQOS, and that was pretty much it. We looked at a couple of loose leaf vaporizers, which turned out to work pretty well with tobacco if you prepare it the right way, but as far as purpose-made HnB devices went, iQOS was really the only game in town.
That's changing now. Chinese manufacturers are starting to come up with their own designs and it's all getting quite exciting. I've already tested a couple of new devices from China this year – the iBuddy i1 and EFOS E1 – and recently I got another one to play with. The new toy is the NOS from Shenzhen Huachang Industrial Company, and like the other two it used PMI's Heets. It also has a couple of interesting features that made me very keen to try it out. I've spent the last week giving it the usual HnB UK test, and now I'm going to tell you all about it.
The Review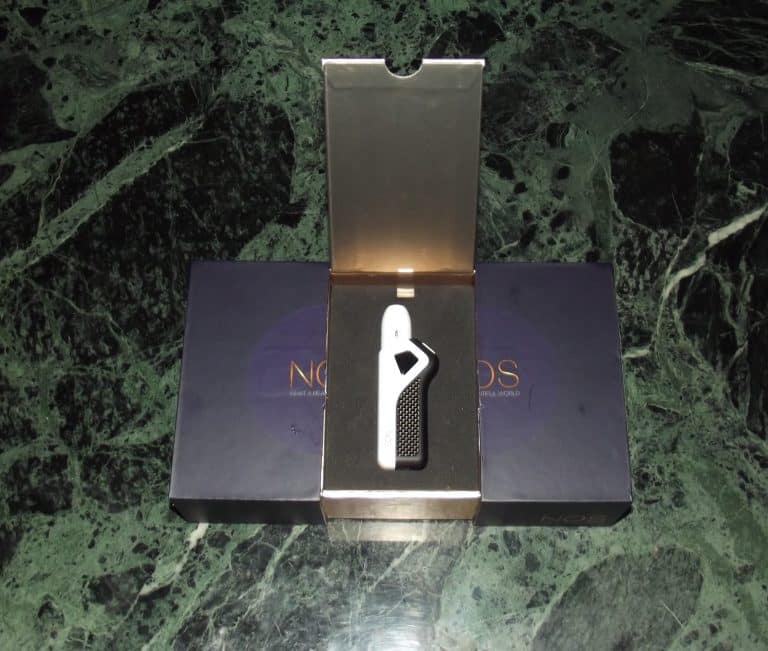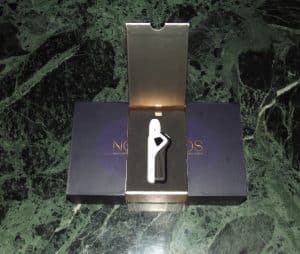 The NOS comes in a sturdy and attractive cardboard box. The outer box is in two halves that were sealed with a sticker; once I'd cut that and pulled the halves apart a flap was revealed, with the NOS underneath in a little foam nest. Lifting the foam out, I found a warranty card and quick start guide, and under those was another layer of foam holding a USB charger and plug, some cleaning sticks and the heating coil, which needs to be installed before using the device.
Once I'd pawed through everything in the box I took a look at the device itself. The NOS is quite small – a fraction of an inch longer than an iQOS, and a lot less bulky than most  of the others I've looked at. Its mostly rectangular body looks like a very small box mod with an oversized iQOS cap attached to the top. Just below the cap the body swells out slightly into a thumb rest with the power button set into it, and below the thumb rest is a small OLED screen and two more buttons. There's a micro USB charging port in the base, and that's it in the way of controls.
As well as being small the NOS is also light. The body is all plastic – there are a couple of panels set into the sides with a carbon fibre pattern on them, but those are just for decoration. However, it seems solid and well put together, with an overall quality feel to it. Inside is a built-in 1,100mAh 18500 battery. The top cap can be easily removed to give access to the heating coil; just twist it slightly anticlockwise and a spring will pop it off. That reveals a well that the coil simply screws into; then simply push the cap back down against the spring and twist it clockwise to lock it back into position.
I was impressed right away at the removable coil. Like the iQOS, the NOS uses a blade to heat the tobacco, but in this case the blade is made of ceramic. That should give it a longer life than a steel blade – Huachang say it's good for more than 5,000 sticks – but does make it a bit more fragile, so don't twist Heets as you insert or remove them; you could snap the blade off. To protect it, the blade is mostly hidden inside the body of the coil. When you fit the top cap to the device its inner tube pushes down a spring-loaded platform to reveal the blade.
Now let's talk about that OLED screen and the two buttons below it. You might remember from my review of the EFOS that it has two temperature settings (one of which is hot enough to char the tip of the Heet), but with that exception HnB devices run at a fixed temperature. The NOS is different. It's the first HnB product with a real temperature control capability. Those two little buttons let you adjust the temperature from 300°C to 400°C in five degree increments, so you can customise your vaping experience to suit your own preferences.
The NOS in action
Obviously I was pretty keen to try that out, so I topped up the battery – it takes less than an hour to put in a full charge – and broke open a pack of Bronze Heets. The first one fitted easily down the end cap, and I fired the NOS up by pressing the power button five times.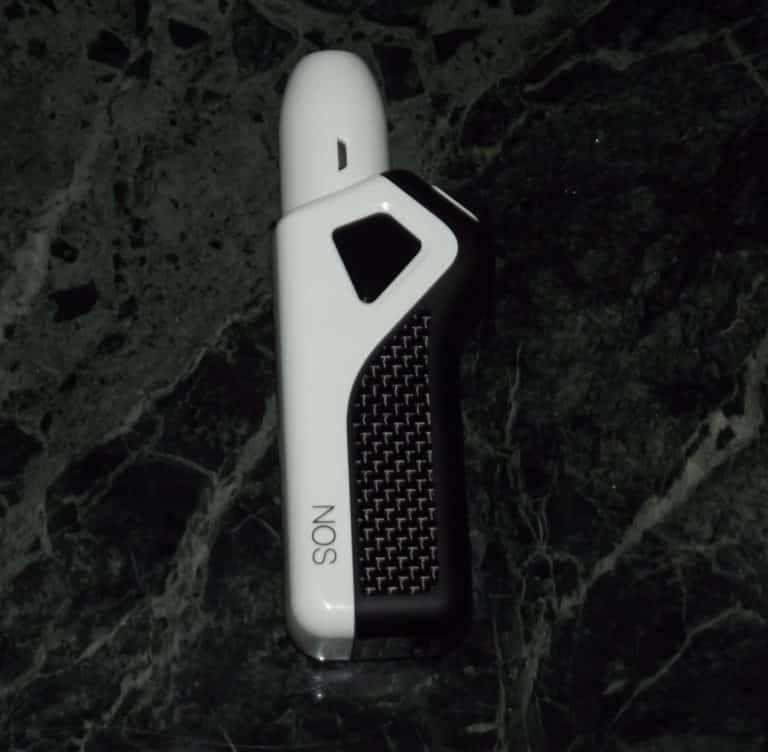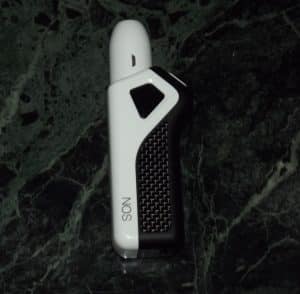 This is where I started to get seriously impressed. The screen lit up and a NOS logo briefly appeared, then the word HEATING. Nine seconds after the last press of the button that changed to WORKING – and so it was. The NOS heats up even faster than the Lil, which is rather nice.
As for how it vapes, I had no complaints there either. The taste wasn't quite as good as the iQOS, and I have no idea why – I was using exactly the same Heets in both devices. There was plenty of vapour, though, and there was nothing wrong with the taste; the iQOS just seems, to me, to have a slight edge there.
Once it's up and running the NOS will work for four minutes or twelve puffs, whichever comes sooner. You'll get a warning buzz five seconds before it shuts down, which just gives you time to grab a final puff.
As far as battery life goes, well, it's OK but not spectacular. A full charge is good for about ten to twelve sessions, and then you're going to have to plug it in. It's not as good as either the iQOS's portable charging case or Lil and iBuddy's day-long power capacity, but it's not actively bad – and it lasts as long as the EFOS despite being a much smaller, neater package.
Anyway, let's go back to the temperature control feature. This is very easy to use. With the NOS powered up, just press one of the buttons to bring up the display. This will be familiar to any vaper; there's a battery charge icon,  large digits show the current temperature, and smaller numbers tell you the resistance and voltage (3.8V and 1.3Ω, I case you're interested).
I ran a couple of packs of Heets through it at the default setting it came at, which was 325°C. Then I broke out another pack, set the device to 300°C and started to work through the pack, clicking it up by 5°C after each Heet. My reasoning was that with 20 Heets in a pack and 5° increments, I could test the full temperature range with a single pack and get an idea of how temperature affected the experience.
Well, I didn't make it all the way. Not even close, in fact. Anything below 320°C was a bit on the weak side for me. Then I hit a sweet spot at 325°C – how it came out the box, in other words. It was even better at 330-335°, but then things started going downhill again. At 340° there was a vaguely unpleasant burned aftertaste, subtly different from the burned taste of an actual cigarette. At 345°C that was much stronger, and I can't say I was sorry when it switched itself off. I wasn't looking forward to 350° very much, and I was right – it was pretty horrible. When the NOS v2 comes out, I'd like to see it going from 300 to 340°C in two-degree increments, because a lot of its current range just isn't going to get used.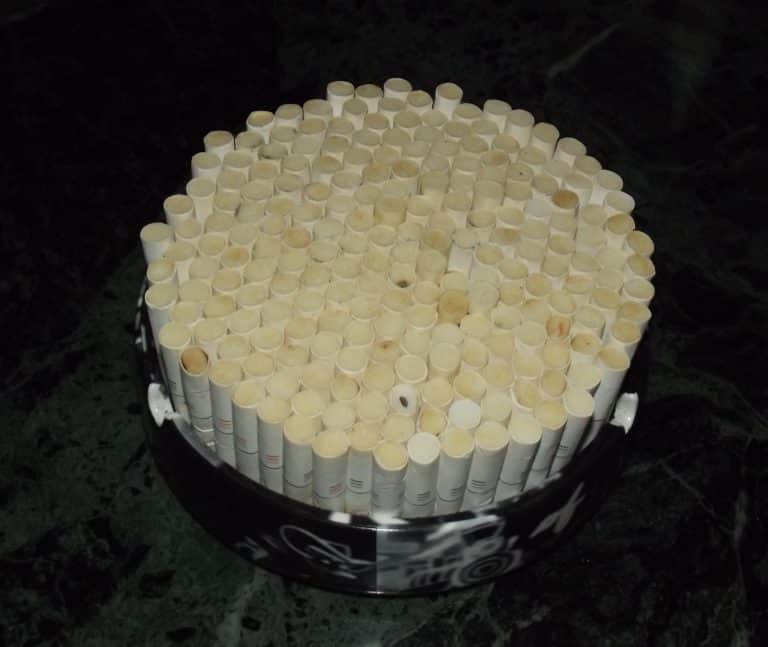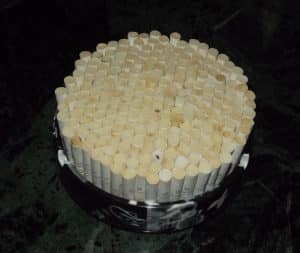 After my experiment in temperature control I dropped the power back to 330°C for the rest of the test, and confirmed what I already thought – at that sort of temperature the NOS delivers a very enjoyable vape. We do give these products a proper test, by the way. A typical review involves at least 100 Heets over several days, so the device needs to be cleaned and recharged several times. This isn't just an unboxing and a couple of quick puffs for the camera.
Conclusions
So anyway, I ran over 100 Heets through the NOS; what do I think of it? Well, I think it's pretty good! Bigger than the iQOS but smaller than everything else I've tried, and with a decent vaping quality, this is a real contender if you're looking for a safer way to use tobacco. The temperature control feature is its real innovation, and while I don't think the current setup is perfect it does start to give HnB users the degree of control over the experience that vapers already have. For a price of around $85, the NOS is definitely worth a look.