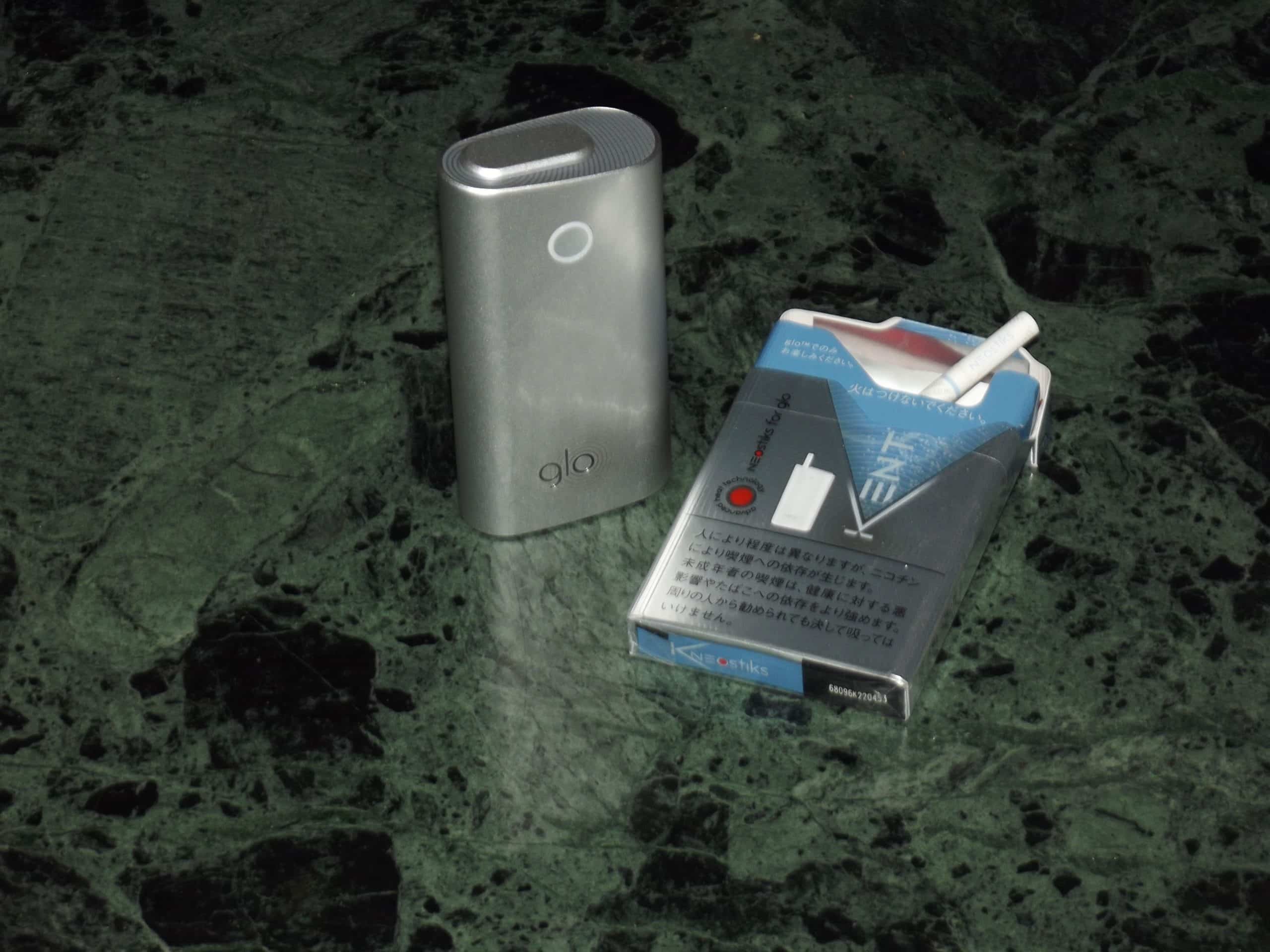 Reading Time:
5
minutes
A couple of months ago we looked at BAT's glo, their stick-fed iQOS rival that's currently being trialed in Japan. It still hasn't been released in other markets, and BAT haven't revealed their plans for it yet, so it could be a while before smokers in the UK have a chance to try it. Just so you know what you're waiting for, however, Heat Not Burn UK set out to track one down. It was a struggle, but last week one of our agents finally managed to get his hands on the elusive device so we can bring you a BAT glo preview.
Because of how our glo was obtained (no, we didn't steal it) it didn't come in its usual retail packaging, so that won't be included in this review. It did come with a full pack of Bright Tobacco sticks to feed it with, so it was thoroughly tested as well as being poked, prodded and generally fiddled with. So what's it like?
The device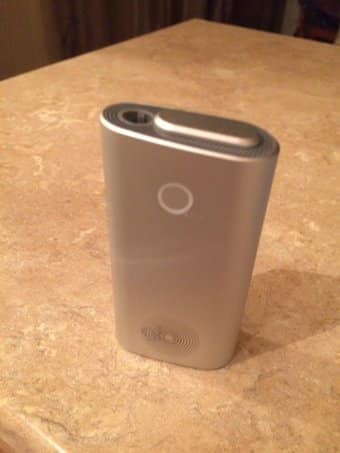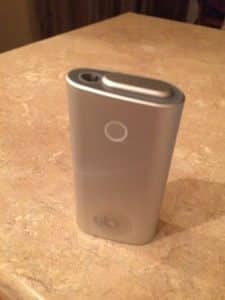 The glo device looks like a small, simple box mod e-cigarette. It's about the height and thickness of a pack of cigarettes, and maybe two-thirds of the width. The aluminium body is rounded on both sides, making it comfortable to hold, and it's not too heavy. It does feel solid and well made, and the build quality looks excellent. The end caps are textured plastic, the metal body has a nice satin finish and there's a laser-etched glo logo on the front.
Looking at the top, there's an oval silver cover. On the bottom is a micro-USB charging port and a small cover that looks like it should open, but was left well alone in case it broke. After some discussion we think that's the airflow vent; there has to be some place for air to flow into the heating chamber so you can inhale the vapour, and we couldn't see anything else that might do that job.
The only actual control on the glo is a single button on the front. Its placement looks odd if you're used to e-cigs; most box mods now have the fire button on one side, because that way it falls naturally under your thumb. However the glo's button is just the on/off switch, and you won't need to touch it when you're actually using the device. The button itself is metal and surrounded by a ring of translucent plastic, which turns out to be LED-illuminated – but we'll get to that.
The Tobacco
Like the iQOS, glo uses cigarette-like sticks which BAT call NeoStiks. Compared to PMI's HeatSticks these are longer and slimmer – almost exactly the same size as a traditional cigarette. Instead of a filter there's a hollow plastic tube, which makes sense – why fit a filter when there's no smoke? The centre of the stick is filled with finely shredded tobacco. Actually it looks like the bottom is, too, but BAT say that's not tobacco. It could be shredded cork or something similar.
In Japan the NeoStiks are priced about the same as normal cigarettes, as are iQOS HEETS. Industry gossip suggests the reason for this is that nobody's quite sure how they'll be taxed yet, so BAT and PMI are both playing it safe. If they end up being taxed at a lower rate the price may fall in the future.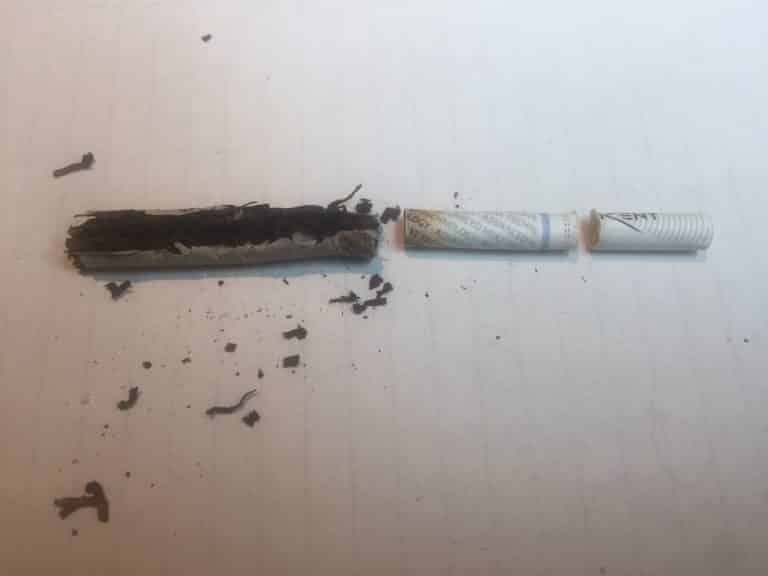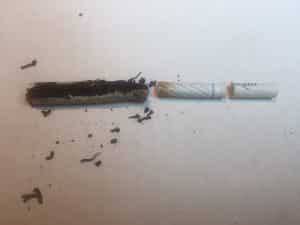 How does it work?
This is probably the part of this glo preview that you are the most interested in. Using the glo is very simple. The cover on top slides to one side, revealing a hole about the size of a cigarette. All you have to do is insert a NeoStik into this hole until it won't go any further. This is quite simple, like the iQOS, as long as you don't rush it.
Once the stick is fully inserted all you have to do is press the button to turn the glo on, then wait for it to warm up. Progress can be tracked by watching the surround on the button; this progressively lights up as the coil temperature rises, the glow of the LEDs advancing clockwise wound the circle, and when the whole thing is illuminated it's ready to go. Just in case you miss that the glo will also vibrate with a faint buzz when it reaches operating temperature. Then all you have to do is take a puff.
So the big question is, what's it like? The answer is that it's very good. Our agent was lucky enough to try the iQOS and glo together, and thinks the glo is just as good at producing vapour and has a slightly better taste. This was a bit surprising, as it runs at a much lower temperature – 240°C, rather than 350°C for its PMI competitor.
Each stick gives about as many puffs as a traditional cigarette, and when the glo decides you've fully vaped it, the device will vibrate again and turn itself off. This seems to be aimed at making sure you don't overheat the tobacco to the point where it starts producing nasties.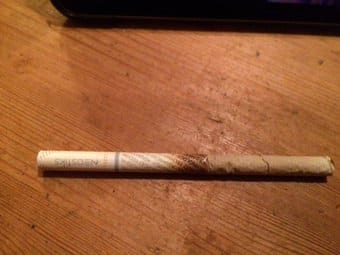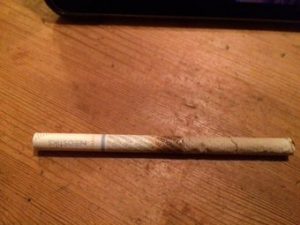 Looking at the used stick was interesting. The heat seems to be applied in a narrow ring, just below the end of the plastic tube. It's hard to say how much of the tobacco is being affected by it. On the other hand it doesn't matter much, because whatever the glo is doing, it works.

Conclusions
The overall concept of glo is very similar to the iQOS, but BAT have taken a different approach to the hardware. Our first impression is that this has paid off. Battery life is much better than the PMI device – although it's hard to say yet if it lives up to BAT's claims of a 30-stick life between charges, because we didn't get that many sticks. The downside is that the device itself is much bulkier, and unlike iQOS you certainly can't hold it like a traditional cigarette.
It does seem to do the job, though. There's a satisfying amount of vapour and the taste is very good. The device itself is simple and well made, and disposing of used sticks is a lot less messy than emptying an ashtray. This is a very interesting product, and if it's released in the UK we think it has a lot of potential. We will update this glo preview at a later date when we do a full review of this device.