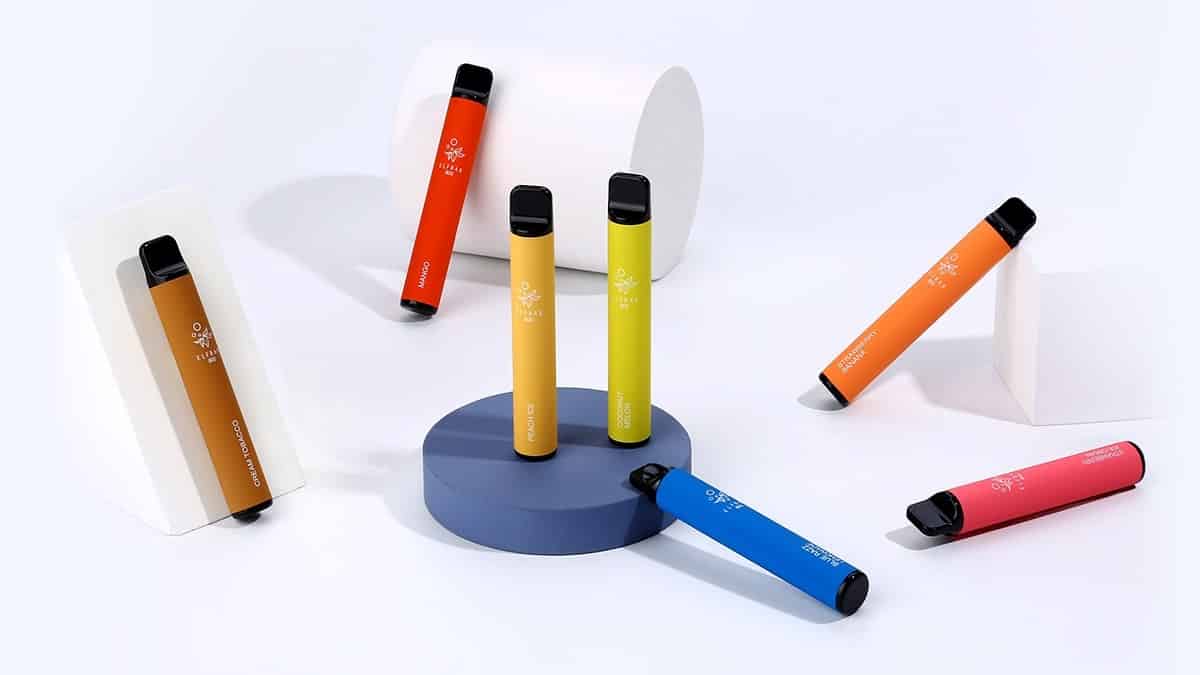 Reading Time:
3
minutes
This is Part 2 of my review of the Elf Bar 600 (Part 1 can be found here). These products were generously provided to me by HeatNotBurn.co.uk in exchange for my honest and unbiased review. Taste is subjective, and your mileage may vary.
Banana Ice – This isn't an Elf Bar flavour that can be compared to a fresh fruit, like many of the other available flavours can. The banana ice flavour strongly reminds me of banana-flavoured candy, with a light chill on the exhale.
Blueberry – This one is a burst of fresh and juicy tart blueberry flavour, with a lingering coolness to it that I wasn't expecting. I'm not usually a fan of single-flavour fruits, but I could easily see this one being an all-day vape for myself.
Cola – When the recipe for one of the world's most popular soft drinks is – mostly – a mystery, making an e-liquid flavour based on it is, well, ambitious. Unexpectedly, this flavour isn't terrible (as most cola e-liquids taste like day-old, flat cola). However, it does fall somewhat short. On the inhale it varies between tasting like root beer and Pepsi. The first few draws also had a very weird overwhelming menthol sensation when you would reasonably expect more of a fizz sensation. Sadly, the varied flavour doesn't last that long with this one ending up more towards being a flat, weak, root-beer.
Elf Berg – This is a take on an already well-established mixed berry flavour and, for the most part, it hits the berry mix perfectly. However, the one aspect of this that is missing is the menthol breeze. Even without the menthol, this is a nicely balanced red berry mix flavour that is both sweet and juicy.
Grape – One of the more simplistic flavours in any line-up, this flavour is – weirdly – one that can go very wrong.True to the flavour name and Elf Bar colour (purple), this one tastes of fresh, slightly sweet, grape juice.
Kiwi Passion Fruit Guava – The passion fruit is the prominent flavour on this Elf Bar. The kiwi and guava are there, but only slightly in the background. There is a juicy burst on the exhale, as if you'd just had a bite of fresh tropical fruit.
Mango – The mango flavour is minimal on the inhale but the Elf Bar line continues to impress with a burst of fresh mango on the exhale and a lingering aftertaste.
Mango Milk Ice – I knew what to anticipate with the flavour being mango, but wasn't sure what was meant with the "milk" label. I now know that it's a custard flavour, and though I'm normally not a fan of custards, I'm impressed with this one. They balance each other out very well, and there's a coolness on the exhale that while leaving you satisfied with the rich flavour it also makes you want more.
Spearmint – This one is quite straightforward, the name tells you what to expect. It is a very strong spearmint flavour, but with something else I can't quite figure out (I thought it was a hint of tobacco but Paul disagreed). Keeping in mind the simple functionality and ease of use of the Elf Bar, I likely wouldn't hesitate to recommend this flavour to someone who is looking to switch/had recently switched to vaping from smoking menthols (as I did).
Strawberry Banana – An unusual combination of flavours here. It puts me in the childhood rhubarb & custard mindset. Sadly, the strawberry is heavily overpowered by the banana that this could simply be called "Banana" and be done with it. The banana, however, is very smooth with a nice, full flavour. But, if you are looking for a strong strawberry flavour, this isn't it.
Strawberry Energy – I've never had a strawberry energy drink (or any energy drink, if I'm being honest) so I had no idea what to expect. There is a pleasant strawberry flavour, along with something I can't quite put my finger on (which I presume is the "energy" bit). If this Elf Bar flavour is anything to go by, I imagine I would probably like strawberry energy drinks.
Strawberry Ice – Similar to the blueberry, this Elf Bar is one of a single fruit flavour that has the ability to stand strong on its own. Tasting of fresh strawberries, it has a slight but somehow also lingering coolness on the exhale.
All of the flavours in this Elf Bar 600 Review Part Two (along with all the flavours in Part One of our review) are currently available for purchase right here in our online store.