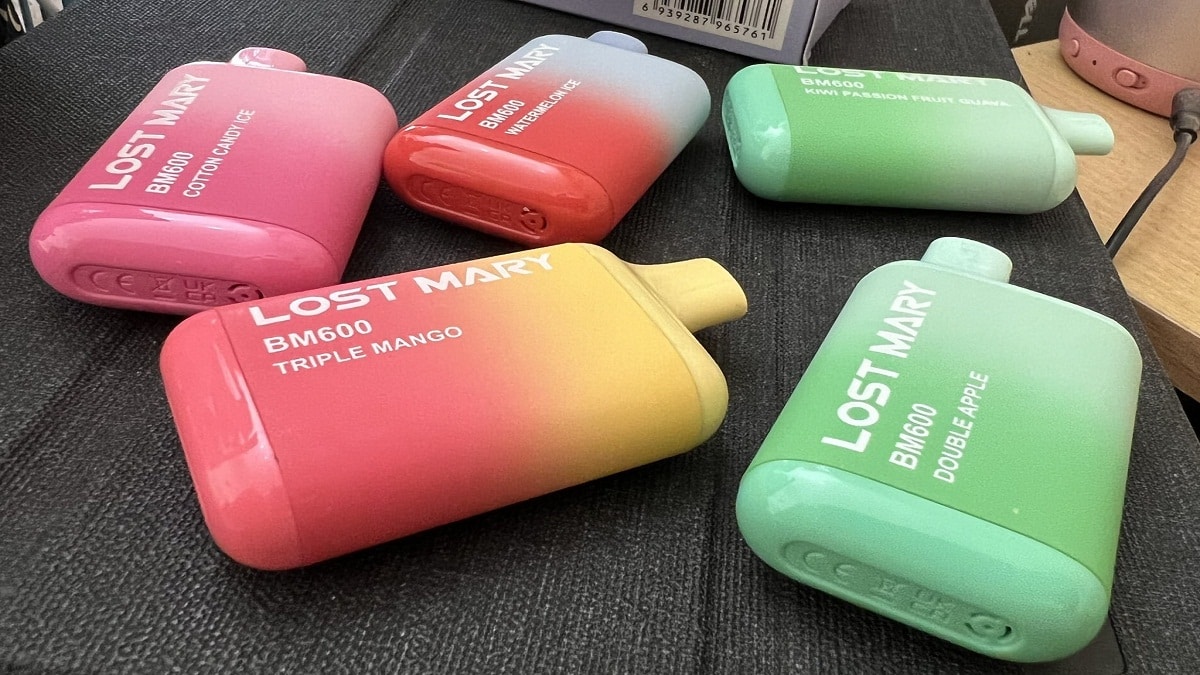 Reading Time:
3
minutes
Elf Bar has released a new line in partnership with Lost Mary, and I jumped at the opportunity to review the line when asked by the fine people here at HeatNotBurn. After looking at the range of available flavours (and based on my previous and overall positive experiences with Elf Bars), I was confident from the start I had another handful of excellence on my review plate.
Unlike other disposables I've reviewed which have mostly had a "bar" shape, these are distinctly "pod"-shaped, small and rectangular (almost square) with a formed mouthpiece at the top left corner. Each device comes in colours that correspond with the flavour (e.g., the Strawberry Ice is an eye-catching combination of shades of pink).
It would seem Elf Bar has made spitback and leaking from disposables a thing of the past, because I didn't have any occurrences of either.
The airflow is on the bottom of the device, and doubles as the spot where a small white LED shines out when it's activated by inhalation. The bars are advertised to contain approx. 500 puffs each, which I found to be consistent. The LED flashes 10 times when the pod is finished, so they probably could have chosen a location for it that's easier to see when the pod is being used. It's also easy to accidentally cover the airflow with your hand if you're not paying attention to how it's being held.
This line was provided to me by the good people here at HeatNotBurn.co.uk for my unbiased and honest Elf Bar Lost Mary range review. Taste is entirely subjective, and your mileage may vary.
Blue Razz Ice – As previously mentioned, blueberry is a very popular starter flavour. With the addition of "ice" (i.e. a blend of mint and menthol), it becomes something completely different. Fortunately, the "ice" isn't overpowering and seems to make the taste very smooth.
Blueberry – Another fruity Elf Bar true to its flavour label, this one tastes like a handful of fresh blueberries. There's also a slight chill on the exhale, which was unexpected but not unwelcome.
Blueberry Sour Raspberry – An interesting flavour this one. Blueberry is, of course, a very popular starter flavour (along with apple) yet raspberry is often left on the sidelines. Despite the name including "sour", I found this to be semi-sweet with a hint of menthol. One that, for many fruit lovers, could easily become an all day vape.
Cotton Candy Ice – I haven't had cotton candy/candy floss in at least a decade so I've probably forgotten what it tastes like. But this one quickly became one of my favourites. It's very sweet and the "ice" part of it gives it a smooth chill throughout.
Double Apple – Like biting into a fresh tart green apple, with a powerful surge of flavour on the exhale.
Kiwi Passion Fruit Guava – The passion fruit is the prominent flavour on this Elf Bar. The kiwi and guava are there, but only slightly in the background. There is a juicy burst on the exhale, as if you'd just had a bite of fresh tropical fruit.
Marybull Ice – Named after a popular energy drink that may, or may not, give you wings (citation, please) this flavour has a fruity, red-berry taste.The addition of the "ice" gives a strong cooling sensation – mostly on the inhale for me, though I suspect it is supposed to be on both inhale and exhale. A solid flavour for those that like an energy drink or six.
Pink Lemonade – I was impressed with this flavour. Rather than tasting of strawberry lemonade (or something completely different) as I've occasionally had, this Elf Bar tastes like a real pink lemonade drink with the added bonus of the tang from a slice of fresh lemon.
Strawberry Ice – The taste of fresh and juicy strawberries paired with an icy chill. Strawberry is a flavour that can easily be done wrong and end up tasting artificial, but that's not the case here. I found this one very easy to like.
Triple Mango – The flavour label is no exaggeration: a strong but pleasant burst of fresh juicy mango.
Triple Melon – A surprisingly good combination of fresh honeydew and cantaloupe, with watermelon sneaking in on the exhale.
Watermelon Ice – Watermelon has been my favourite fruit since I was quite young, so I'm always on the hunt for a good watermelon vape. I was not disappointed by this one, and considering I smoked mostly menthol cigarettes for eight years, the "ice" aspect was a delightful bonus.
We hope that you have enjoyed our Elf Bar Lost Mary Range review, and you will not be surprised at all if we said that we were selling this Elf Bar Lost Mary Range right here on our website. They can be purchased by clicking on this link right HERE.