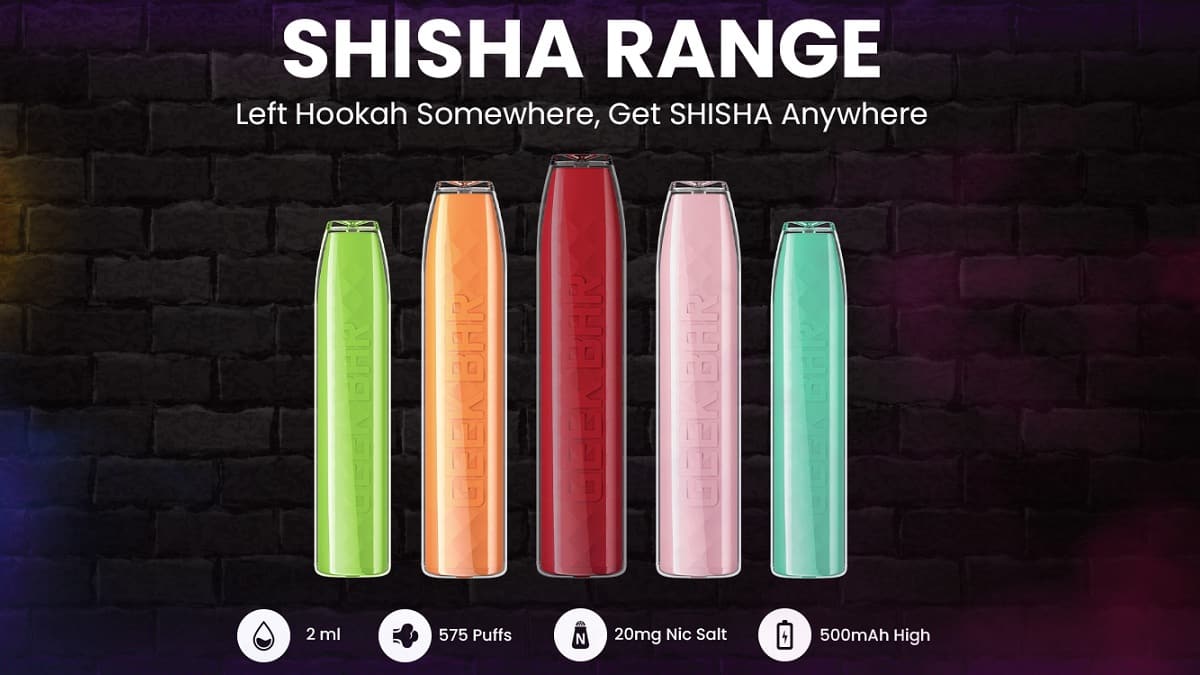 Reading Time:
2
minutes
Being the former owner of a hookah and an occasional visitor to hookah lounges (in a previous life, before my relocation to the UK), I was quite happy to see GeekVape had a new range of Shisha flavours (and even more delighted when they dropped through my letterbox for review). Considering they had already impressed me with their other offerings, I dove in with high expectations and did not walk away disappointed.
Disclaimer: This Geek Bar shisha range review is solely based on my experiences with this range of Geek Bars. Taste is entirely subjective, and your mileage may vary.
The distinct flavour that comes from Shisha tobacco was largely absent from this line, but I have noted how each one measured up in that department.

Geek Bar Shisha Range Flavours
Watermelon Berries Shisha – a well-balanced mix of watermelon and red berries, with a slight addition of Shisha tobacco taste and a surprisingly strong and unexpected chill on the exhale. This flavour was the first of the shisha range I tried, and I was impressed by it.
Hawaii Sunshine Shisha – I was hopeful this would be a juicy blast of fresh tropical fruit, and much to my delight it's the perfect combination of passion fruit and mango. The shisha tobacco flavour was either too light for me to notice or absent altogether, but I didn't particularly mind considering how much I found myself enjoying this Geek Bar. 
Pineapple Guava Shisha – another one that seems to be missing the shisha tobacco flavour, but both the pineapple and guava are present and neither one is particularly overwhelming. I've never been a big fan of pineapple as a vape flavour, so while I did find myself tired of this one fairly quickly I wouldn't be put off from recommending it to someone else. 
Mix Fruit with Rose Shisha – I was a bit surprised at how much I liked this Geek Bar considering I had no idea what to expect with the rose flavour (seeing as I'd never had it before). I can't quite put my finger on what the mix fruit is meant to be, but I suspect it's red berries. If you're not a fan of floral vapes, you'd likely be better off giving this one a miss.
Strawberry Kiwi Shisha – a good balance of sweet strawberry and fresh kiwi, with a slight and short-lived chill on the end. The shisha tobacco flavour in this Geek Bar was again either too light for me to notice or totally absent, but it was still a very good flavour nonetheless. 
We hope that you enjoyed our Geek Bar shisha range review. All five of these new flavours can be purchased right here in our online shop along with our regular Geek Bar and Vampire Vape Geek Bar flavours.