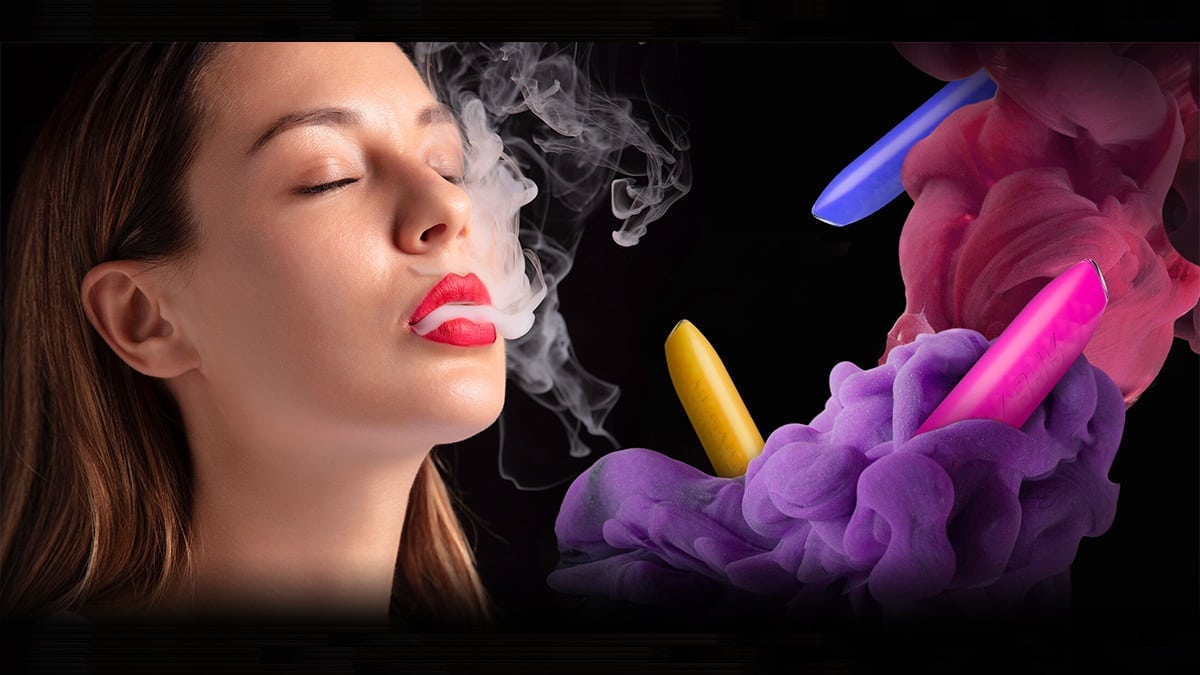 Reading Time:
4
minutes
What follows is Part 1 of my review of the Geek Bar range of disposables currently available for purchase here at HeatNotBurn.co.uk.

It seems that the disposable vape devices are coming my way thick and fast. Not that I'm complaining as there's always something to be said for the widest possible variety of devices. After all, not everyone is the same so why have the same device?

The Geek Bar is 1" wide x 4" long x ½" deep, weighing approximately 25-30g, and holds 2 ml of nicotine salt e-liquid. Each device is coloured in a way that corresponds with the flavour, with the flavour name stamped on one side. There is a small white LED at the end that lights up when the disposable is draw-activated, and the spot where the light shines out doubles as the airflow – also, when viewed from the top of the device (i.e. when in use), the LED takes on the colour of the body. When the device is no longer usable (out of puffs- approximately 575 in each), the LED flashes 10 times. In my testing/use of the Geek Bar, I experienced no spitback or leaking (which is always nice). As with the other disposable devices I've reviewed for this website, disposable vape devices have come a long way since their inception and most are, to be frank, rather surprising.

These Geek Bars were generously provided to me by HeatNotBurn.co.uk in exchange for my honest review. Taste is subjective, and your mileage may vary.
Banana Ice – I find myself continuing on the seemingly endless search for a banana flavour that tastes like a fresh banana, though I think this one is the closest of the ones I've tried. It reminds me of banana candy, and due to what I suspect can be attributed to the limited airflow, the vapour is rich and warm. I can't help but feel they tacked on the "ice" bit as an afterthought (it's present at the very end, and hits the throat quite hard, but doesn't linger).

Blueberry Bubble Gum – This one is a nice balance between fresh blueberries and a piece of your favourite bubble gum. As with other blueberry flavours I've tried, there's a bit of a coolness at the end, but it doesn't take away from the overall balance between the two.
Blueberry Cotton Candy – The immediate burst of sweet cotton candy invokes childhood memories of an afternoon at the carnival. However the "blueberry" aspect is

very

minimal (almost to the point of being absent) so if you're on the hunt for a blueberry flavour, this one is likely to leave you wanting.

Green Mango -This is a strange flavour to try and describe. Mango, by definition, should have either a tropical floral taste or be a tart, citrus flavour. Green Mango doesn't meet either definition. In this case it is almost like an apple flavour with a hint of menthol. It isn't bad, it just doesn't match what you would expect from 'Mango'.
Lemon Tart – this Geek Bar does have a lovely lemon flavour to it, but not quite the "fresh from a bakery" that I expected. If you've ever had a fruity breakfast cereal flavour e-liquid before, you'll

probably notice the similarity very quickly. I can definitely see this one becoming a regular purchase for myself (out of 10, I give it a 9.5).

Menthol – As I've said before, "menthol" is a flavour label that gets thrown around rather loosely. In this particular case, it's a pleasingly sweet mint with a slight lingering coolness on the exhale.
Passion Fruit – This is a flavour that can go disastrously wrong. It can either be bland and near tasteless or it can have a very artificial taste. When done right, however, this is a fruit flavour that is fully capable of standing on its own. Fortunately, this is one instance of Passion Fruit done right. A very juicy and fresh flavour.
Peach Ice – Peach is another one of those flavours that can be difficult to get right. Making a peach flavour that really tastes like a fresh, ripe, peach is difficult. In this case, Peach Ice misses. That's not to say it is bad, not by any stretch. But it tastes like they've tried too hard to make a "fresh" flavour and it comes across as slightly artificial. That sensation isn't helped by the menthol additive. If I had to rate this out of 10, it would only get a 6.
Sour Apple – a flavour loyal to its name, this Geek Bar tastes exactly like a piece of sour apple candy with a surprising lingering coolness on the exhale.
Tobacco – Tobacco flavours are like Marmite for most people: you either love them or hate them, and there isn't really a middle ground. Me? I've not really been a fan. However, Geek Bar has (in my humble opinion) nailed this one. The taste of tobacco is clean and smooth, without anything tossed in there to make it over-complicated. As the draw on the Geek Bar is quite tight, the vapour is nice and warm making the flavour nice and rich.
Watermelon Ice – also true to its name, this Geek Bar is a delicious watermelon with a lingering splash of ice throughout (without being accompanied by the distinct menthol flavour that sometimes invades the label of "ice"). The quick and easy favourite from the lot, I'd happily finish this review off by giving it a 10.


As said before all of these Geek Bar flavours can be found in our online store.