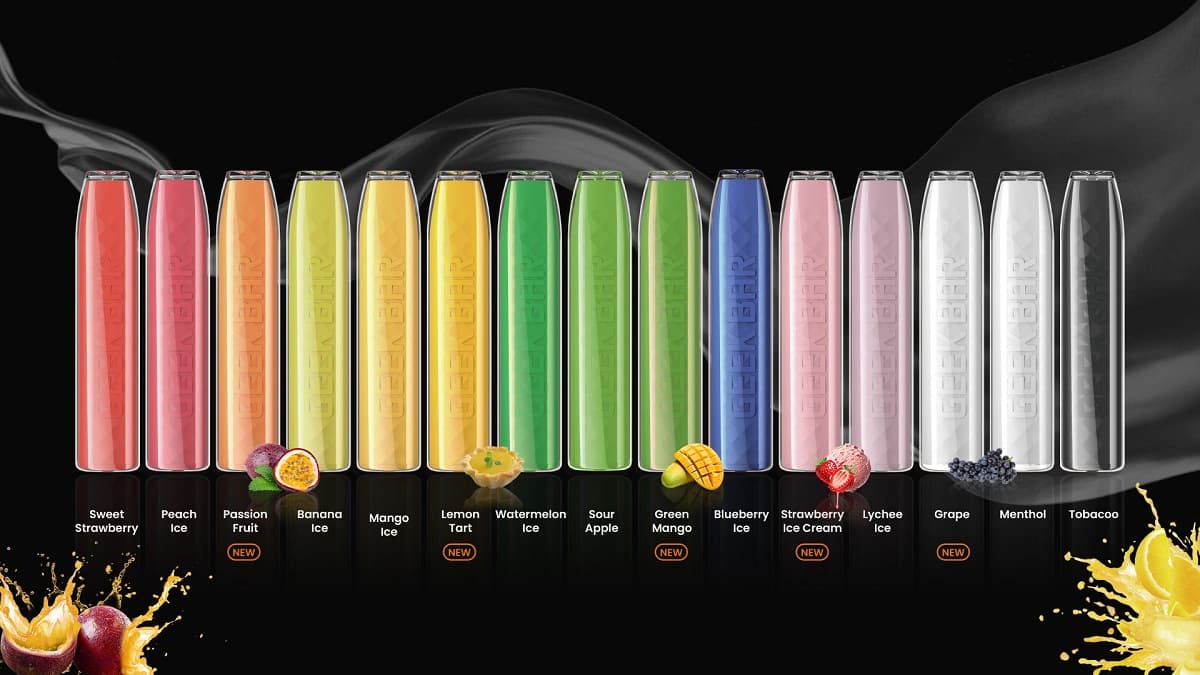 Reading Time:
2
minutes
GeekVape Geek Bar Review Part Two
These Geek Bars were graciously provided to me by HeatNotBurn.co.uk in exchange for my honest and unbiased review. Taste is entirely subjective, and your opinion/experience may vary. Please click here for part one of my Geek Bar review of 11 other flavours.

Geek Bar
Blueberry Ice – Like eating a handful of fresh tart blueberries pulled straight out of the refrigerator, this Geek Bar has just the right balance (albeit quite strong) of fruit and chill to satisfy any lover of both.
Guava Ice – I've never had fresh guava fruit but the wide consensus seems to be that it tastes like "a cross between a pear and a strawberry," which I definitely sense in this Geek Bar. If I'm to judge by that description, the juicy guava paired with the icy chill makes for a delicious combination. 
Kiwi Passion Fruit – the juicy burst of passion fruit (which is a

very

strong flavour on its own anyways) pairs nicely with the mild sweet+tart of kiwi fruit. I'll admit to being a bit surprised that I could taste the kiwi at all knowing beforehand how strong passion fruit is, but I was not disappointed by the end result. 

Pink Lemonade – This Geek Bar flavour sits on the fence between pink lemonade and strawberry lemonade. Having had a few very distinct pink lemonade flavoured e-liquids in the past, I know it is achievable. This one hovers between the two without really being either. I suppose for some it might be enjoyable, but I can't see it being one I'd recommend. 
Strawberry Ice Cream – a definite presence of fresh strawberries with a sweet (and somehow cold) creaminess, however I'm reminded more of the taste of a strawberry milkshake rather than a dish of strawberry ice cream. That slight difference wouldn't stop me from recommending it to someone in search of a strawberry-ish flavoured disposable, as I found this to be one of my favourites from this round of reviews. 
Sweet Strawberry – Strawberry flavoured vapes can be hit-or-miss, sometimes tasting very artificial. That's not the case with this Geek Bar: it tastes of a fresh strawberry without leaving anything unpleasant behind. 
Vampire Vape + Geek Bar
All Day Grape – This flavour has been a difficult one to review. It's described as a "refreshingly sweet and juicy grape flavour with intense ice-cold aftertaste" but for some reason, this isn't the experience I had. The "refreshingly sweet and juicy" grape flavour was muted with little to no "juicy" aspect. There was, however, an intense ice-cold aftertaste – for about a dozen or so puffs. It's possible that the device I received had some kind of fault, but this flavour was a bit disappointing.
Mango Ice – This is an example of an appropriately-named flavour, giving you a bold burst of fresh juicy mango combined with an icy chill. Mango Ice would be a good fit for use on a bright sunshine-filled summer day. 
Pinkman Ice – Described as "a blend of red fruits infused with an icy blast," Pinkman Ice brings a bit of tart cherry alongside raspberry and strawberry. The ice is a good addition to the mix, tacking on a chill without the taste of mint that sometimes accompanies an "ice" label. This flavour presents very light, so if you're looking for a strong icy fruit flavour, you might be left wanting.To buy any of the above flavours please feel free to visit our shop where we have a total of 33 amazing flavours avalable.