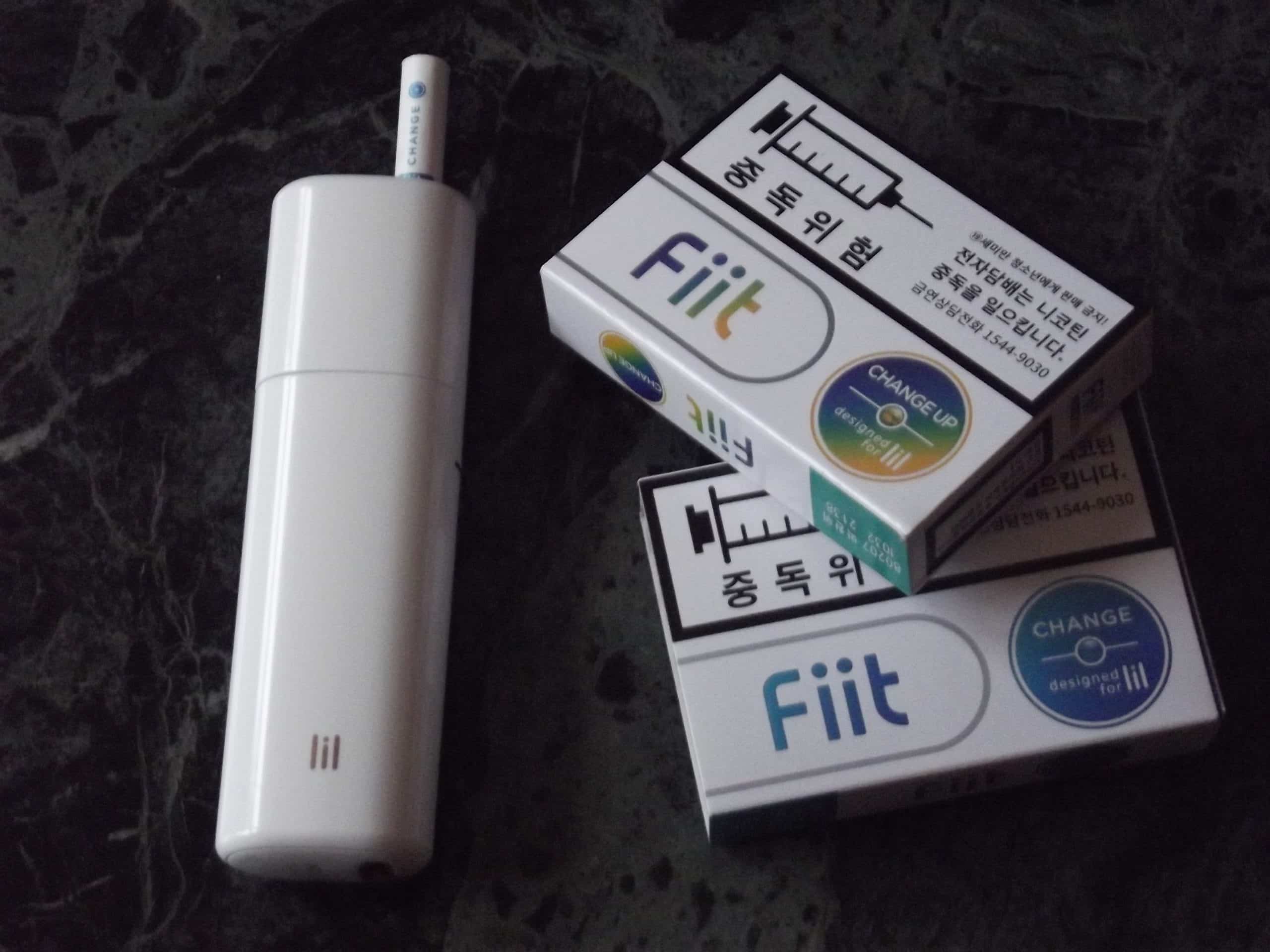 Reading Time:
7
minutes
Last November we posted an article about an interesting new entry into the Heat not Burn market – the Lil, from Korean Tobacco and Ginseng. Since then we've dropped a few hints that we were trying to get our hands on one, and more recently that one might actually be on its way to us. Well, that turned out to be a longer process than we expected. In fact, when it comes to getting things out of Korea, it's probably easier to get your hands on Kim Jong-Un's nuclear secrets than a Lil. We did it in the end, though; the elusive heated tobacco device arrived last week, along with a supply of sticks for it, and since then I've been busy giving it a thorough test.
As you might remember from our first article on Lil – go on, read it; you know you want to – I said it seemed to resemble Glo more than iQOS. I was partly right about that, and partly wrong. It does rely on a fairly beefy internal battery, like Glo, whereas iQOS outsources most of its power storage to the charging case. Where I went wrong is in saying that it heats the sticks externally rather than using a blade like iQOS. In fact it doesn't have a blade, but it does have a spike, just like the iBuddy i1 I tested a while ago, so it's much closer to the iQOS in concept here.
The Review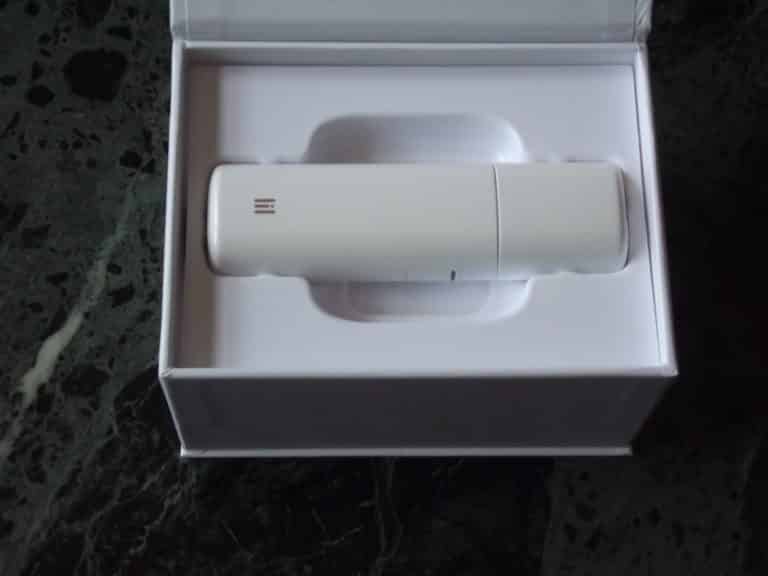 Anyway, the Lil arrived in a smart cardboard box with a magnetically-closed flip-up lid. Inside the first thing you see is the Lil itself, resting in the usual plastic tray. Lifting that out reveals a cardboard flap; underneath there's a quick-start card and instruction manual, neither of which I read (not out of laziness – they're printed in Korean only) and all the bits and pieces you need to get it running and keep it that way. Specifically, there's a USB cable, a plug for it (presumably South Korean, but I stuck it in a German socket and nothing exploded), a pack of pipe cleaners and a rather neat little cleaning brush.
The Lil itself is quite a bit taller than the Glo, but not as wide. Unlike the iQOS you can't hold it like a cigarette, which might be a problem for some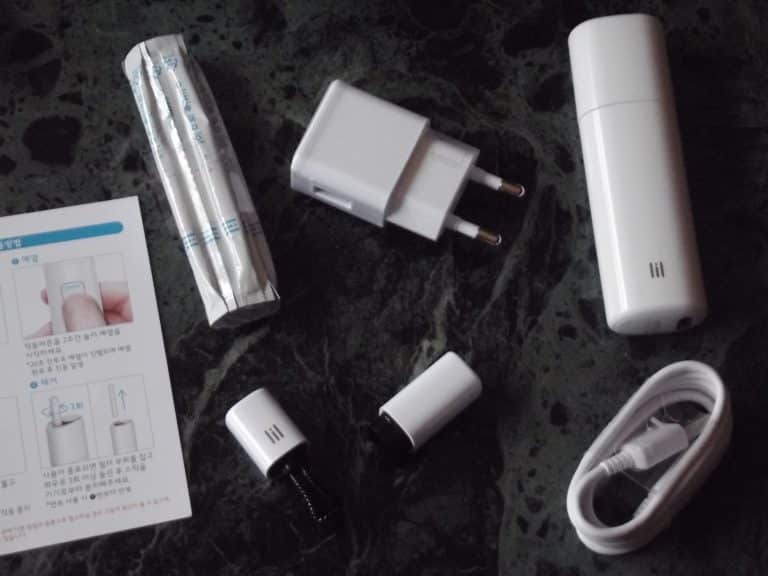 people, but I found it fitted nicely in my hand. The body is made of hard plastic and feels rock solid. It's in two parts; they're held together by a handy sticker explaining (in Korean) that if you twist a used stick a couple of times in each direction before pulling it out, it won't leave the tobacco stuck on the spike. I wish I'd known this before trying the iBuddy, but anyway, if you remove the sticker you can pull off the top of the body and partly disassemble the heating chamber for cleaning.
On first handling the Lil I thought the build quality wasn't up to that of the iQOS and Glo. For example, the top of the body is a piece of copper-coloured metal, and it looks a bit tacky. A slot in it holds a round, very plasticky button which slides back to reveal the heating chamber. After playing with it for a week, though, everything seems solid and reliable; it just isn't quite as polished as its rivals. The only other features on the body are a micro USB port at the bottom and an LED-illuminated power button on one side. A smart copper-coloured Lil logo on the front completes the design. One minor point is that you can't stand the Lil on its base, which is slightly convex; if you try it will just fall over.
Testing!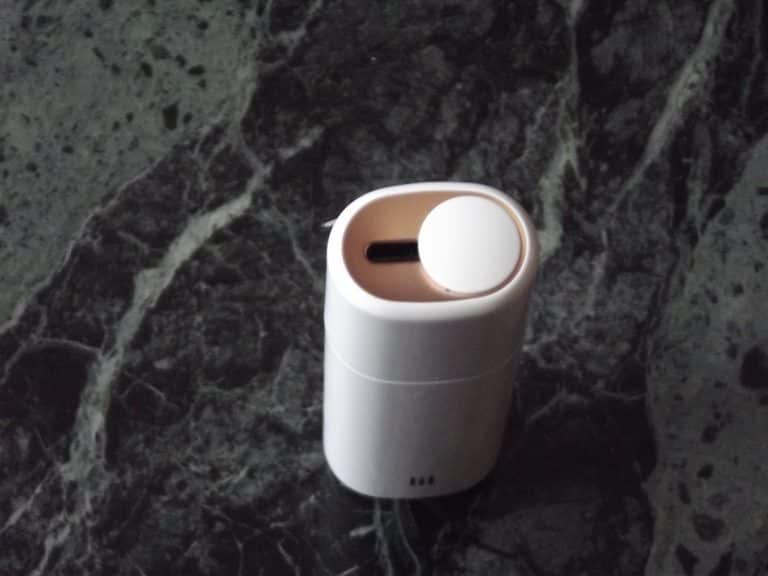 Once I'd finished playing with all the bits in the box, I plugged the Lil in and left it to charge. The LED in the power button changes colour to show the charge level, with a deep blue colour indicating a full charge – which takes about an hour and a half from empty. Once I had the battery fully topped up it was time to start testing it, so I dug out the sticks that came with it and had a look.
KT&G's sticks are branded as Fiit, and I had two packs of them to play with. One was Fiit Change Up with a name in Korean, and the other was Fiit Change Up with a different name in Korean. Externally a Fiit looks very similar to a Heet – I'll come back to that – but the Change Up ones I got have a small plastic capsule embedded in the filter. Leave that alone and they're plain tobacco; crush it by squeezing the filter and they instantly become menthol.
Like its competitors Lil is simplicity itself to use. Just slide the cover back, insert a Fiit into the chamber, then hold the power button down until the device vibrates. After that all you have to do is wait until it heats up to operating temperature. Here's where I started to get excited; the Lil heats up very fast. In fact I had to time it a few times before I completely believed it; this thing is ready to go less than 15 seconds after you let go the button.
The Lil Experience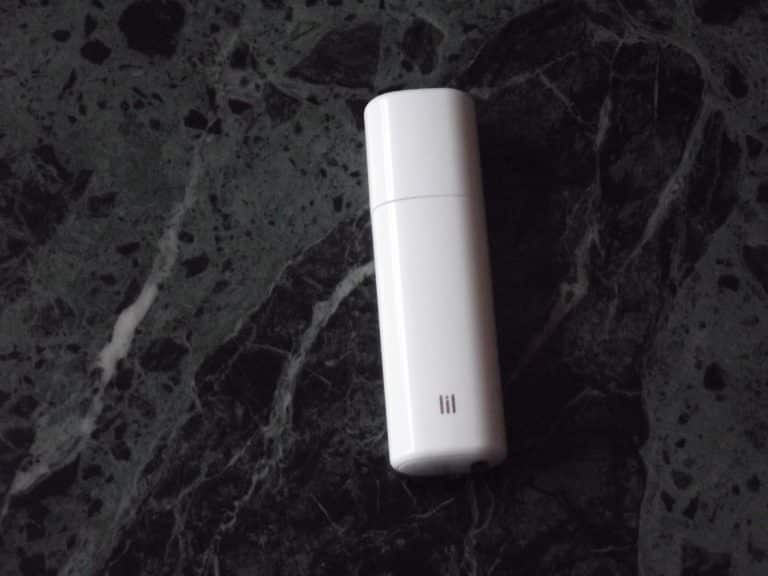 With the Lil warmed up, now came the moment of truth: What does it vape like? Well, I can say that if you like the iQOS, you're not going to be disappointed with the Lil. It's at least as good as its better-known rival; there's plenty of vapour, and it's rich, warm and satisfying. Once the Lil is at running temperature it will keep going for four minutes or (I think) 14 puffs, whichever comes first. Ten seconds before it powers down you'll get a warning buzz so you can grab another quick puff from it.
First I tried a couple of Fiits without breaking the capsules. That delivered a very good tobacco flavour, pretty close to an amber Heet. The flavour did tail off a bit over the last few puffs, but I've learned to expect that. I crushed the capsules in the next few, and got a very cool, clear menthol vape. Sadly I never actually liked menthol cigarettes very much, so I left the rest of the capsules unsquashed, but at least I tested the concept. I don't know what temperature Lil runs at, but from the taste and quality of the vapour I suspect it's similar to the iQOS. I also checked a few sticks after use and didn't find any signs of charring, like I did with the EFOS E1, so I don't think there's any risk of smoke being produced.
Incidentally, when I say I check these things I don't just glance at them and think, "Yep, that looks OK." I have a stereomicroscope, and I take sections of the stick and look at them under it. With the iQOS, Glo, iBuddy and Lil there really are no signs of charring. At HnB UK we take science seriously, and we're happy to do a little of it ourselves.
Keeping the Lil running was also simple. The battery will heat about 20 sticks on a single charge, so if you're not a heavy user it should get you through the whole day. Cleaning was simple with the supplied brush, and you also have the alcohol-soaked pipe cleaners to apply the finishing touches. A quick clean once a day will keep it in perfect working order.
Conclusions
Overall, despite some initial doubts about the build quality, I would say the Lil is an excellent heated tobacco device. It's the equal of iQOS, with its higher battery capacity making up for the extra weight and bulk, and in my opinion it has a clear edge over the Glo, iBuddy and EFOS. The big disappointment is that it's only available in South Korea.
If you do find yourself in South Korea, and you're contemplating buying a Lil, I would say go for it. Don't worry about keeping it supplied with Fiits. Remember I said earlier that a Fiit looks very similar to a Heet? It's also pretty much exactly the same size, and the internal structure is much the same, too. Lil will work just fine with Heets, and I'm not taking a guess about that; I put two packs of Heets through it and they performed flawlessly.
Now here's some more good news. Just six months after this impressive gadget hit the market, KT&G have already released the Lil 2 heated tobacco device. This is smaller and lighter, and also features an even easier cleaning system and upgraded heating element. Initial sales figures are impressive; KT&G say it's sold 150,000 units in its first month, which is three times what the Lil did. With no signs yet of upgrades to its rivals, many Korean HnB users might be tempted to switch to the Lil 2 when their current devices need replaced.
As excited as we are to have been able to review the Lil, Heat not Burn UK are committed to bringing you the latest HnB news. That means brushing off my dinner jacket, ordering a large martini (shaken not stirred), loading my Walther PPK and going in search of the latest heated tobacco technology. As soon as a Lil 2 makes it out of Korea – and we're already on it – you'll read all about it on HnB UK.
The Lil is still not available for sale outside of Asia.