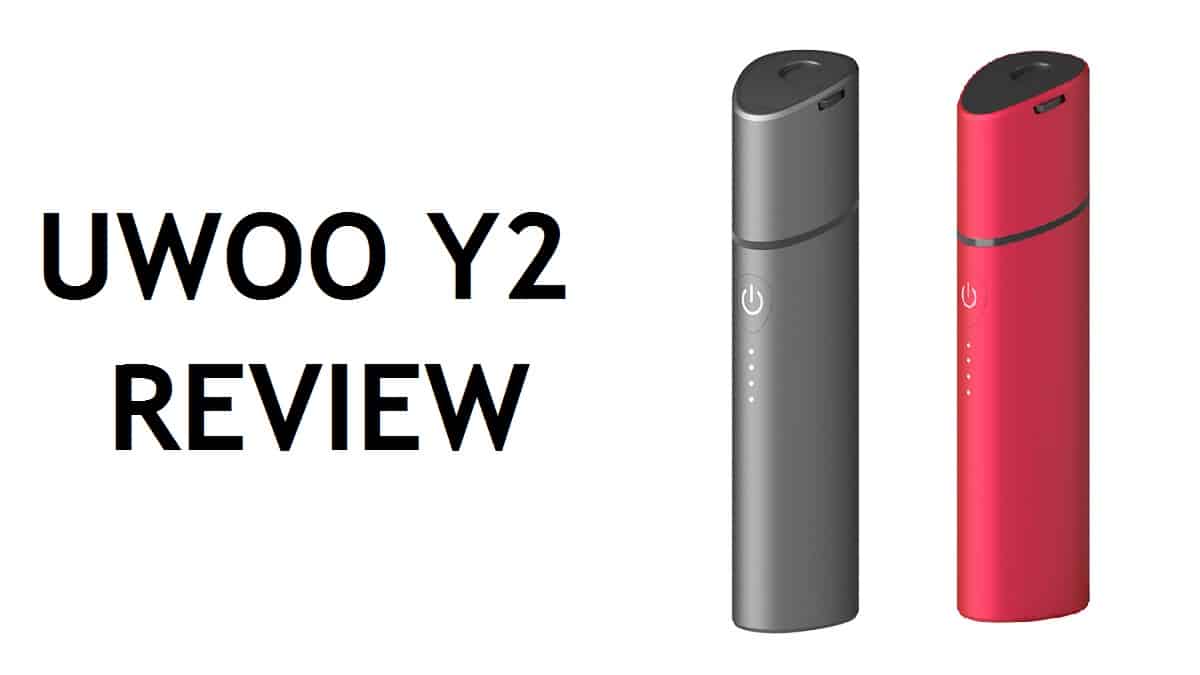 Reading Time:
5
minutes
We have been sent quite a few heat not burn/heated tobacco devices from our great friends at www.uwootech.com over in China in the past couple of years, and we have always found them to be very dependable devices. They have just sent us another one to take a good look at; the Uwoo Y2.
Previous Uwootech devices we have reviewed in the past couple of years here on our website are the Uwoo Y1, the  Uwoo YM and the Uwoo Yowo.
This Uwoo Y2 device is an upgrade over the earlier Ym model and just like the Ym this incorporates the "all-in-one" style of heated tobacco device, where the device is as one single unit rather than a two-piece unit with a pen (holder) and a separate charging case. The great thing about this Uwoo Y2 is its size, it is small and light!
The review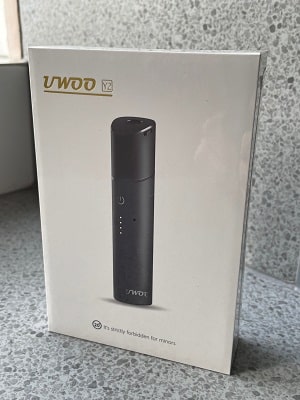 I spent several days using the device. We always do this so that we can give a good and honest appraisal. First things first I charged the device as it only came part-charged, which is standard procedure for so many electrical devices. It took around one hour to fully charge from approximately 25% of charge on arrival.
Inside the box is the UWOO Y2 device of course, along with a standard micro-USB cable, a small black cleaning brush, five sealed cleaning sticks and a small instruction manual. The instruction booklet was quite small though and difficult to read, although that may be because I am over 50 and going blind. The packaging is the usual standard. A nice UWOO clear cover that you remove to get to the device which is inside a plastic tray. You then lift the tray out to get to the other ancillaries.
The UWOO Y2 device is available in three different colour options and that is Intense Black (as used in our review), Passionate Red and finally Noble Gold.
The device itself just like the Uwoo Y1 is made from aluminium and at 77 grams is very light in the hand. It has a large 3350mAh battery inside it too which considering its diminutive size is excellent. UWOO claim around 45 tobacco sticks between charges. Will it do that? Read on to find out!
How does it vape?
The UWOO Y2 has four different heat settings that are accessed by pressing the button (it only has one button) 4 times within 2 seconds with the device turned off. Then you hold the button down and every 3 seconds it moves through the various heat settings, from low to high heat. I am pretty hardcore with most things I do so of course I went straight to setting number 4, which is 100%.
After you have set the heat setting the only thing to do is slide back the dust cover on the top of the device and insert your chosen tobacco stick into it. Then simply hold the button down for 2 seconds and it will power up. 15 seconds later it will vibrate and you are good to go! 15 seconds is a very short amount of time for the device to be ready which I was very impressed with.
So how does it vape? It vapes very well. The UWOO Y2 uses a circular ceramic spike to heat the tobacco stick with and it does so very efficiently too. Personally I agree with Paul though who in his UWOO Ym review commented that a circular blade isn't quite as effective as an actual heating blade. This is what Paul said about it.
From previous reviews that use a spike instead of a blade, I have found that it does not quite heat the tobacco evenly which leads to the rich flavour degrading far faster than with a blade system. After all, a spike concentrates heat into a single place whereas a blade has a greater surface area – it is akin to having your foot stepped on by a stiletto heel or a flat soled shoe. That said, spikes are being found in more devices so, maybe there is something to them.
I'm not saying a circular spike doesn't work, it does. I just personally prefer a heated blade instead.
Uwootech claim that you get five minutes or 15 puffs per tobacco stick, whichever comes soonest. I found this to be an accurate claim. When your session is coming to an end you get a warning from the device as it will vibrate once. You then have around 20 seconds to get a couple of final puffs in before the device vibrates twice and shuts off. This type of warning is pretty much standard fare for most modern heated tobacco devices.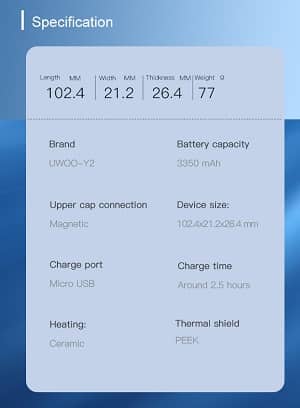 Removal of the used tobacco stick is also very easy and usually the spent tobacco will come out still inside the tobacco stick. A bit of a top tip for you with all heat not burn devices is if you allow the tobacco stick a little bit of time to cool down you will have much more chance of it coming out still inside the tobacco stick. Sometimes the plug of tobacco may remain inside the device and if it does that then simply turn the device upside down and give a small tug on the top of the device, that will eject the spent plug of tobacco out of the device.
A quick word about the dust cover that is on top of the device. A small slider near the top of the device lets you open and close it to protect the device from getting dust in it. It works but it's a bit flimsy, I didn't have any issues with it but if I could find one thing with an otherwise excellent device that needs improving then this would be it.
The UWOO Y2 also has a nice self-cleaning feature too. What this does is heat the ceramic heating spike hotter than usual for 30 seconds. What this does is effectively "burns off" any tobacco remnants on the spike. It's hardly rocket science but it's effective.
And to answer the question about the stated claim of 45 tobacco sticks on a single charge. Did it manage it? Not quite. I got 36 tobacco sticks out of a single charge though which is still very good considering the size of the device. I also did three auto-cleans which of course uses a bit of the battery charge up every time.
Conclusion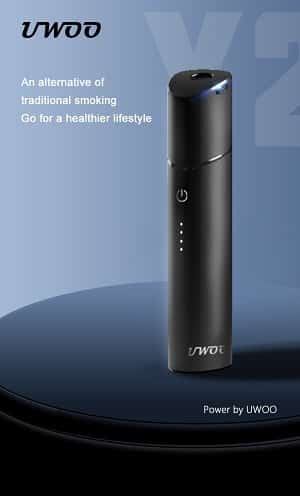 This Uwoo Y2 heated tobacco device is effectively a larger updated version of the Uwoo Ym but Uwootech have taken everything that is good about the Ym and made it better, including a massive improvement in battery capacity. It is great to see Chinese companies embracing heat not burn technology and releasing some very nice, very well priced devices. Heat not burn still has a long way to go to reach the kind of popularity that e-cigarettes have but so long as there are innovative companies out there like Uwootech heat not burn has a very bright future indeed.
We do not actually sell any Uwootech products but we do have an affiliated website over in China where you can make purchases of Uwootech devices and that can be found by clicking here.
We were also sent an UWOO YK device and that will be our next review in a few weeks!