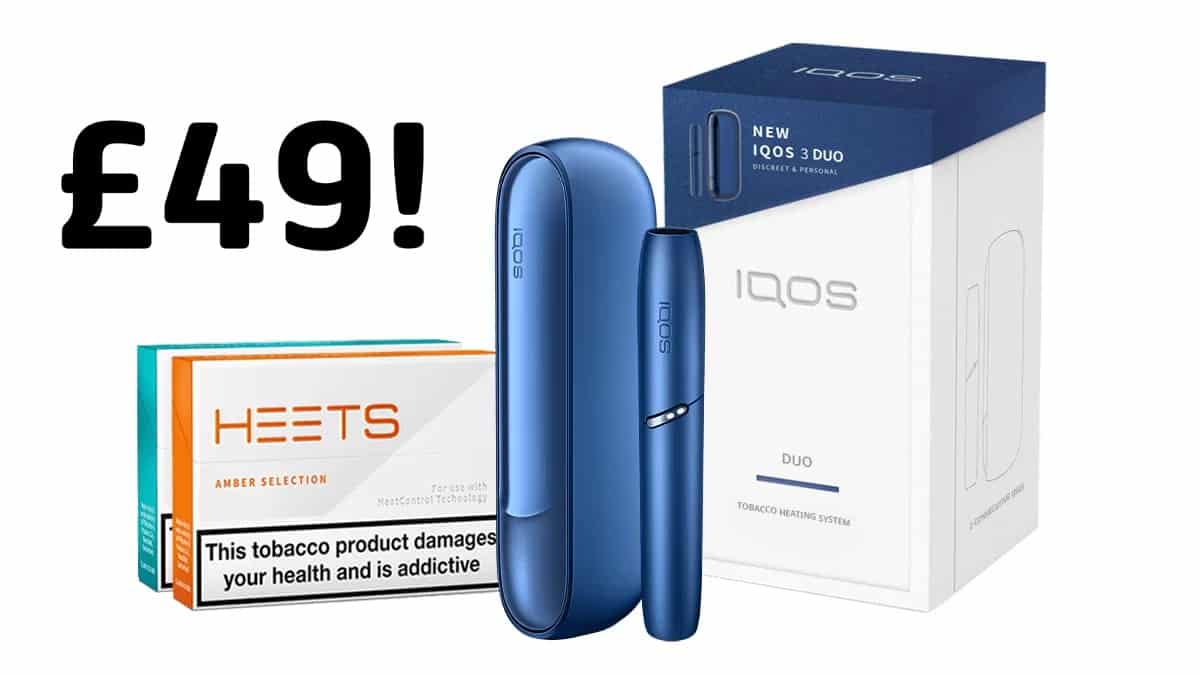 Reading Time:
2
minutes
Buy our flagship product IQOS 3 DUO for just £49
We have some very good news for smokers everywhere, our IQOS 3 DUO heat not burn device is now down to just £49!
This £49 offer also come with 40 HEETS included. HEETS are the small tobacco sticks that you insert into the IQOS 3 DUO device. This means that it comes with everything you need to make the switch.
To put this superb saving into context the price has come down from £79 to the new price of £49.
If you are not sure what the IQOS is let us explain; it is a new innovative device that is designed specifically for smokers 18 years or older. Instead of burning the tobacco as you would do with a regular cigarette this heats the tobacco instead. Most of the damage to a smokers health is caused by the inhalation of tobacco smoke. Because the IQOS 3 DUO only heats the tobacco (producing a warm tobacco flavoured vapour) it is less harmful to ones health. The DUO part refers to the ability to vape two HEETS between charges of the holder. Earlier devices never had that ability, it is all about convenience.
The IQOS acronym actually stands for "I quit ordinary smoking."
HEETS
The device uses small tobacco sticks called HEETS. You simply plug the HEET into the IQOS 3 DUO holder and press the button on the front of the small holder. After a very quick initial warm-up period the HEET is ready to be used. You then puff on it very much as you would do with a regular cigarette. The device is designed to mimic smoking which is why it is so successful. Each HEET lasts 6 minutes or 14 puffs, which is roughly what you would experience from smoking a cigarette.
We have nine different HEETS flavours available for use with the IQOS device and they are approximately half the price of regular cigarettes (based on UK cigarette prices.) You can already see the potential of switching can't you? Less harmful AND you will be saving money immediately.
Get it today
If reducing damage to your health and saving money is something you like the sound of then please click here to get the IQOS 3 Duo for £49. Our dispatch time is quick and our customer service is excellent too. We have hundreds of happy customers and take great pride in the service that we provide.
Want to learn more about the IQOS 3 DUO? Then please read our review of the device.
For more information on the HEETS (tobacco sticks) then feel free to see this post where we did a "tear-down" of one of them to explain exactly how they work and why they are so effective.