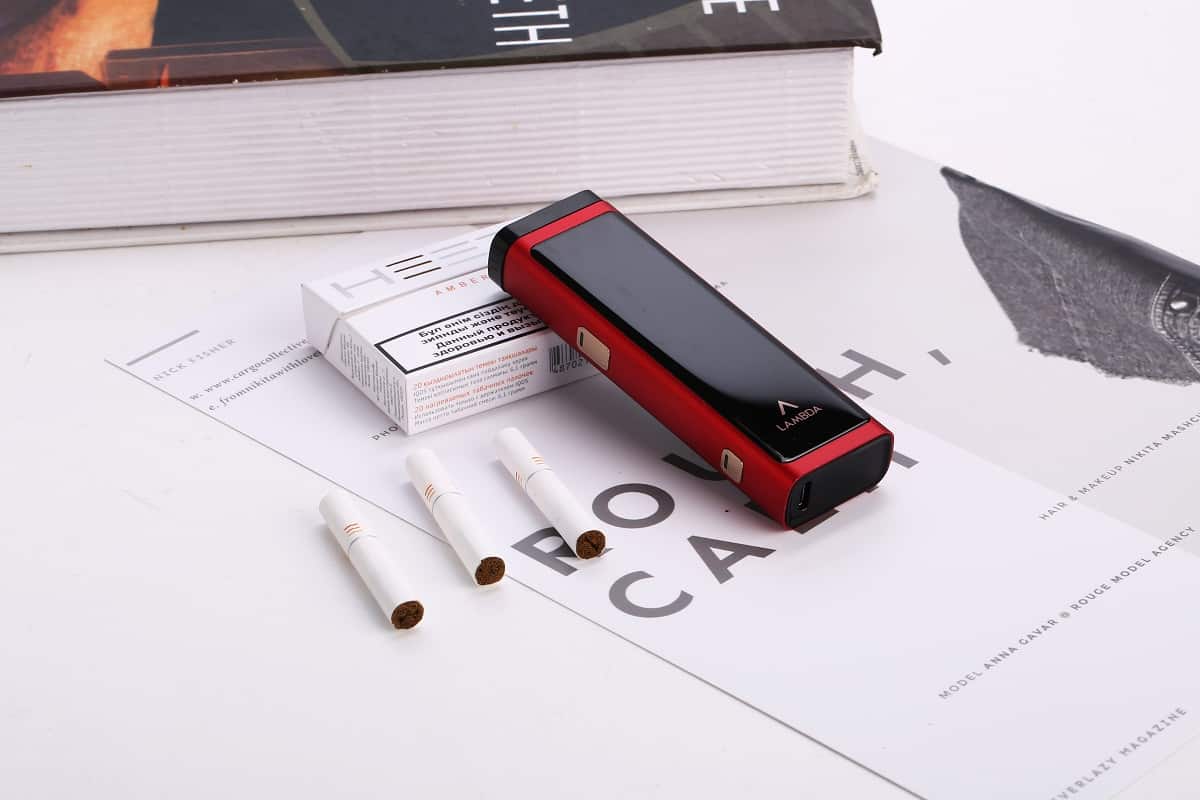 Reading Time:
5
minutes
Think different, do different.
As a source for everything heat-not-burn, we get to see a variety of products in that sphere. This sector is rapidly evolving with variations on 'established' products as well as some revolutions. Enter the Lambda T3 from Shenzhen Original Technology.
The T3 is another 'all-in-one' device and it does look rather nifty. Available in five different colours (Army Green, Black, Golden, Red and Blue) and two different 'styles' – aluminium only or 2.5D tempered glass and aluminium. Sporting the usual heat-not-burn feature of a puff/smoking time of approximately 5 minutes and 30 seconds or 16 puffs. A full charge on the 1500 mAh battery lasts approximately one pack of HEETS (or Parliament and Fiit) – according to the user guide – with the usual micro-USB port for charging.
Where the T3 differs is that it offers two levels of heating. "Standard" and "High". Most heat-not-burn devices heat the tobacco to around 350C – the acknowledged temperature where the tobacco is warmed sufficiently while avoiding many of the nasty by-products usually associated with combustion. Unfortunately, there is little information on the temperature that the T3 heats to in both modes.
The Review
There is a trend with heat-not-burn to use compact and clean packaging and the Lambda T3 is no different in this regard. Pop the lid off and the T3 is nestled in a moulded plastic tray. Underneath the tray are the usual accessories that accompany current generation heat-not-burn devices – aside from the brief user guide and relevant certificates. Ten alcohol-soaked cotton buds, a USB cable and a cleaning brush.
The T3 feels well-made and sturdy but, crucially, it is also relatively light. No heavier than a typical 18650 battery. The version I have been using is the 'Army Green' with the 2.5D tempered glass which, for me at least, feels a lot more secure in my hand. I could easily envisage the 'all aluminium' version feeling too smooth. The only downside to the tempered glass is, naturally, fingerprints and smudges.
Like most heat-not-burn devices, the T3 is simple. A magnetic removable heating cradle allows for easy removal of the used HEET and gives good access to the heating blade for cleaning. There are two buttons, the upper of which is the main button. The lower of the two enables the temperature mode to be changed. A simple, 2-second press to switch between 'standard' (the indicator glows white, which is the default) and 'high' (yellow indicator). Speaking of indicators, the main button has three colours as it also serves as a battery level guide – white is full down to ~30%, yellow is 30% to 0 and red means it needs a recharge. Click the main button once for a status check, for two seconds to start warming up your chosen HEET or click it five times to initiate an auto-clean cycle.
Another plus point for the Lambda T3 is that the heating blade is made from titanium steel alloy (unlike the IQOS which has a ceramic blade) the advantage of this is that the blade is less likely to break.
Using the Lambda T3
Once the T3 was fully charged, which took around an hour and 10 minutes using the supplied cable, I cracked open my new supply of Sienna HEETS and popped one into place. As is the norm for heat-not-burn devices now, hold the main button until it vibrates then wait for it to heat up. This takes 20 seconds on both standard and high which is about average for most devices. A second vibration signals that it is up to temperature and ready for use.
The T3 looks good, so how does it fare in use? Most devices use a blade, and the T3 is no different in that regard. There's enough vapour to be visually satisfying and the flavour is good from the Sienna HEETS.
The user guide says that the 'smoking time' is 5 minutes and 30 seconds, or 16 puffs. It is 5 minutes or 14 puffs before the signal telling you that you have 30 seconds left to grab the last 2 puffs; so, around 5 minutes 30 seconds on standard.
The guide also suggests that the number of HEETS a full charge will last for can be from 18 to 20. On high, I could only get 16. As the flavour from HEETS tends to decline rapidly after a dozen puffs, this isn't too much of an issue in my view.
There is a distinct difference in flavour output and decline dependent on the temperature mode selected. On high, the impact of the flavour is much higher, but it declines long before the end of the heating cycle. On average I'd suggest that it starts declining at around 8 puffs before becoming bland and tasteless.
Using the standard mode, the flavour does last for longer – around 12-14 puffs usually – but it is more subtle.
Sadly, the claim that the battery will last for 20 tobacco sticks is short of the mark. On a full charge, I was only able to make my way through 16 HEETS before the main button indicator flashed red at me – on standard, on high I could only manage 12. Considering that the charging time is an hour and 10 minutes, it was a little disappointing.
Fortunately, cleaning is – as the manufacturer's website claims – super easy. With the removable cradle, there is plenty of space to stuff an alcohol-soaked cotton bud, or the supplied cleaning brush in and swab around. Make sure to clean after every pack of HEETS or overall performance and, particularly, flavour will fall off dramatically.
Conclusion
It's great that there is now a plethora of devices to choose from in the heat-not-burn space. The devices that will do well are the ones that are well made and offer a good experience. While the Lambda T3 feels well made and is simple to use, it does fall a little short on its own expectations.
It operates well, and gives good, albeit truncated, flavour in 'high' mode. But the flavour is a little lacklustre when used in 'standard' mode. It is, of course, a trade-off. More heat to bring forth more flavour equals less duration, while less heat to give duration gives less flavour.
The sensation between the two modes is also completely different. On 'high' it is nigh-on smoking an actual cigarette. It is very good indeed. It's a shame that that experience is short-lived. On 'standard' things are a lot more subtle. There's plenty of vapour in both modes – more in 'high' of course, it's just that 'standard' feels too soft. Therein lies the drawback to this device. To get a good experience from the HEETS, it needs to be on 'high', but you sacrifice flavour longevity and operational time. On 'standard' you get the advertised times, but there's less flavour. There's no middle ground and there needs to be.