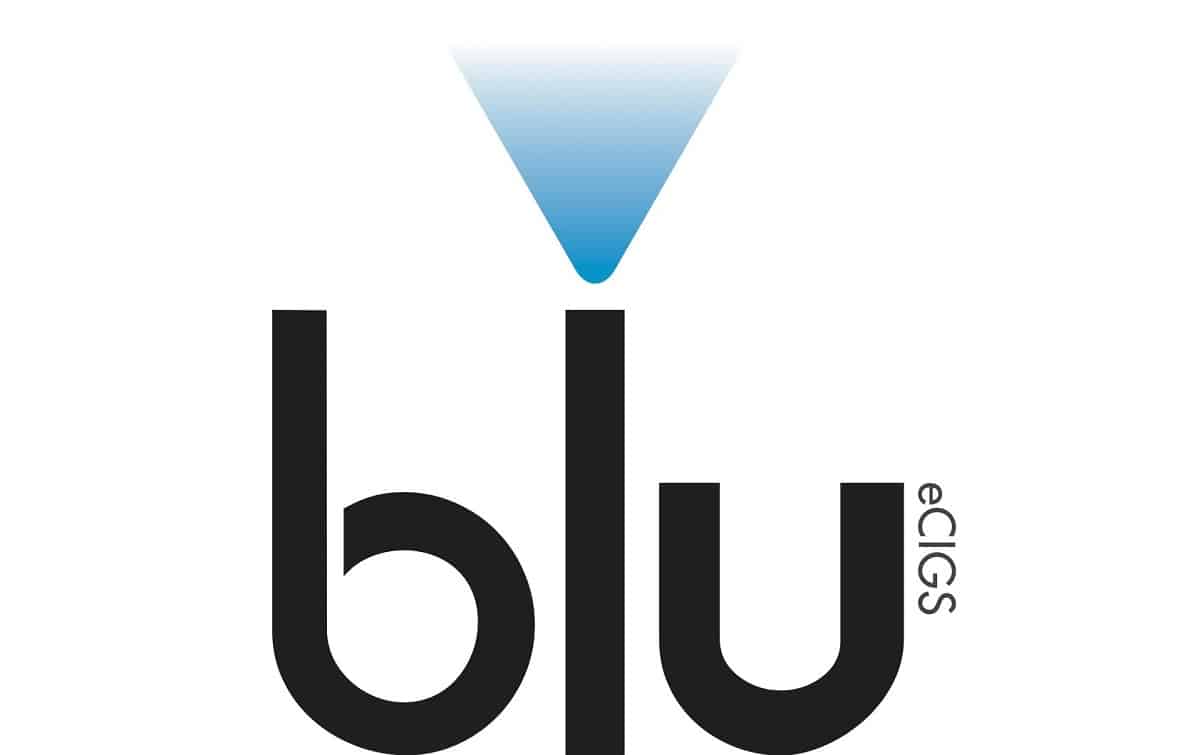 Reading Time:
5
minutes
Blu, as a brand, has been around for a while. Since 2009 to be exact. Back then, it was an independent brand. Since 2012, it's been owned by two tobacco companies – firstly Lorillard, later acquired by RJ Reynolds that sold the Blu brand to Imperial Brands (via Fontem Ventures). It wasn't until Imperial acquired Von Erl that the pod mod known as the MyBlu starter kit came into existence. Anyway on to our MyBlu starter kit review.
The MyBlu starter kit is a simple, small, buttonless, device packing a whopping (sarcasm) 350mAh battery that comes in five different colours – black, blue, gold, purple and red. The small battery size does carry two major advantages.
It is super light (almost too light)
It charges quickly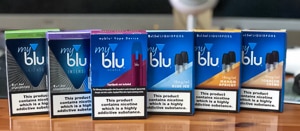 There is also a much wider range of flavour pods available now. Each pod contains 1.5ml of liquid, meaning it is – of course – completely TPD compliant. Sadly, not all flavours are available in all strengths – 0, 9 and 18 mg are the options. No idea why this is the case as it makes zero sense. But there is an upside as now MyBlu have the Intense liquidpod which, as you can guess, use nicotine salts rather than freebase nicotine. Currently, there are only four flavours in this range – menthol, strawberry mint, tobacco and blueberry.
According to the MyBlu website, the intense range is set apart "by using nicotine salts, the Intense range delivers flavours that pack intense satisfaction and sensation when vaping than what you're used to and should be a more familiar experience for traditional smokers."
The review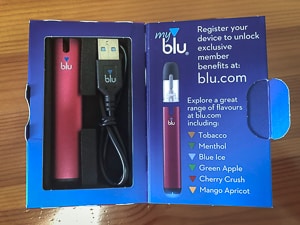 Unusually, the device isn't in – what is coming to be a broad standard -pristine, Apple-esque packaging. Which is a refreshing change. Unfortunately, the style of packaging used with the MyBlu starter kit can suffer heavily in transit. I was lucky, my box didn't suffer from delivery lumps and bumps.
Flip the lid and nestled in the recessed plastic tray (under the usual booklet) is the device and a short mini-USB cable. That's it. I chose the purple version of the device – most of my other devices; be they heat-not-burn or e-cigs, are either white or black with the occasional silver. A bit of colour isn't amiss, although the purple is more pink than purple.
There is very little to this device. Slot on top for the pods, USB slot on the bottom for charging, and a small led next to the USB slot to indicate charge/use. Vaping made simple. I like that.
Vaping the MyBlu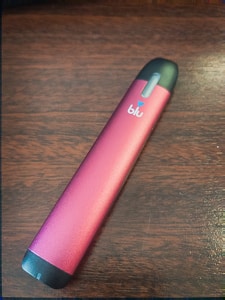 Using the MyBlu starter kit really couldn't be simpler. Choose your flavour, unwrap the pod and click it in place. The pods themselves aren't shaped so they'll go in either way around, just make sure that it clicks into place.
Once in place, you can see how much liquid is left in the pod as it's mostly transparent. Be wary, the closer to empty the pod is the more difficult it is to be sure of how much liquid is left. It hasn't caught me out. Yet.
The device itself is automatically activated when you take a puff. That does mean that you need to draw heavily to get a 'decent' puff, however it does activate on gentler inhales too, meaning that the experience – both the sensation and flavour – can be tailored by the user. Due to the passive nature of the device activation, the sensation isn't quite like having a cigarette; nor is it really meant to be.
The inhales are meant to be short, like a traditional smoke but without the warmth. Despite that, there's still plenty of vapour to be visually satisfying, and there's enough of a feeling on the inhale to fulfil part of the smoking-like ritual – the other part is, of course, the hand to mouth action.
Flavours
I managed to get my grubby mitts on 5 flavours, two from the Intense range (Blueberry and Menthol – both at 18mg/ml), and three from the normal range (Blue Ice, Mango Apricot and Tobacco Crème – all at 18mg/ml) to try in the MyBlu starter kit, and comment on.
Intense Range – Blueberry – A very smooth, but subtle, blueberry – which, let's be honest, is tough to get wrong – flavour that isn't overwhelming in intensity, but is very good as an all-day vape. It does, at least for me, make the mouth water.
Intense Range – Menthol – I quite like minty vapes. This one, sadly, isn't. It's very bland. There is a slight spearmint-like taste to this, but menthol it isn't.
Normal Range – Mango Apricot – I have no idea what this is trying to be, but it isn't Mango Apricot. The taste was inconsistent, and it doesn't taste of either mango or apricot. Plus, what flavour I could get was muted.
Normal Range – Tobacco Crème – This tasted like the coffee chocolates that are in the various assortment boxes. It wasn't overpowering, but it was relatively sweet. I found myself liking this one more than I expected to.
Normal Range – Blue Ice – This one is supposed to be a menthol with a hint of blueberry. Sadly, the menthol just isn't present. This tastes more like a poor man's blue slush puppy then a blueberry menthol.
Conclusion
The MyBlu starter kit is likely to be the simplest pod mod out there. It is incredibly light – which may be its undoing in some scenarios and has a negative impact on battery life – and it is ridiculously easy to use. It offers a fairly good experience with the Intense Liquidpods with enough vapour to be visually satisfying and enough flavour to please the taste-buds.
Battery life is also – as expected – short. Remember, it is only a 350mAh battery inside – to keep the device nice and light. A full charge only lasted me in the region of 5 hours (not continuous use, obviously!), which seems about right for a low capacity battery. Fortunately, it doesn't take long to fully recharge using the supplied cable – around 20 minutes from flat to full.
We now sell this MyBlu starter kit along with both Regular and Intense liquidpods.
Due to its size, the MyBlu is also discreet and can (though I don't necessarily advise it) be used to stealth vape in places where it isn't allowed. Not that I would ever encourage that. Oh no.