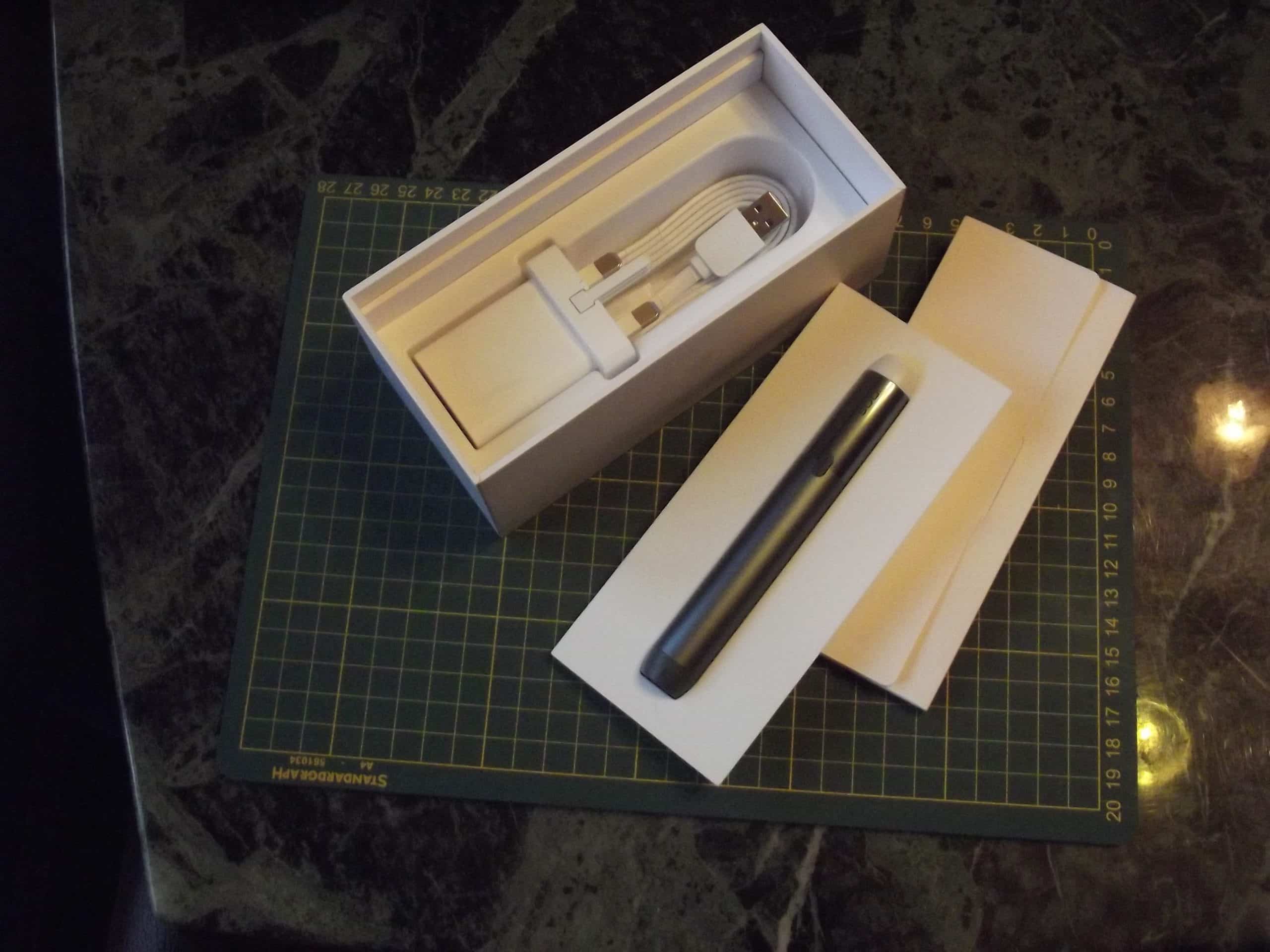 Reading Time:
5
minutes
A few weeks ago I talked about pod mods, the new generation of ultra-convenient e-cigarettes that are popping up on shelves all over the place. Although we're mainly interested in Heat not Burn devices here we think pod mods are pretty cool too – they're much easier to use than conventional e-cigs, which is ideal if you want something that's as simple as a cigarette.
Before I go any further it's time for a quick confession. In my previous article on pod mods I said I already had a Mesh. Well, that turned out to be only partly true. Last year I "borrowed" a PMI Mesh from Dick Puddlecote, and at the time I was quite impressed with it. However the new iQOS-branded Mesh is a very different animal. It shares the same design philosophy, but every part of the device and its pods is bang up to date. So, if you've read anything about the old Mesh, forget it; the iQOS version is a brand-new product. Let's have a look at it.
First impressions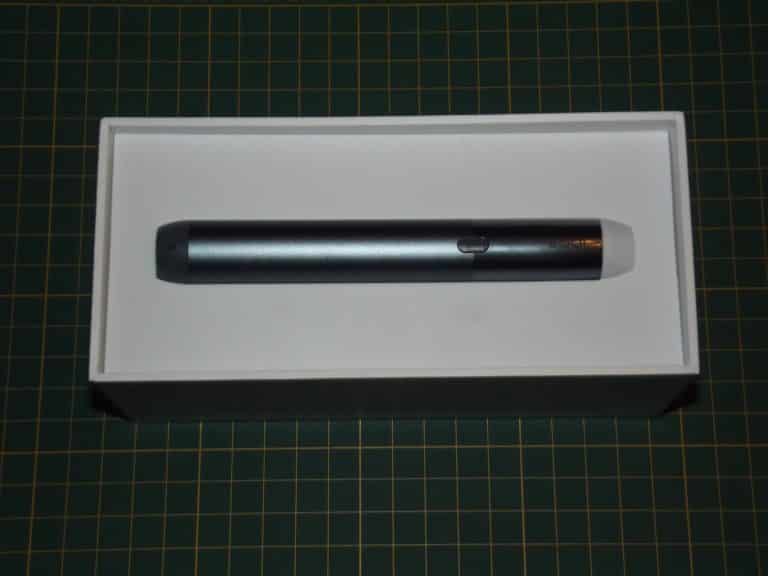 The new Mesh comes in a neat cardboard box; pull the top off and there's the device itself, nestled in the usual plastic tray. It didn't take long to start spotting differences. The new Mesh is much longer and slimmer than the old one, and also has a higher quality feel. My old Mesh has a rubberized plastic body, quite short and with a flattened oval cross section; the new one is aluminium except for the plastic end cap, and it's round. One nice touch is that there's a flat strip down one side to help stop it rolling away if you lay it on the table. Two-thirds of the body has a nice satin finish; the hollow top end is highly polished.
This is a very simple device. There's a single power button which turns the Mesh on or off when pressed for three seconds. On the end cap is a micro-USB charging port and an LED indicator that tells you it's charging. The other end is open; that's where you plug in the VEEV pod.
Overall the iQOS Mesh feels very solid, but it's also remarkably light. It's a much bigger device than a JUUL or MyBlu, roughly the size of a large cigar, but every time I pick it up I'm surprised by how little it weighs. It's pretty impressive, considering the all-metal body and the fact there's a 900mAh battery packed away in there.
Apart from the mod itself, there isn't a huge amount in the box. Lift out the tray and open the cardboard lid underneath, and you'll find a charging cable and a UK plug adapter for it; that's all.
The review
Anyway, I don't believe in messing about, so after playing with my new toy for not very long I plugged it in and topped up the battery. It was pretty well charged straight out the box, so the next time I looked away from my screen for a minute it was ready to go (a full charge takes about an hour, and it has a passthrough feature, so you can vape while it charges).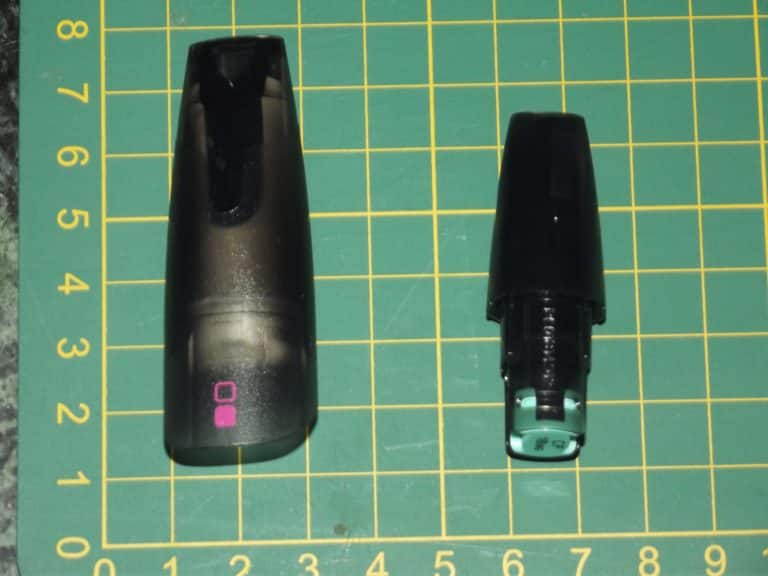 With the battery fully charged I dug out a Tobacco Harmony-flavoured VEEV pod and unwrapped it. These are also very different from the old Mesh pods. For a start, they're a whole lot smaller. The old pods clipped over the end of the battery, and had a lot of empty space inside; the new ones plug into the hollow cone at the top of the mod, so they can be a lot more compact for a similar liquid capacity (I can't remember how much the old ones held, but they were TPD-compliant, so no more than 2ml; the new ones contain 2ml of 6mg, 11mg or 18mg liquid). The actual heating element is the same idea, though; instead of a coil it's a small square of fine wire mesh which seems to double as a wick, so there's no risk of anything burning. In fact the Mesh is actually a temperature control device; it regulates the power going to the wick to prevent overheating and the dreaded "dry puff".
To stop liquid moving around inside unused pods and dribbling out the mouthpiece there's a small rubber seal fitted to each pod. Once you've unwrapped the pod all you have to do is pull out the seal and plug the pod into the end of the device. They fit either way up; just don't use any force to insert it. If it's not going in just twist it gently until it does.
With a VEEV loaded, all you have to do is press the button for a couple of seconds until it lights up, then take a puff. It's not a fire button; the Mesh has an automatic switch that heats up when you puff. The button is purely an off/on switch. If you don't take a puff for three minutes the Mesh will automatically power down again.
As for the actual vaping experience, I was impressed! I've read one review that said the vapour production and throat hit were disappointing. Well, all I can say is they must have been doing it wrong, because I get plenty of vapour out of mine. Is the throat hit the same as I get from my usual combo of a Rouleaux RX200 and Limitless RDTA loaded with 24mg liquid? Of course not. Then again you could put the Rouleaux in a sock and beat rhinos to death with it, and it dribbles like a senile dog. The Mesh is slim, light and compact, and it never leaks. At all.
My Mesh came with two flavours – Tobacco Harmony is a rich tobacco blend, and Cool Peppermint; you can probably guess what that one tastes of. Both flavours were excellent; although I never liked menthol cigarettes I really got to like the peppermint, in particular. For the average user a VEEV pod should last about a day, making it roughly equivalent to a pack of cigarettes – and, at £2.99 for a pack of two, a lot cheaper. The battery holds enough charge to get through a whole pod and part of the next one, but I tended to recharge it between pods anyway.
The point to keep in mind is that the Mesh wasn't designed to replace your favourite mod and dripper. It's an easy to use, but very effective, device aimed at people who just want a simple alternative to cigarettes. I think it's ideal for that – and it's a great choice if you want some thing compact and non-dribbly to take to the pub, as well. In short, it does exactly what a pod mod is supposed to do, and it does it very well.
Verdict
I liked the original Mesh when I tried it last year, and I like the new, improved version even more. PMI have taken a good basic concept and made it even better, producing a very well-made pod mod that's simple, effective and great value. If you're looking for an e-cig that just works, with no messing around with refill bottles or coil changes, the iQOS Mesh is an excellent choice.