Description
Introducing the NEW IQOS 3 MULTI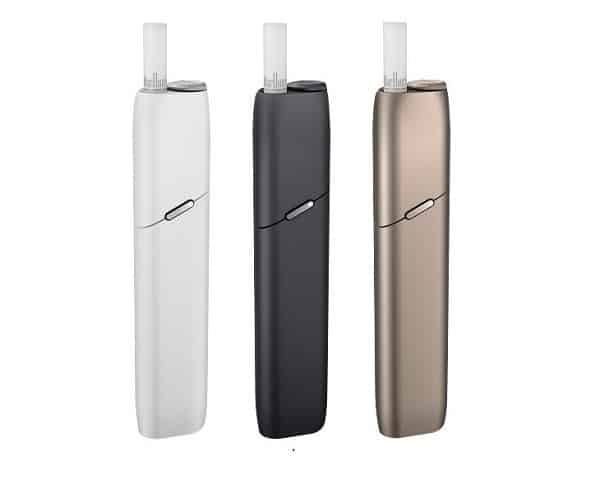 IQOS 3 MULTI is a heated tobacco system for adult smokers who are looking for a cigarette alternative. Our all-in-one, pocket size, heat-not-burn device gives you 10 back-to-back experiences without having to charge the IQOS holder in between tobacco sticks.
We designed the IQOS 3 MULTI to provide a different experience to our other devices. Once this heated tobacco system is fully charged, you can use 10 back-to-back tobacco sticks before needing to charge the device.
IQOS 3 MULTI has an all-in-one design that fits perfectly in your pocket or purse. Once you are finished with your tobacco experiences, plug your IQOS 3 MULTI into one of our handy docking stations or car chargers. While you take your time to recharge, your IQOS can charge too. IQOS 3 MULTI is available in three colors; Velvet Grey, Warm White and Brilliant Gold.
Uninterrupted usage
Have 10 back-to-back uninterrupted tobacco sticks with your IQOS 3 Multi, without having to charge in between each usage.
All-in-one heated tobacco system.
Slender and easy-to-carry design makes traveling with IQOS 3 MULTI easier to use.
Make it yours.
This IQOS 3 MULTI uses revolutionary technology that heats tobacco without burning it, giving you the true taste of tobacco with no smoke, no ash and less smell. This is ideal for health-conscious smokers who don't wish to vape who would still like the closest alternative experience to smoking on the market.
This new heat not burn technology heats the mini tobacco sticks (called Heets) but doesn't actually burn them – so in comparison to a conventional cigarette which burns at 800 degrees, the Navy IQOS heats the tobacco to 350 degrees  and instead produces a smoke vapour rather than traditional smoke.
This results in an average reduction of 90%-95% in the levels of toxicity and harmful substances found in tobacco IQOS vapour compared to smoke from a cigarette.
On top of that, the IQOS has no ash, no smoke, and of course significantly less smell. And because its not LIT tobacco, it also avoids the smoking ban and can be used indoors (where permitted).
Therefore moving to IQOS is a much better choice than smoking.
IQOS is the result of over $3bn investment and a decade of research on a range of potentially reduced-risk alternatives to cigarettes conducted by more than 430 scientists and experts in our R&D facilities in Switzerland. Over 2.9 million consumers across the globe have already switched to IQOS.
Specially designed tobacco sticks, known as HEETS™, are inserted into the IQOS holder which uses a unique heating blade made of gold and platinum coated in ceramic. Specialist electronics control the temperature to ensure there is no combustion.
NO SMOKE
By heating tobacco rather than burning it the IQOS 3 Multi creates tobacco vapour, not smoke. IQOS vapour dissipates more quickly than cigarette smoke. It does not negatively impact indoor air quality, as proven by international air quality tests and is not a source of second hand smoke.*
NO ASH
Unlike cigarettes, IQOS does not burn tobacco and therefore produces no ash.
LESS SMELL
After using IQOS, the odour left on hands, hair and clothes is significantly less than that left by cigarettes. IQOS is not risk free. The best way to reduce tobacco related health risks is to quit tobacco use altogether.
Includes the main IQOS Multi unit plus all the tools you need to clean and charge in one handy kit:
IQOS HEETS 4 packs of 20 (80 HEETS IN TOTAL)
IQOS 3 Multi (all-in-one unit, no separate holder. Choice of 3 colours: Gold, Grey or White)
IQOS Cleaner
IQOS Cleaning sticks (x10)
IQOS AC power supply (UK)
USB cable
The HEETS™ ​​​are available in the following flavours:
Amber HEETS™ : A rounded and rich tobacco blend
Blue HEETS™ : A deep menthol flavour, giving an intense cooling sensation
Sienna HEETS™ : An intense and full bodied blend
Turquoise HEETS™ : A smooth menthol blend
Yellow HEETS™ : A smooth and finely balanced tobacco blend
Green HEETS™ : A lightly toasted tobacco blend providing a balanced menthol cooling sensation enriched by green minty aroma notes
Sienna Caps HEETS™ : A rounded, toasted tobacco blend of Sienna Selection with its woody and light tea aroma, which in a click delivers a cooling menthol breeze with notes of zesty mint
Teak HEETS™ : A balanced, roasted tobacco blend with a creamy note. Refined nutty aromas provide for tobacco enjoyment with an intense flavour experience
Mixed (1 x Amber, 1 x Yellow, 1 x Sienna and 1 x Turquoise)
Please select which flavour of HEETS you would like from the dropdown menu.