Description
Introducing the brand NEW IQOS ILUMA ONE PEBBLE GREY

Affordable, all-in-one.
All-in-one design, offering up to 20 consecutive uses with a single charge. Next level tobacco experience without blades.
Compact all in one device.​
Includes SMARTCORE INDUCTION SYSTEM™ technology​
Up to 20 consecutive uses with a single charge​
Easy insertion and extraction of the stick​
Rapid charging​
No cleaning ever​
Discover the benefits.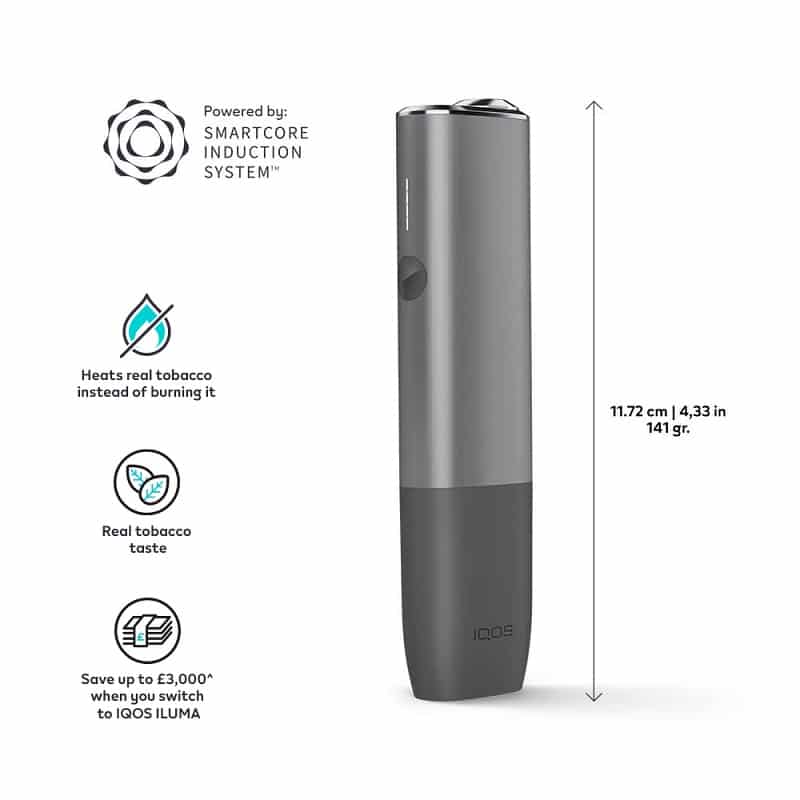 Why switch to IQOS ILUMA ONE?
Real Tobacco taste: IQOS ILUMA ONE is specially designed to be used with real tobacco sticks. TEREA sticks provide real tobacco taste & satisfaction.
Harm Reduction: Switching completely to IQOS presents less risk to your health than continuing to smoke†. IQOS emits 95% lower levels of harmful chemicals compared to cigarettes.**
Value: When you switch to IQOS ILUMA ONE you can save up to £3,000 a year***.
What is IQOS?
IQOS is an advanced smoke-free alternative that heats real tobacco, releasing tobacco vapour, not smoke. Now introducing IQOS ILUMA ONE with our new innovative technology taking heated tobacco experience to the next level.
IQOS ILUMA ONE heats real tobacco instead of burning it. Providing real tobacco taste and cigarette-like satisfaction†. With no smoke, no ash and less smell.

Technology you can trust.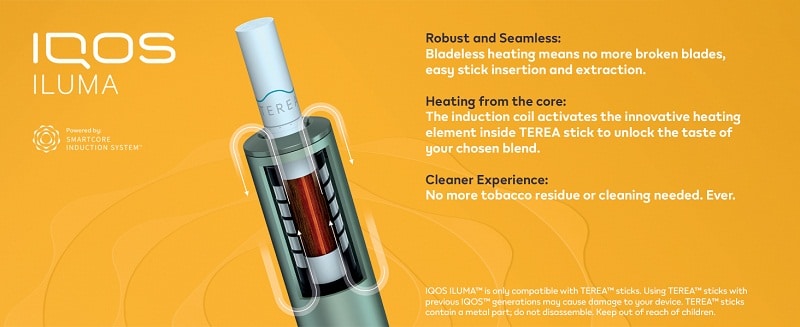 Getting started with IQOS ILUMA ONE.
Get started with your new IQOS ILUMA ONE in a few easy steps.Press and hold button for 4 seconds to turn the device on.
Slide the cap to open and insert the TEREA tobacco stick to the line on the filter with filter facing outside.
To start heating press the button for at least 1 second until IQOS ILUMA ONE vibrates and light flashes.
Before first use, fully charge your IQOS ILUMA ONE (approx. 90 min).
Start using once your IQOS ILUMA ONE vibrates and the light stays fixed.
When you feel another vibration and there is only one white light pulsing, you have 30 sec or 2 puffs remaining. Remove the TEREA stick and slide the cap to close it.
Good to know.
During use, the experience will stop if the TEREA stick is removed from your IQOS ILUMA ONE.
The IQOS ILUMA ONE will stop if the ambient temperature is out of range (0℃⁓40℃). If so, all lights blink twice in white and then switch off. If the ambient temperature is low, try warming the device in your hand for at least a minute.
What's included?
IQOS Iluma ONE heated tobacco device comprising an all-in-one device
IQOS AC power supply (UK)
USB cable
2 packs of TEREA Sticks
Instruction booklet
How to use the IQOS ILUMA ONE.
TEREA™ Sticks – Only for IQOS Iluma.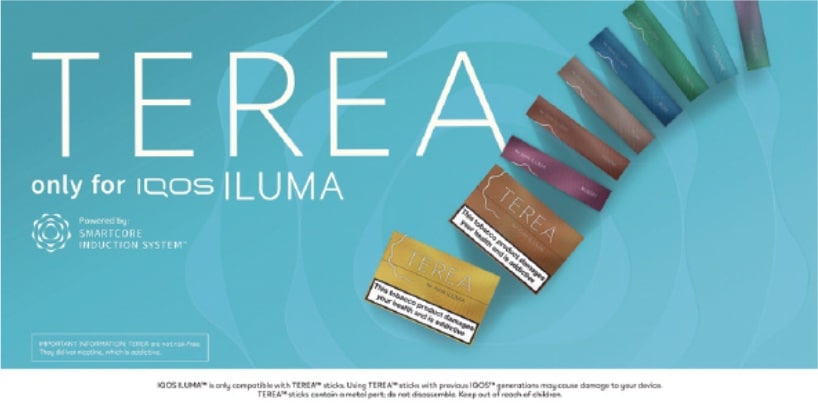 TEREA™ ​​​are available in the following variants:
Amber (Balanced & Roasted)
Blue (Cooling & Deep)
Green (Cooling & Balanced)
Mauve Wave (Fresh & Forest Berry)
Russet (Robust & Malty)
Sienna (Balanced & Woody)
Teak (Rounded & Nutty)
Turquoise (Fresh & Zesty)
Yellow (Mild & Zesty)
Mixed (1 x Amber and 1 x Blue)
Please select which variant of TEREA you would like from the dropdown menu when you place your order.
Important information: It does not necessarily equal a 95% reduction in risk. IQOS is not risk-free and provides nicotine, which is addictive.
†Based on the totality of evidence available for IQOS in comparison with continuing to smoke.
**95% less" represents the average reductions in levels of a range of harmful chemicals (excluding nicotine) compared to the smoke of a reference cigarette. See Important Information on IQOS.com
*** Claim compares (i) the cost of smoking an average priced pack of cigarettes (with king size filter) per day, and (ii) the cost of buying an IQOS ILUMA One Starter Kit (RRP £39) or IQOS ILUMA (RRP is £69), and then consuming one packet of TEREA daily (RRP £6). In April 2023 the average price for a packet of cigarettes with king size filter was £14.40 (ONS data). Savings will vary depending on ILUMA model and Starter Kit selected. For further information, visit www.iqos.com/legal.
This product is not risk-free and provides nicotine, which is addictive. Only for use by adults.