Description

Introducing the Power Bar Disposable Vape Pod by Juice N Power
Disposable vape devices are currently extremely popular and here at Heat Not Burn UK we only sell the best ones. These new Power Bars from Juice N Power are extremely popular and we sell them in 12 different flavours, a flavour for everyone!
These Power Bars are just about as simple as it gets; no faffing around with charging, refilling, changing coils or cleaning you simply pick it up and off you go. Ideal for the modern busy vaper. Going out for a bit? Leave your main vape at home and grab this Power Bar disposable  instead!
It contains 2ml of 20mg nicotine salt e-liquid. For the benefits of nicotine salts please be sure to read our blog post on why these are much better than regular e-liquid. Unsure what a pod mod is? Then please take a read of our what is a pod mod blog post for more information.
Every Power Bar Disposable Vape Pod unit contains roughly the same amount of nicotine as you would find in over 40 cigarettes, this is far and away one of the most cost effective disposable vapes on the market. It is also a lot cheaper than regular smoking too!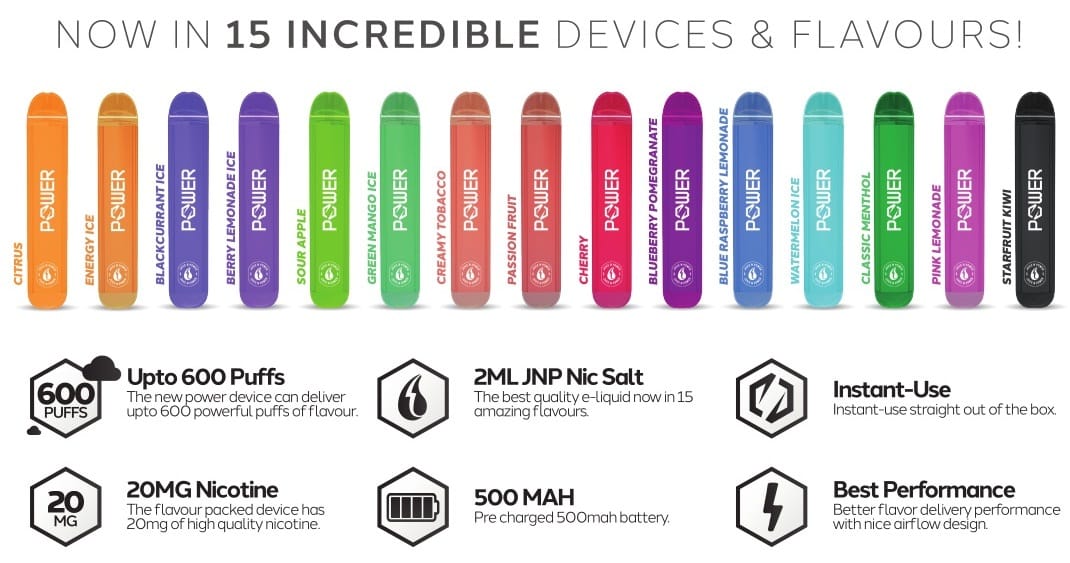 We have 12 different Power Bar flavours available!
Berry Lemonade Ice
Blackcurrant Ice
Blue Raspberry Lemonade
Blueberry Pomegranate
Citrus
Creamy Tobacco
Energy Ice
Mango Ice
Passionfruit
Pink Lemonade
Starfruit Kiwi
Watermelon Ice

What are the advantages of the Power Bar disposable vape device over regular e-cigarettes?
Very simple to use
A better and more consistent flavour from start to finish
Self-activated when you puff on it (no button press requirement)
No need to clean it
A solid and leak-free design
Disposable