Description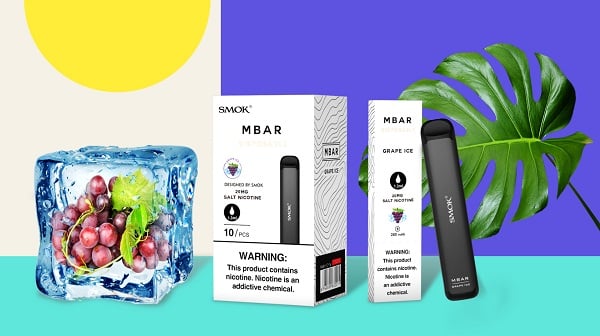 Today's on-the-go vaper is always busy and often does not have the time for messing around. And that is where disposable vapes come in. Devices like this superb SMOK MBAR disposable vape pod are becoming very popular indeed.
It's easy to see why too, the SMOK MBAR is all about convenience. You simply crack it open and vape, there is no messing around having to fill it with e-liquid, no worrying whether you have enough battery power, no worrying about changing coils or e-liquid leaks. It really is beautiful in its simplicity.
Finished in aluminium and rubber a clever battery level indicator located on the base of the device lets you know when the battery is running low which also gives you an indication that the device is almost spent. Each disposable vape pod contains 1.3ml's of 20mg of nicotine salt e-liquid and it comes with eight fantastic flavours.
This device is perfect for beginners to the world of vaping. It contains around 300 puffs which roughly equates to a packet of twenty regular cigarettes, and at less than half the price of a packet of twenty cigarettes you can see why these are very popular. The nicotine salt contained in this SMOK MBAR disposable vape pod is the highest strength it is possible to buy and a lot smoother than regular high strength e-liquid too due to the nature of the nic salts. Basically it gives a much smoother vape than a comparable 20mg of regular e-liquid would.
The device is incredibly slim too, meaning that it can slip easily into your pocket or a handbag, ideal for a night out!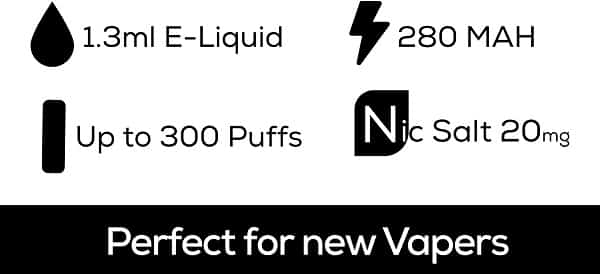 We have a couple of blog posts right here on this website explaining what a pod style vaping device is and what nicotine salts are and why they are better than regular e-liquid.
So what is a pod mod?
Science special – Nic salt liquids
We have 8 superb SMOK MBAR flavours available and they are as follows:
Blueberry Soda
Blue Raspberry
Grape Ice
Mango Ice
Menthol
Orange Soda
Strawberry Ice
Strawberry Kiwi
We also have a multi-buy discount available for this product:
£4.75 for one device
£3.99 each for five
£3.49 each for ten