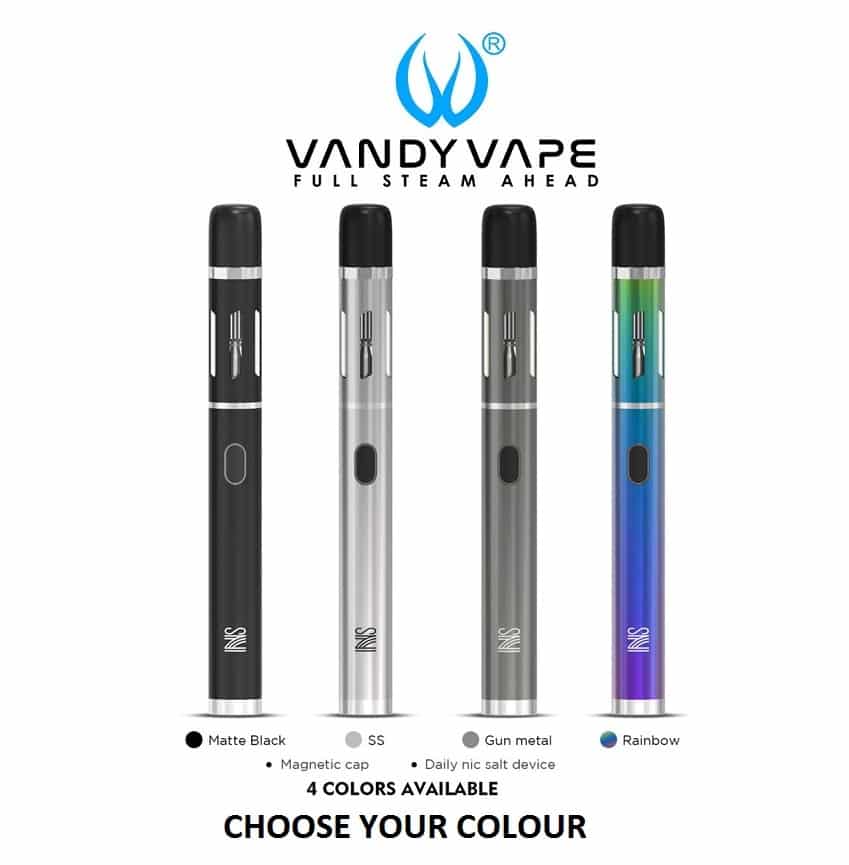 Reading Time:
6
minutes
We're mostly interested in Heat not Burn products – obviously; take a look at the name of the site – but we'll take a look at any safer alternative to smoking. If it lets people inhale nicotine without all the toxins you'll find in a cigarette, HnB UK will be happy to review it. You've probably noticed us looking at a couple of pod mods recently, and our last review but one was the Aspire Nautilus AIO.
The reason we were so interested in the Nautilus AIO is that, as well as being a neat and easy-to-use little pod mod vaping kit, it came with an extra coil for use with nicotine salt liquids. These new liquids are a huge step forward for vaping. Compared to standard liquids made with freebase nicotine, the experience is a lot closer to smoking. The nicotine hit is a lot faster, and you can vape higher levels (as high as the EU's stupid laws allow, anyway) without making you feel like you just sandpapered your throat. They also give you a great vape without needing huge high-powered devices, so small, simple e-cigs are suddenly back in the game.
Now we've got our hands on another device that's set up to use with nic salt liquids. It's the NS Pen from Vandy Vapes, and for the last week I've been trying it out with an assortment of Salt e-liquids. I'll come back to the liquids in a bit, but first let's get straight on to checking out the NS Pen.
The Review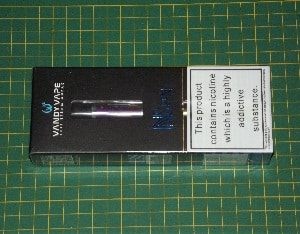 The NS Pen comes in a cardboard box with a little window in the front so you can tell what colour you're buying – mine is the Rainbow version, with a bare steel finish electro-treated to give it a multi-coloured hue (although mine is mostly blue and pink). Inside the box is another, tiny box containing a USB charging cable, and two slabs of foam. The top slab has cut-outs for the device and two coil heads; the lower one holds a small instruction leaflet.
Now let's have a look at the device itself. I have to say that this has a real retro feel. It reminds me of something like an Evod from a few years ago – the same slim, cylindrical battery with a single fire button, and the same dinky little tank sitting on top. The internal design of the atomiser is bang up to date, though, so you're not going to be stuck with any 2013-style dangling wicks. It's a bottom-coil design using neat little heads.
The device is pretty simple. There's a fire button on the battery and a micro USB charging port on the base. The atomiser is screwed onto the top of the battery firmly enough that I couldn't budge it, so this is basically a one-piece device (although the tank screwed off the atomiser base easily enough to get a coil in there).
Pretty much the whole device is metal. The tank liner is glass, of course, and the drip tip is plastic. There's a neat little magnetised cover to stop the drip tip collecting pocket fluff; when you're actually vaping, you can just stick the cover to the (steel) base to avoid losing it.
Vaping the NS Pen
The first thing to do was charge up the NS Pen's 650mAh battery, which took less than an hour. An LED in the base goes from red to green when it's fully charged, so it's easy to tell when you're ready to do – the LED is pretty bright. In the meantime I got the tank off and screwed one of the coils into the atomiser base, then filled the tank with Gold Rush 20mg/ml tobacco-flavoured liquid. The tank holds 1.5ml of liquid, by the way. I was a bit worried about this, because it's even below the EU's 2ml limit, but as it turned out this wasn't a problem.
With the battery and tank both full, it was finally time to test the NS Pen. Switching it on is a simple matter of clicking the fire button five times, after which the LED behind the button lights up red. I wondered about it being red, and did some reading. It turns out the device has three power settings, and you can cycle between them by giving the button three rapid clicks – do that and it turns green for the middle setting, and white for the high one. I tried all three and ended up leaving it on high.
Anyway, the NS Pen might look like an Evod but it certainly doesn't vape like one. Vapour production is decent without being overwhelming – there's enough to satisfy, but this certainly isn't a cloud-chaser's dream. Then again with voltage settings of 3.4, 3.6 and 3.8 volts and a 1.2Ω coil, who would expect it to be?
On the other hand, with the nic salt liquid it does a very good job of replacing cigarettes. It doesn't have the harshness I'm used to from my everyday vape gear (although I do sub-ohm 24mg liquid), but the nicotine seems to get into my system with satisfying speed. When I've tried other small devices I've often found myself reaching for my big mod just to keep myself firing on all cylinders, but the NS Pen didn't seem to need any help.
The only real drawback is the battery capacity. I found I was having to top it up at least a couple of times a day – although that doesn't take long, and to be fair I was using it pretty heavily.
The Liquids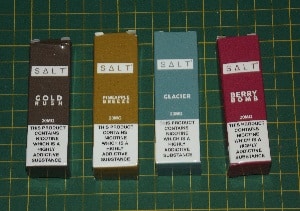 So let's take a look at the liquids, shall we? I got four to test, all branded Salt and made in the UK by Juice Sauz Ltd. The flavours I have are Gold Rush (tobacco), Glacier (menthol), Pineapple Breeze (which speaks for itself) and Berry Bomb (ditto). All came in silly little TPD-compliant 10ml bottles, which is the EU's fault, and all have a nicotine strength of 20mg/ml.
Firstly, they're all very smooth, pleasant vapes and they work perfectly with the NS Pen. There was no sign of harshness, just a decent amount of smooth and well-flavoured vapour. As for the flavours themselves, I was pretty impressed!
Gold Rush is a mild tobacco blend. Like all tobacco e-liquids it has a sweet undertone from the PG, but the tobacco flavour itself is very nice. Does it taste like a lit cigarette? No – the only way to replicate that taste is to buy an iQOS. Is it a very pleasant vape? Absolutely.
Glacier is a classic menthol. How does it taste? Well, it tastes of menthol, as you'd expect. It's not overwhelming, though – it's very nicely balanced, to be refreshing without making you feel you just ate a whole bag of cold.
Pineapple Breeze – This was my least favourite of the four, I have to say, but there's nothing wrong with it; I'm just not a huge fan of pineapple liquids. This one had plenty of flavour though, and it certainly tasted of pineapple, so if that's your thing go for it.
Berry Bomb – For a great finale, Berry Bomb certainly worked. It's a mixed berry flavour, and it's sweet and extremely fruity. Along with the Gold Rush, I could quite happily use this one as an all-day vape.

The Verdict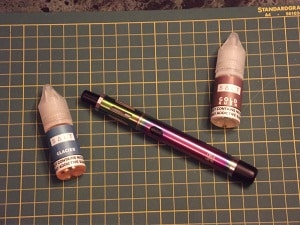 Overall I thought this was a very impressive package. When I picked up the NS Pen it did feel like I'd travelled back in time, but its performance soon got rid of that impression. I don't know if I'd use it with standard e-liquids, but paired with the nicotine salts it quickly became a go-to device when I was out and about. It worked fine when I was sitting at my desk, too – and it's as safe to use as any other e-cig. If you want a safer alternative to smoking, but HnB isn't your thing for some reason, this is definitely worth a shot.
If you are interested in purchasing the Vandy Vape Pen or SALT e-liquid we sell both of them right here on our website. Click here for the Vandy Vape Pen or click here for SALT Nic Salts E-Liquid.