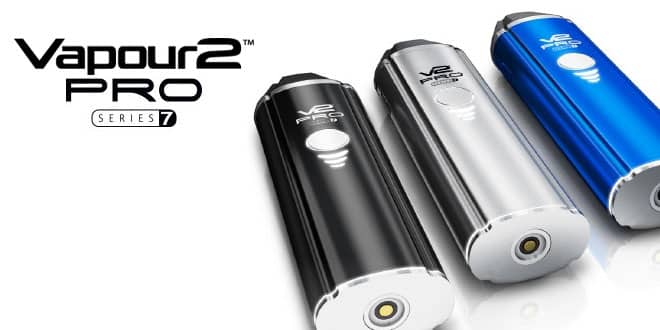 Reading Time:
6
minutes
So far, when it comes to reviewing Heat not Burn products, our focus has been on iQOS and Glo. There are many reasons for that, including the fact that they're gaining popularity very fast and they're likely to be the HnB devices you see in every corner shop a couple of years from now. The main reason, however, is simple – we reviewed them because we could get our hands on them.
There are other options though, and some of them have been around for quite a long time. Probably the oldest class of HnB devices is tobacco vaporisers. These are also known as loose leaf or dry herb vaporisers, because they're most often used with dry herbs. Hmm, what kind of herbs? Oregano? Parsley? Probably not, so we won't go into that here. However, they do work with tobacco, using the same principles as any other HnB product – they apply heat to tobacco, to create a vapour infused with nicotine and flavour compounds while avoiding the toxic carbon monoxide and tar.
The gold standard in loose leaf vaporisers for the last couple of years has been the PAX 2. As well as being extremely popular among the herb fraternity, this also has a reputation for working well with loose leaf tobacco. The problem is that it's very expensive – in the UK it usually sells for just under £200. That left us wondering if there were any more affordable options. After some searching we came up with the Vapour 2 Pro Series 7. This is still a high-end vapouriser, but at around £120 it's significantly cheaper than the PAX 2. It's also an interesting gadget for a few other reasons, so we were quite keen to have a look at it. Here's what we think.
The review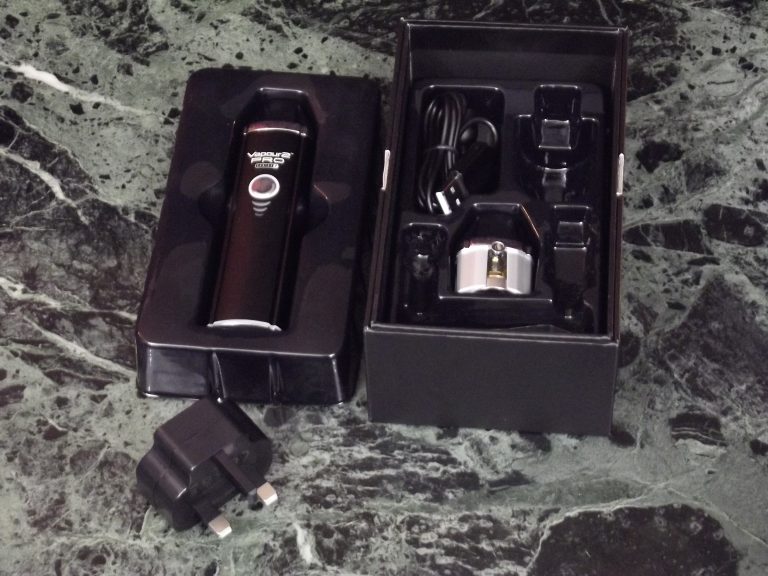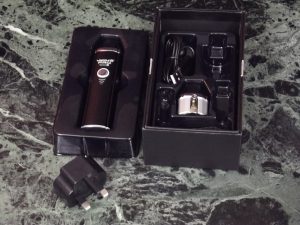 The Series 7 comes in a nice sturdy box with an outer sleeve. Inside, the top tray holds the vaporiser itself; underneath is another tray that contains a replacement atomiser, charging cable, cleaning kit and spare foil disks, and a clear, easy to use instruction leaflet. Although it was packaged separately, and not in the actual box, a Vapour 2-branded UK plug USB adapter came with it.
Before looking at the device in more detail, let's look at that replacement atomiser. The Series 7 will take three different atomisers, two of which are supplied with it. One is a loose leaf model, and the other is an e-cigarette tank. The third is for wax concentrates, but you have to buy that one separately.
The actual device is a slim gadget a bit over four inches long, with a flattened oval cross-section. It's pretty simple; there's a single button on the front, with an LED surround and three more LEDs below it. Another LED ring is sandwiched between the alloy body and the chromed base. On the base itself is the charging port. Apart from that there are two air slots on the sides, and four grooves running the length of the body that improve the grip. The whole thing is surprisingly light, but feels solid and well put together. The button seems to be chromed plastic but the base is steel.
Most of the device is taken up by the battery, and all the action happens at the top. This end of it is simply an open chamber with electrical contacts at the bottom; all you have to do is drop the atomiser you want into this chamber, and a magnet on its base will lock it in. Each atomiser is topped by a black plastic mouthpiece; both mouthpieces we got look the same on the outside, but they're not interchangeable.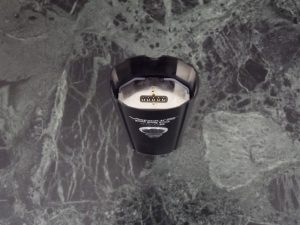 As this is an HnB site, we're mostly going to look at the loose leaf atomiser. I did try the e-cig one, though, and it worked pretty well. It wicks a bit slowly to keep up with high-VG liquids, and it's never going to be a cloud beast, but with a PG-heavy juice this would be ideal to slip in your pocket when you go out. It never seems to leak and the 2ml tank is enough to keep you going for a few hours.
Trying it out
Anyway, back to the loose leaf atomiser. This is a simple enough gadget. If you twist the mouthpiece anti-clockwise it comes off, revealing a cylindrical heating chamber with a perforated foil disk at the bottom – this seems to be there to stop bits of tobacco getting into the air channel that runs through the base. All you need to do then is load the chamber with tobacco, making sure not to fill it above the white ceramic ring near the top. Don't pack it too tightly, either; otherwise you won't get any airflow. Then just put the mouthpiece back on and you're ready to go.
The device can obviously tell which atomiser is fitted, because it switches into different modes depending on what's sitting on top. The e-cig is a simple push-to-fire system, but the loose leaf mode is different. Press and hold the button for a few seconds until the LED ring around the base lights up red; then just wait for it to warm up. After about 20 seconds the ring will turn amber; in another ten it goes green, and you're ready to start puffing. It will stay at running temperature for 90 seconds, then automatically shut down; the LED ring will start flashing five seconds before the power goes off.
This is where it gets complicated. I have to say, the first few times I tried it I was more than a bit underwhelmed by the amount of vapour it produced. It tasted fine – very like a cigarette. It seemed to be delivering enough nicotine, too. There just wasn't very much of it. I'm no cloud chaser, but I'm still used to the vapour production of a modern e-cig, so the little wisps from the Series 7 were a bit of a disappointment.
In fact it was so disappointing that I tried out a suggestion that had been made as a joke: Add some VG to the tobacco. I put some tobacco in a jar, added enough PG to moisten it, and left it overnight. That did a lot for the vapour, but changed the taste quite radically – after all, VG is used as a natural sweetener in a lot of foods.
Heat not Burn UK isn't a site that gives up easily, though, so I persevered – and finally I cracked it. The secret is the amount of tobacco you put in: Too much, even if it's loose enough to let the air flow freely, and you don't get much vapour. Open your baccy pouch, take out enough to loosely fill the chamber – then put about half of it back. I'm guessing that using too much tobacco stops the chamber getting hot enough to create a lot of vapour, but when it's properly loaded the results are much more impressive.
Battery life turned out to be fairly good. It won't last a whole day, but it's easy to charge. The charging port is interesting – it's magnetic, instead of the usual micro USB. This makes it more robust, and it's also very quick and easy to connect. If you're using it at home it's simple to top up the charge between vaping sessions. Another interesting – but also weird – touch is that there's a small blue LED mounted on the end of the charger. I have no idea why.
Verdict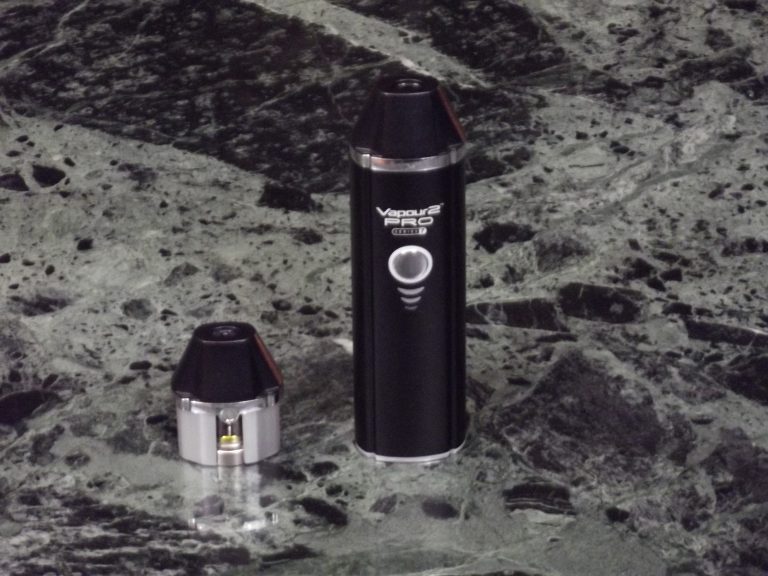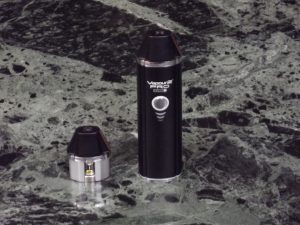 This was the first loose leaf vaporiser I'd tried, and after the initial process of getting to know how it worked I was quite pleased with it. If you're looking for huge clouds of vapour the Series 7 probably isn't for you, but if you just want something to replace your cigarettes that could be a different story. It isn't quite as close to the experience of smoking as iQOS or Glo, but it does have the advantage of flexibility. The mainstream HnB devices have a pretty limited range of flavours right now, and while that will probably grow over time, I doubt it's ever going to be huge. With the Series 7, however, you have a lot more options. I tried it with  standard rolling tobacco and a shredded Cohiba cigar, but you also have the full range of pipe tobaccos available, and I think it could work very well with some of those.
Learning to pack the loose leaf atomiser is a bit fiddly, but once you've cracked it the Vapour 2 Pro is a solid performer. The e-cig mode is also a nice touch, and you can switch between e-liquid and tobacco in seconds. Overall this is a very nice system; it seems to be well made, and with a bit of practice it delivers a satisfying tobacco vape. If you're interested in a loose leaf vaporiser and don't want to shell out for a PAX 2 (or want the ability to use e-liquid too) you won't go far wrong with the Vapour 2 Pro Series 7.