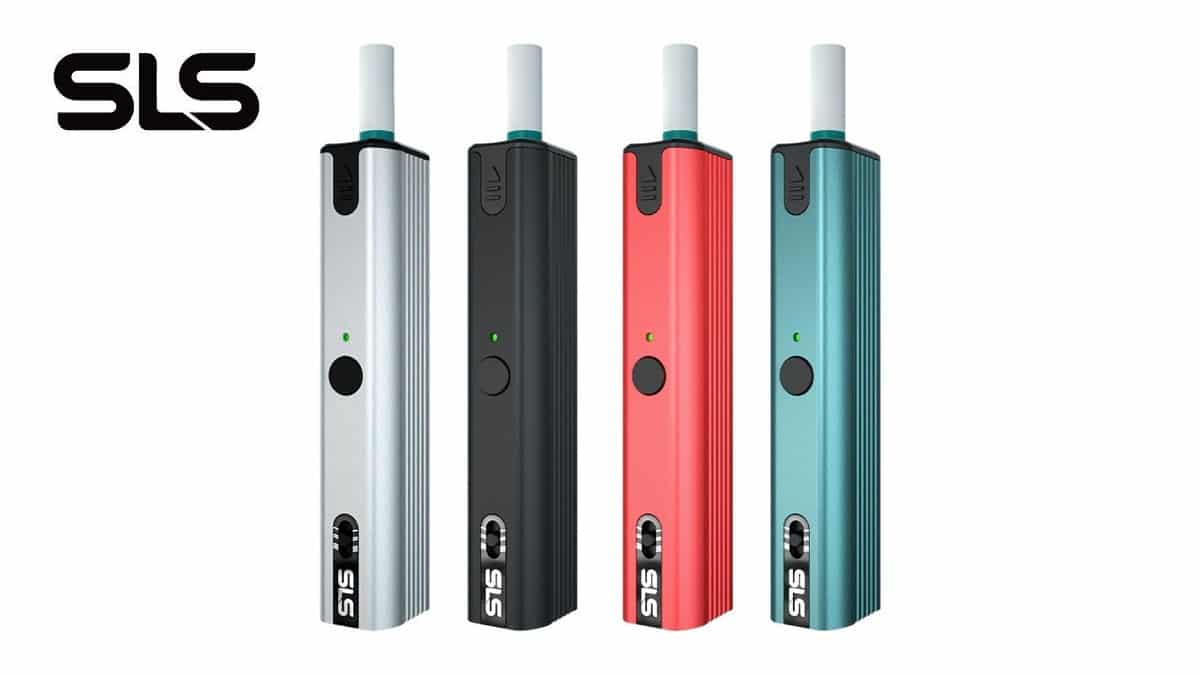 Reading Time:
5
minutes
SLS Good?
In January 2020, we reviewed the SLS CP from Shenzhen Changneng Huike Technology Limited Co. Ltd and we found that it came very close to taking the heat-not-burn crown from IQOS. For a long time between then and now, the SLS CP became my go-to device. It really is that good. With such success under their belt, I was more than a little excited to get my hands on the latest device from SLS.
SLS is a dynamic brand owned by Shenzhen Changneng Huike Technology Limited Co. Ltd specializing in heat not burn technology research and development for over 10 years. SLS HNB product is the solution of helping smokers leave smoking in the most harm-reduction way. To provide user-friendly and recognized HNB smoking alternatives is their brand mission.
The Device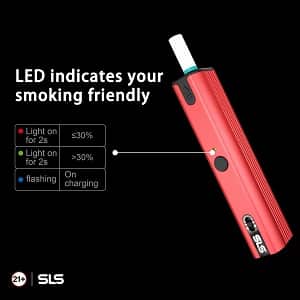 The SLS Bene is a slim and simple device with a single button that can indicate battery level (single click) or start the heating process (single, long click). There is also a simple sliding switch to set your preferred temperature.
When I say slim, I'm not kidding. Clocking in at a mere 18.5mm wide and 25.5mm deep this device is one of the smallest I've had in my hands. Unlike the first device from SLS, the Bene uses a spike, which makes sense for the slim form-factor. Having reviewed a number of devices for heatnotburn.co.uk, I do tend to prefer a blade over a spike as it seems to provide better flavour.
That said, the SLS Bene with its three-step temperature setting – particularly on "impressive" – does produce a decent amount of flavour. However, at the lower settings – "classic" and "fragrant" (medium and low in other words) – there is a noticeable decline in the amount of flavour. Classic, however, is a reasonable balance between flavour and temperature.
As with many recent devices, the SLS Bene also attempts to make it easier to remove the tobacco stick from the device. Usually, the entirety of the top is pushed up a la IQOS which lifts the tobacco stick from the blade (or spike). In the case of the SLS Bene, the method used is akin to a "bucket" which is lifted, or pushed, from the front of the device by using a shaped tab. Due to the slim size of the device, the lift tab can only really be pushed by using my thumb. Specifically, the nail.
When fresh out of the box, the magnets that hold the bucket in place are quite strong so it does take more effort than is strictly necessary to lift the bucket with a tobacco stick in place. After time, the magnets do weaken enough that removal of the bucket is easier and, as I have discovered, if debris accumulates underneath the bucket (which it will), the magnets aren't enough to hold it in place resulting in the bucket falling out.
One other point about the bucket is that it isn't a snug fit. There is approximately 1mm of space surrounding it. The top is the same size as the rest of the device however. This does mean that when lifting the bucket using the tab, you can push the bucket against the back of the device which makes it much harder to lift as the bucket is now firmly against the inside of the device itself.
Most devices that have a removable top cap to aid in removing the consumed tobacco stick rely on magnets or some kind of physical mechanism, but they don't tend to be a form-fitting bucket that sit inside the device itself. It is a unique approach, but I'm not convinced about the durability.
Impressions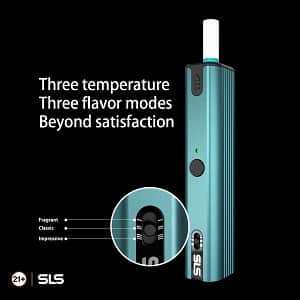 There is a definite trend toward simplicity in heat-not-burn devices at the moment. A trend that I wholeheartedly welcome. However, the trend toward slimmer devices is not one I welcome. The trouble with slim devices, for me at least, is the battery. Inside the SLS Bene is a 900mAh battery that is good for ~15 tobacco sticks on a full charge. It does mean that the device is nice and light – weighing in at a mere 54g – and that charging is, relatively speaking, fast at 45 minutes to full. However, the small battery does mean that pre-heating takes almost 30 seconds – most other, larger battery devices take roughly half the time.
It is, naturally, a trade off between the size of the device, how long it can be used (i.e. number of HEETS), weight, charging time and pre-heat time. So far, no one device that I've had my hands on has managed to nail the perfect balance where the device will last for a pack of tobacco sticks or more, be reasonably quick to charge, be modestly light and be quick to heat.
Rapid charging, for me at least, is already available for many smart phones now although the battery technology in those is different from heat-not-burn devices but it shouldn't be too difficult to engineer something. Waiting for upwards of 45 minutes (for the Bene) to the upper range of 2 hours is a drag that, in today's fast moving society, shouldn't be there. True, you could feasibly get two SLS Bene devices to rotate so that you always have a fully charged device to hand.
Slim devices, for me, don't sit comfortably in my hand either. Naturally, your mileage may vary.
Summary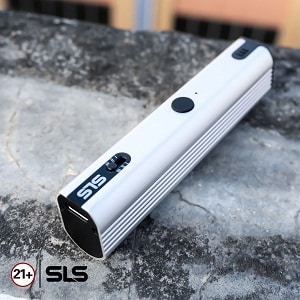 A slim, lightweight device that can last for 15-18 tobacco sticks is not to be sneezed at. Currently available in four colours (Silver, Black, Blue and Red) for a reasonably light price-tag makes the SLS Bene very appealing for modest users and heavy users looking for a back-up device. The slide-switch for temperature is a nice touch. Instead of a potentially confusing set of button-clicks, a physical switch makes it easy to recognise and set your desired level.
I have my doubts about the durability of the removable bucket however. For light (no more than 10 tobacco sticks per day) to medium (10-20 tobacco sticks per day) level users that don't consume a pack of tobacco sticks in a day the SLS Bene is a good choice. Though I would say that individuals with larger than average hands may find this device uncomfortable to use. But, of course, your mileage may vary.
All in all, a reasonably priced device that is simple to use and lasts for a reasonable amount of time. Can't ask for more, can we?
If you are interested in purchasing this device more details can be found on their official website.