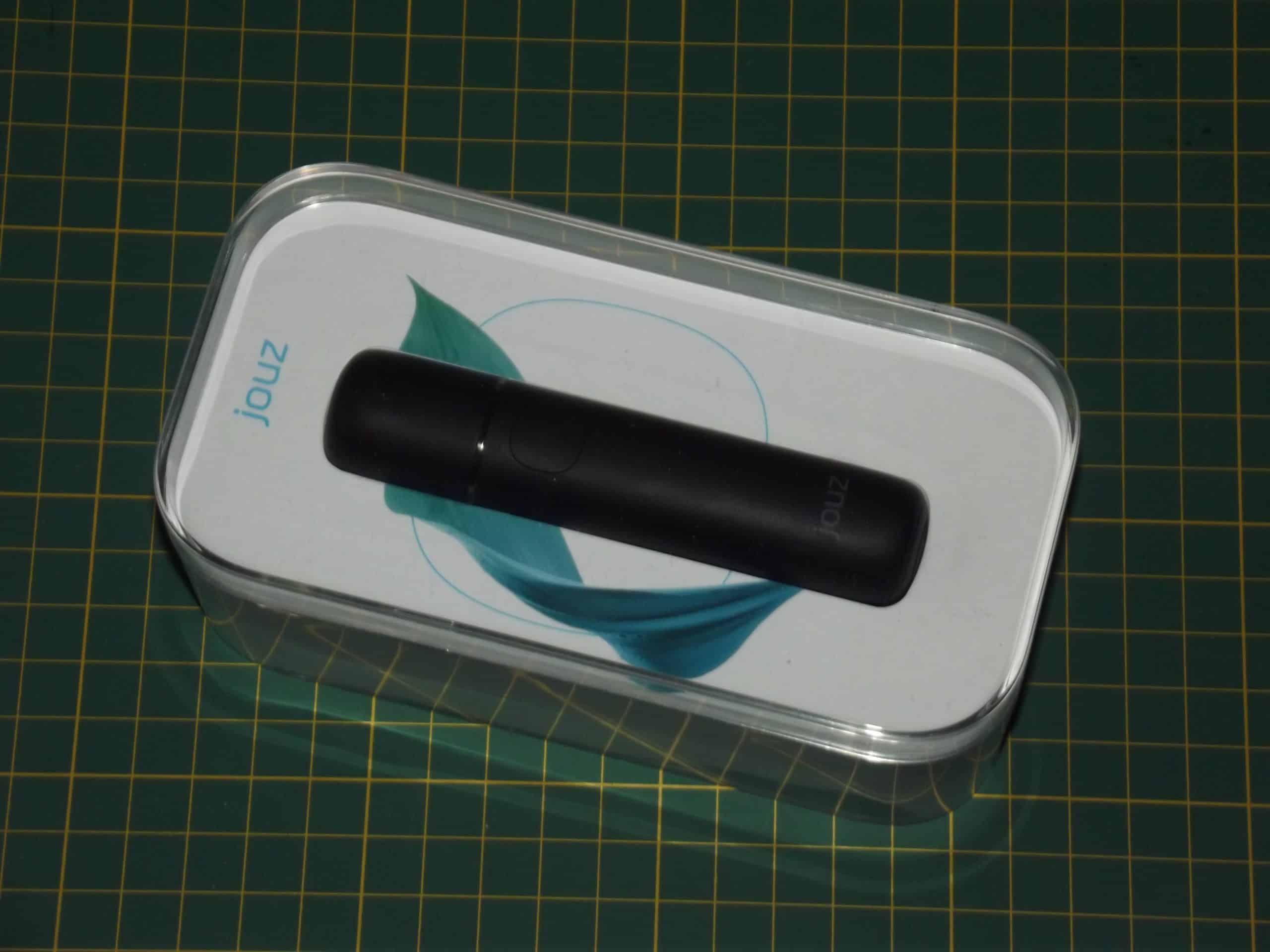 Reading Time:
5
minutes
Right now I feel the same way about Heat not Burn as I did about vaping when I first discovered the whole world of devices that existed beyond the cigarette-style things I started with. From one really practical device – the iQOS – a couple of years ago, the market has expanded rapidly; we seem to be hearing about new products every week now, and quite a few of them are making it into our hands. You might remember how long it took us to actually get to review an iQOS in the early days of the site. Well, it's not like that now.
Some of the early devices we got from Chinese manufacturers were a bit on the crude side. I'm not going to name any names here, but if you've been reading my reviews you can probably guess the ones I'm talking about. Things are moving fast, though, and over the last few months I've had a couple of very nice devices sitting on my desk.
Well, now I have another couple. Last week the boat from China brought me two examples of the new Jouz, yet another vaporiser that runs on Philip Morris's increasingly popular HEETs. So without further ado, let's see what it's like.
The Review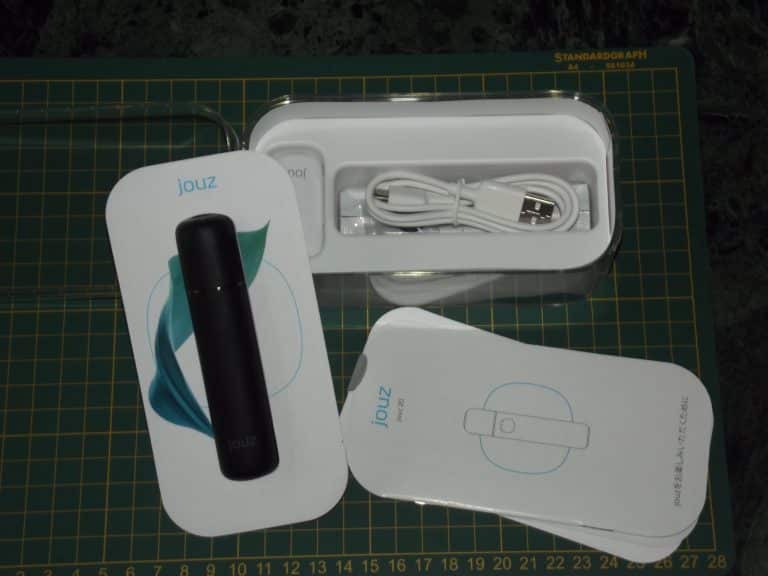 The Jouz comes in a nice hard plastic box, which (for my samples, at least) has a cardboard outer cover around it. Tear off the cardboard and open the box, and the Jouz is sitting there in the usual moulded plastic tray. The tray lifts out to reveal an instruction leaflet in English and Mandarin, and a warranty card. Under those is another tray containing a selection of goodies. There's a USB charging cable, a nice cleaning brush, a pack of pipecleaners and a couple of covers for the heating chamber. There are two covers because you're going to lose the first one and need a spare. Then you're going to lose that too. The accessories all seem good quality, though, adding up to a very nicely presented package.
The device itself is about the shape of a large lipstick. It has a roughly square cross section with well-rounded corners, making it very comfortable to hold. It's chunkier and heavier than the Switch I looked at a couple of weeks ago (although a little bit shorter), and significantly larger than an iQOS holder, but it's still a pretty compact device. The body appears to be plastic, with a nice satin finish that gives a decent grip. The removable top cap has a metal reinforcing ring around the opening for the heating chamber; those plastic covers plug into this opening, until you lose them. The top cap itself can be slipped off for cleaning; a couple of notches ensure it can only be put back in the correct alignment with the blade, and a magnet holds it in place.
Build quality is excellent throughout. All the parts fit together perfectly and the Jouz has a real high-quality feel to it. A lot of engineering has gone into this device; I was thoroughly impressed.
Under the top cap the Jouz is remarkably tidy. The top surface is flat, with a vented tubular heating chamber projecting from the centre. Inside the chamber is a ceramic heating blade. The neat setup makes it very easy to clean.
I'm getting to know how people make these devices now, so after checking out the top cap I looked at the base expecting to see the usual micro USB charging port. Much to my surprise, I didn't. In fact I couldn't see it anywhere else either. Then I noticed a circular insert in the base, with a small dot at one side. Push the dot and the insert tilts slightly, exposing the charging port set into one edge. This is a neat touch that keeps pocket fluff and dust out of the port when you're not using it.
All actual control of the device is handled by a single power button just below the top cap. This blends extremely well with the body – so well it's actually quite hard to spot – and has three small white LEDs set into it.
Vaping the Jouz
The first step, as usual, was to charge the battery. This took just under two hours, with progress marked by the three LEDs lighting up one by one as the charge filled up. When all three were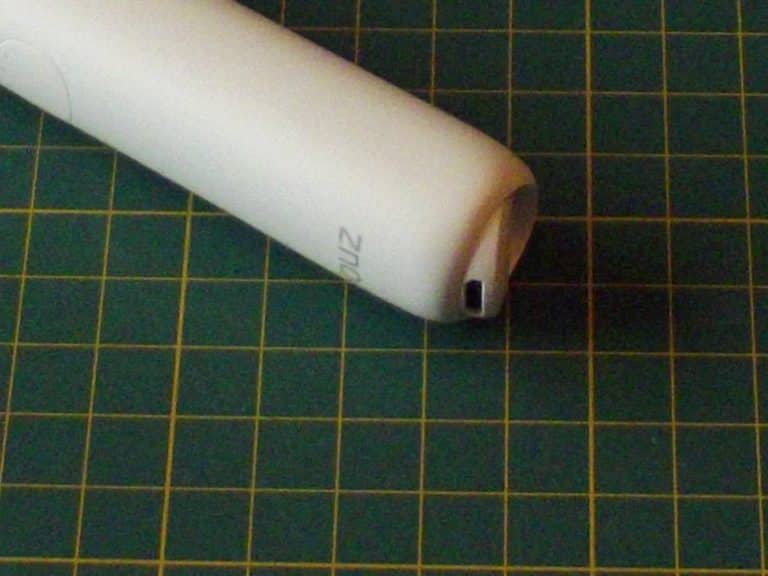 glowing steadily I unplugged it, flipped the base a few times just because it was fun, removed and lost the cover for the cleaning chamber and shoved in a HEET. The chamber is a nice easy fit for the sticks – there's no trouble getting them in.
With a HEET in place all you need to do is hold down the power button for three seconds until the device vibrates to signal that it's powered up and heating. Once that happens it takes almost exactly 20 seconds to reach operating temperature. That's not stunningly fast, but it is about average, so no complaints there. When it's ready to go it vibrates again; at that point I got puffing.
I have to say, I was pleased with the vape from the Jouz. It's not quite up there with the iQOS 2.4 Plus, which really is the gold standard in the vapour department, but it's still very good. There's no shortage of vapour and it's dense and richly flavoured, although the taste did begin to fall off noticeably towards the end of the HEET. That seems to be pretty unavoidable with this technology, although again iQOS has a bit of an edge.
Each session with the Jouz lasts five and a half minutes or 14 puffs, whatever comes first. The device vibrates to signal that you're down to the last 20 seconds or two puffs, so you can grab a final bit of nicotine before it shuts down. Once it switches off just slide the top cap up half an inch to get the HEET off the blade, take it out and let the magnet snap the cap down into place. Then look for the dust cover you've lost and get the spare one from the box.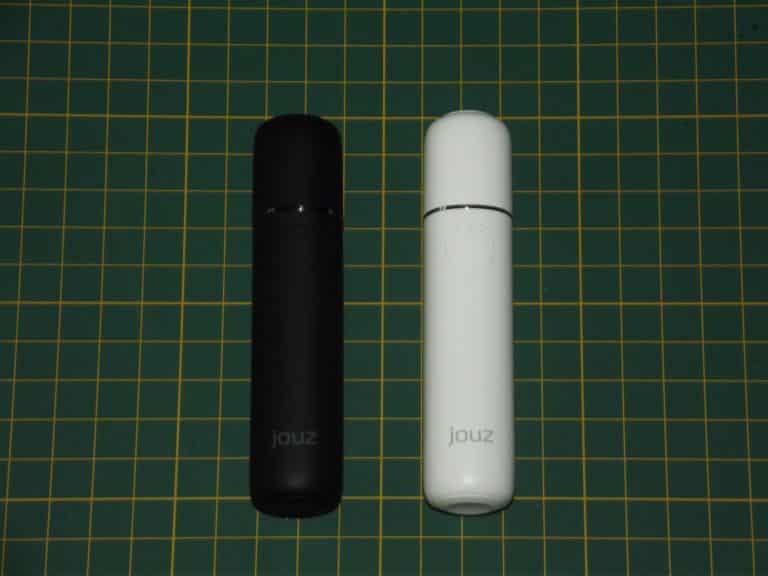 Because Jouz is a fairly small device it doesn't have massive battery capacity. Even so, a full charge is good for at least 15 HEETs, so it should get you through most of a day before you have to plug it in.
The Verdict
I really, really like the Jouz. It's compact, very well made, simple to use and maintain, and gives a decent vape. Are there any negatives? Well, I'd like a bit more battery capacity (as always) and it's just a bit too heavy to leave it hanging from my lip as I work, but apart from that it ticks all the right boxes. Is this a match for the iQOS? Probably not, but if you want a Heat not Burn device that's self-contained, rather than relying on a charging case, the Jouz should be close to the top of your list. It's an excellent product.