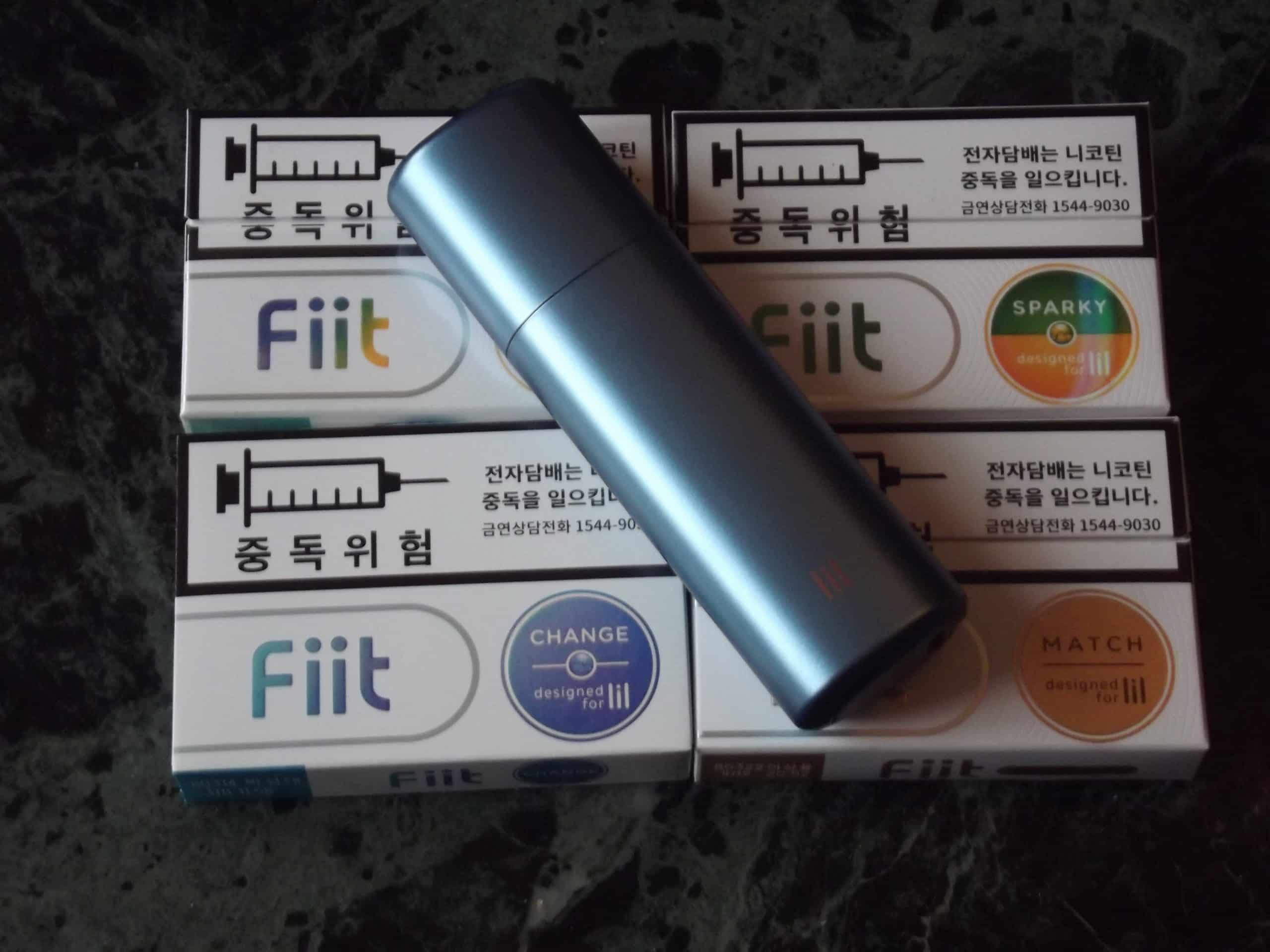 Reading Time:
7
minutes
You probably remember that, a couple of months ago, the Heat not Burn UK team were very excited about the Lil from Korean Tobacco & Ginseng. As far as we know we did the first review of the Lil that wasn't written in Korean, and I have to admit we were impressed by it. Maybe more than any other device we've tested, this was a genuine rival to the iQOS. Easy to use and pretty compact, compatible with Heets and delivering both decent battery life and a very good vape, the Lil is a really good package.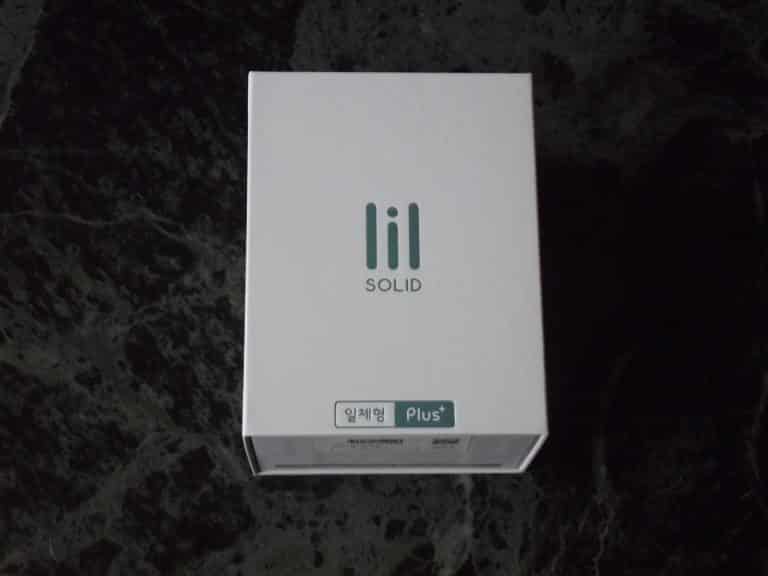 What really impressed us, though, was that by the time our Lil arrived a new version was already hitting the shelves in South Korea and racking up impressive sales figures. That's a pretty quick product life cycle, especially for a major company. Vapers are used to products that come and go in a matter of a few months, because that market's driven by small and medium independent companies that need to innovate constantly to stay in the game. I expect something similar to happen in the emerging independent HnB sector, with devices getting updated or replaced every few months.
It's a bit different for the major tobacco companies, though. They have to be more cautious, because unlike a small engineering firm in Shenzhen they're going to face major blowback if they get it wrong. That's why products like iQOS and Glo spend a couple of years on sale in limited test markets before they get rolled out globally; the company has time to identify and iron out any issues, while limiting their exposure if there's a problem.
KT&G don't seem to be as cautious as other tobacco companies, though. We hadn't even heard of the Lil until last October, and a few months later I had one in my hand. By that time its replacement was already on sale. KT&G might not be a global player, but they're still a big company – and for a big company, releasing two generations of a product in less than a year is fast.
Anyway, back to the gadget. We said at the time that we'd get one for review as soon as we could, and now it's here. In fact it's been here for a few days, and now it's been through our intensive Heat not Burn UK testing process. Read on to find out what's new in South Korean heated tobacco products!
The Review
The new product is called the Lil Solid, and it comes packed in exactly the same neat cardboard box as its older brother. Strip off the plastic wrapping and lift the magnetically-closed side flap, and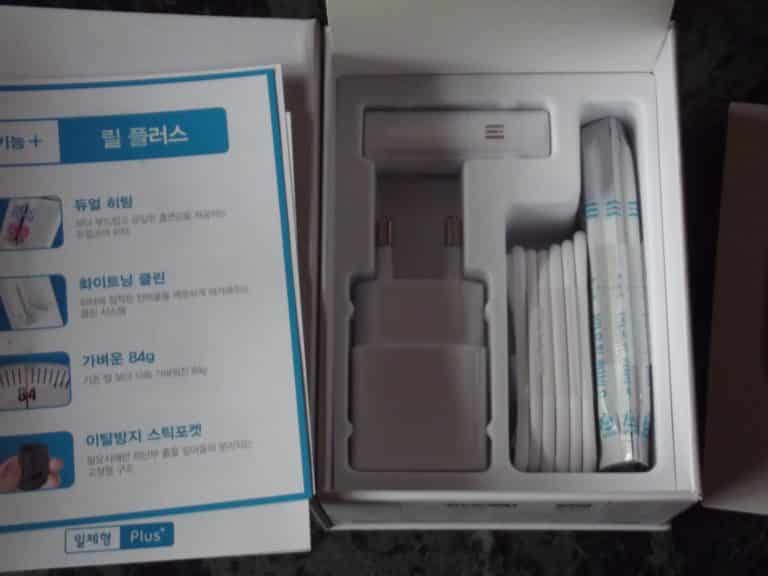 you'll find the Lil Plus sitting securely in a plastic tray. That lifts out to reveal an instruction manual (which I didn't read because a) it's all in Korean and b) reading the instructions is for girls) and, under that, a flap which covers another tray packed with accessories.
After giving the Lil Solid itself a bit of a double take I pawed through all the extra bits, which are identical to what comes with the original Lil – a USB cable and plug, some alcohol-soaked cleaning sticks and a neat little brush. Everything feels high quality and does its job very well. So, finding no surprises there, I went back to the actual device.
I mentioned that I gave it a double take when I opened the box. That's because we'd been led to believe the Lil Solid would be smaller and lighter. Well, it isn't. In fact my first impression was that the only difference between the new Lil Solid and my old Lil was that the new one is blue.
On closer inspection this wasn't quite the case. The Lil Solid is about an eighth of an inch shorter than its predecessor because the base, which was slightly convex on the Lil, has been flattened. That means you can stand it upright if you want. I was always trying this with the Lil and even succeeded a few times, but it falls over if you look at it funny. The new one is a lot more stable, which I like.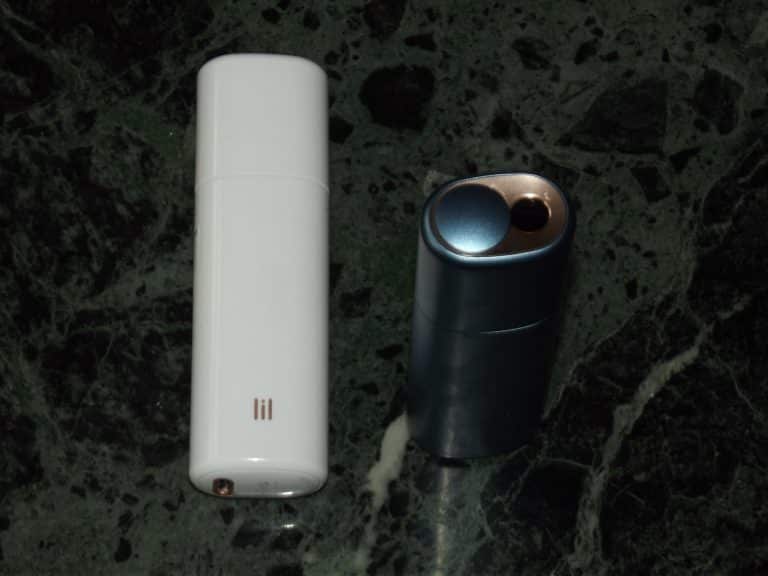 Apart from that tiny difference, though, they're exactly the same size. In fact, just to check, I swapped the top caps around and they fitted perfectly. So if you were hoping for a device that packed the Lil's performance into a smaller package, this isn't it. On the other hand that's not a big deal, because it's a pretty compact unit anyway.
Once I'd examined the Lil Solid in detail I found a few more small differences. The sliding button that covers the heating chamber is a lot less plasticky, for example. The power button now has a neat metal trim, and the LED indicator in it is hidden until it lights up. Overall it feels like a more polished product. The top plate is still stamped out of some copper-coloured alloy, but it's neat enough and completely functional.
There's obviously been some work done inside, too. One of the things I liked about the original Lil was how easy it was to clean (or remove tobacco plugs that had detached themselves when I removed a used stick). All you have to do is pull off the plastic shroud that surrounds the heating chamber, and the tobacco comes out with it. The Solid keeps this neat system, but while the Lil's shroud will fit in the Solid, the Solid's won't fit the Lil. I'm not totally sure what the difference is, but KT&G clearly thought it needed a tweak.
Testing!
Playing with shiny things is always fun, but the important thing is how it vapes. I wasn't quite sure what to expect here. We'd heard that the Solid would have an upgraded heating element, but then we'd also heard it would be smaller and lighter; well, you already know how that turned out. Anyway I plugged it in to top up the charge – a full charge takes about an hour – then dug out some sticks and got vaping.
This time I had four packs of KT&G's own Fiit sticks to play with. Three of them were different varieties of Change Up sticks, which have a breakable flavour capsule embedded in the filter. The names of the flavours were a bit unhelpful – Change Up, Change and Sparky – but I was able to guess what they were. Change is a fresh spearmint, Change Up is a classic menthol and Sparky seems to be a mint/citrus blend that really was very nice. The fourth pack, labelled Match, was a medium tobacco blend that tasted pretty similar to an Amber HEET.
With the battery fully charged and a Match in place, I held down the button until the device vibrated and then started my stopwatch. I was hoping that it would heat up faster than the Lil's impressive 15 seconds, but it didn't. In fact it took a couple of seconds longer, but I'm putting that down to my office being a hell of a lot colder than it was on those sweltering days in June when I reviewed the original. Just to verify that I tested the Lil too, and got the same result.
Anyway, 17 seconds after I pressed the button the Lil Solid vibrated again, letting me know it was at running temperature, and I took a vape. How was it? Well, it was exactly the same as the Lil, which is to say it was very good indeed. I'm going to repeat what I said about this device being at least as good as the iQOS. There's plenty of vapour, and it's warm, satisfying and richly flavoured. Interestingly, although I was never a fan of menthols when I smoked, I found myself really enjoying the Change Up sticks.
I soon found one change that's been made to how the device works; while the Lil ran for four minutes or 14 puffs, the Lil Solid shuts down after three and a half minutes. That makes sense; by that time the stick is pretty much done anyway. Like the Lil it gives you a warning buzz ten seconds before it powers down, so you can grab a last dash of nicotine.
Battery life was pretty much exactly the same as the original Lil. A full charge was good for roughly one pack of sticks, which is respectable. Combined with its quick charging time, there's no reason to be caught short during the day unless you're a really heavy user. Of course I am a really heavy user, but I was testing it at my desk. Plugging it in for a few minutes between sticks kept the battery fully charged.
Cleaning was as easy as I'd expected. I did find the Solid a little more prone to pulling the tobacco out of used sticks as I removed them, but it's so easy to clear the residue that I wasn't really bothered.
Conclusions
After testing the Lil Solid I think I can see how KT&G managed to get it on the market so quickly. This isn't really a new device; it's basically the original Lil with the rough edges polished off. So is it worth getting one if you're in Korea? Definitely! Yes, it's a slightly tweaked Lil. That's fine; the Lil is an excellent heat not burn system. The Solid is just as good, a bit more refined, and it's still compatible with Heets. If for some reason the iQOS 2.4 Plus isn't for you, this is a great alternative.