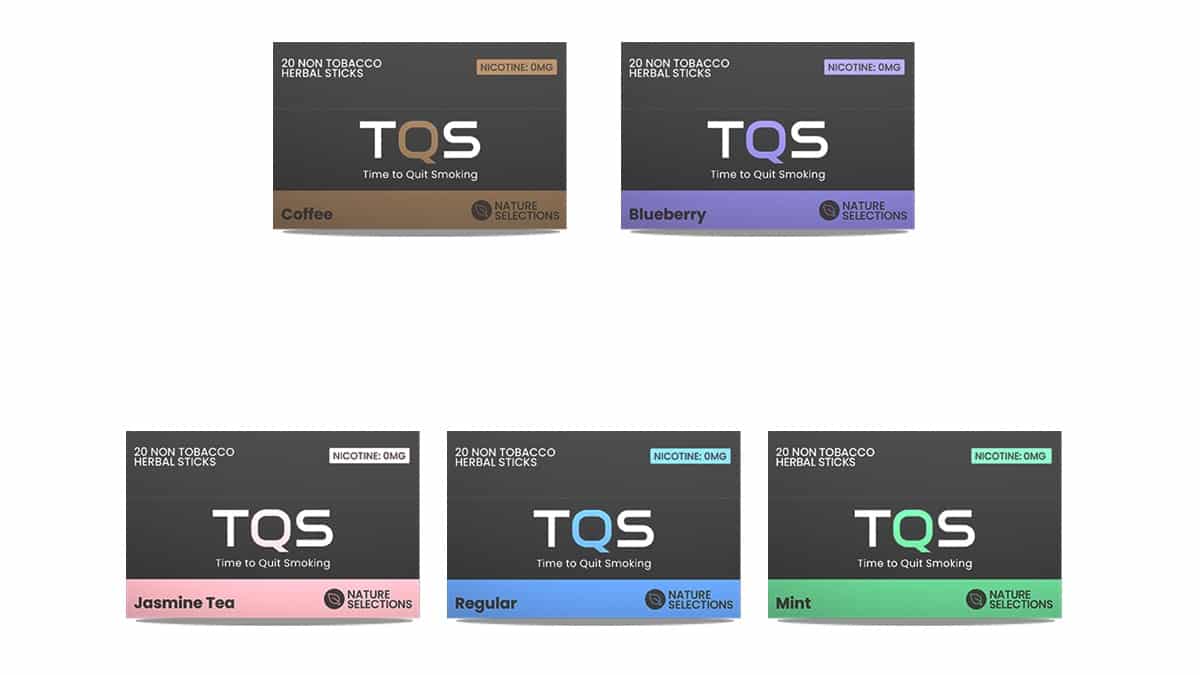 Reading Time:
3
minutes
Time To Quit Smoking?
It seems that manufacturers in China are set on producing heat-not-burn consumables – aka tobacco sticks – to either a) just be a general consumable for the heat-not-burn market or, b) as consumables for their own devices. Another point, China is also not using tobacco. Unlike PMI. We've had the privilege of trying a number of non-tobacco sticks (reviews here, here, here and here) and they've all had plus and negative points. How does this batch of TQS Non Tobacco Herbal Sticks stack up to the others? Read on to find out!
From Shenzhen iMiracle Technology comes the TQS non-tobacco herbal heat-not-burn sticks. Similar to one of our previous reviews, the TQS non-tobacco herbal sticks feature tea powder, nicotine (or not) and flavours. TQS, currently, have 5 flavours with more in development. For this review, we were sent:
Mint
Blueberry
Regular
Coffee
Interestingly, each pack has an expiration date of ~18 months. For most, this won't be a major problem as they'll likely be consumed long before the expiry date. But, that date does depend on the date of production, which is only listed on the wholesale box.
To make sure that the review is as accurate as possible, I'll be using the IQOS 3 DUO which will give me a consistent temperature experience. As always with a flavour review, taste is entirely subjective so your mileage may vary. As an aside, the flavours we were sent for review were all no-nicotine variants. A 2mg nicotine variant is available.
Flavour Test
Mint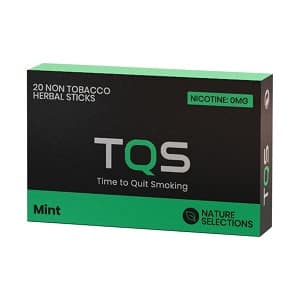 Most mint flavours are wildly varied. They are either too subtle or too strong. Some, as noted elsewhere in our reviews, get it right. After devouring over half a pack, TQS seem to have opted for a milder mint variant. This does, of course, mean that this flavour can handily suit an individual for an "all-day" flavour.
There isn't a harsh feeling on the draw, and a very light mint flavour on the exhale
6/10
Regular
If there is one thing I've learned – the hard way in most cases – is that a "regular" – or tobacco – flavour for heat-not-burn isn't as easy as you would think. When the manufacturer doesn't use tobacco it is far more difficult.
I'm not sure what TQS were aiming for with the Regular flavour but, sadly, they have missed with this one. Instead of a rich, authentic tobacco taste I instead got a somewhat floral taste. As noted above, this may be related to the expiry date as the experience from this flavour didn't improve as I consumed half the pack.
5/10
Coffee
Unlike menthol flavours, coffee flavour is relatively easy or, I should say, as easy as anything to do with mixing flavours can be anyway. Sadly, I've yet to find a nice, flavourful and balanced coffee flavour so, as you can imagine, as a coffee fanatic, I was somewhat nervous about this flavour.
Fortunately, the heating did provide a nice depth to this flavour. It isn't particularly strong, or rich in flavour but it is smooth. The lack of strength, however, is this flavour's weakness. What flavour there is, does drop off pretty rapidly and by the end of the stick the depth that was present at the beginning was all but gone.
A solid 7/10
Blueberry
With heat-not-burn, as with vaping, there is always that one flavour that – for whatever reason – just works. Don't ask me how, or why as I have no idea. With vaping it's usually Apple though. Blueberry is there. For heat-not-burn, it is always Blueberry.
This flavour is, quite simply, bursting with it. I definitely had the sensation of a juicy blueberry on both the inhale and exhale. Unlike the coffee flavour, there wasn't any drop-off in the taste throughout. That said, while this is a good thing, it might be a little too "juicy" in terms of flavour as it can get a little bit much when it is the only flavour you have to hand.
9/10
Conclusion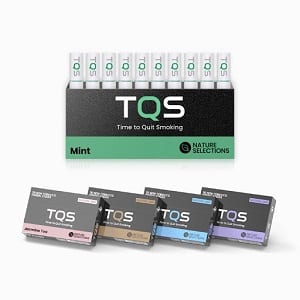 Overall, with the one outlier, TQS have put together some solid flavour offerings here with their TQS tobacco sticks. Aside from Regular being completely off the mark – at least, in the pack that I received – the flavours were reasonable. Mint, as one of the more awkward flavours, wasn't harsh and was, in fact, a very pleasant experience. Coffee, one of the better coffee flavours I've had and Blueberry was very good but, perhaps, a bit over-flavoured.
Variety. Choice. This is a great time for heat-not-burn consumers.