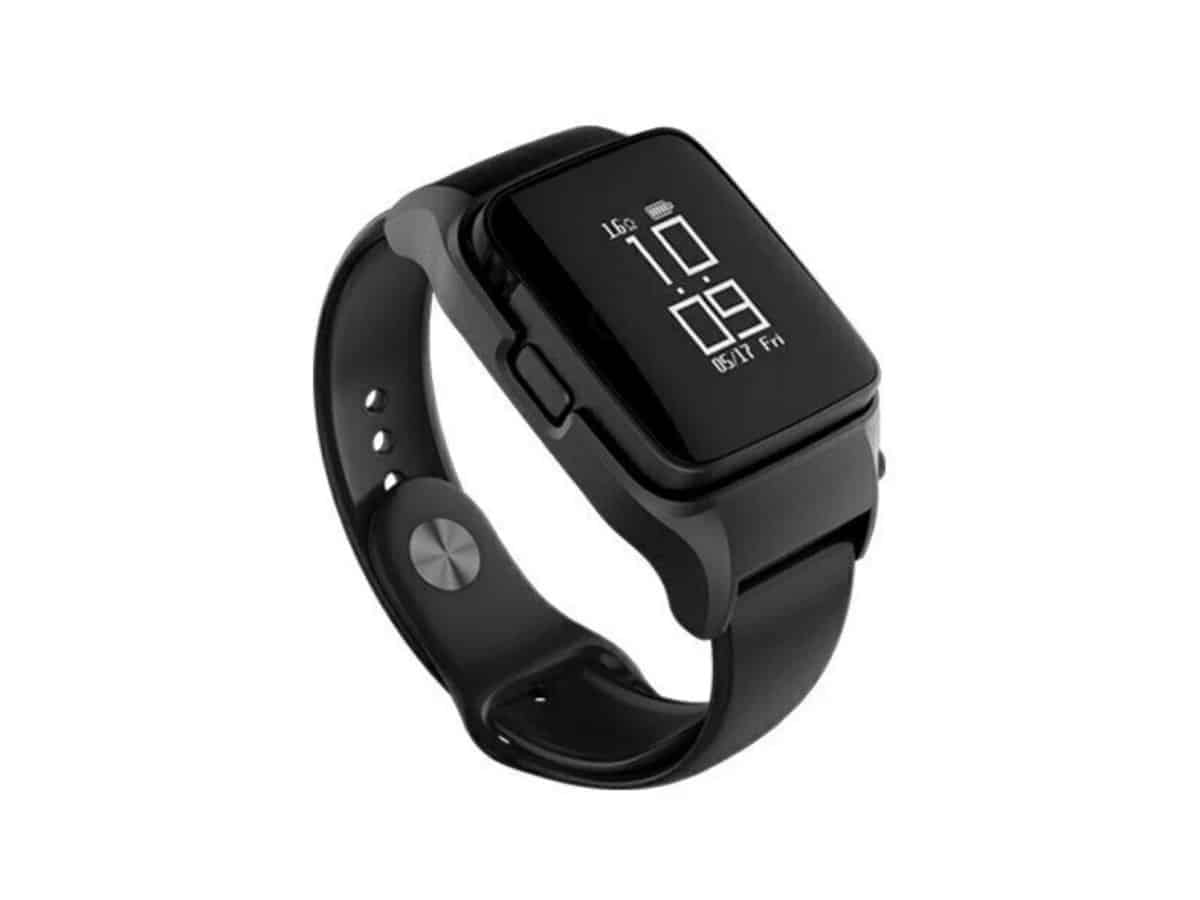 Reading Time:
6
minutes
Must have or just a gimmick?
Uwell have been around a while and have made several different tanks and mods. Famous, mostly, for the Crown tank that produces an incredible amount of flavour (and cloudage), they have turned their attentions to pod vaping. They have three pod mods but I'm looking at the one that I, initially, thought was just a gimmick.
I am a self-confessed geek. I love gadgets and technology. Heck, I work in the technology industry but, oddly, I'm not overly bothered with smart devices. I have an iPhone 7 for work that still doesn't have any additional apps installed on it, and I've had it for two years now. Same with my own Android phone. If I can't use both hands to type, I'm not interested. The Uwell Amulet, well, it piqued my interest.
Unboxing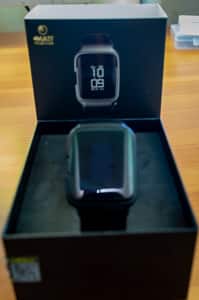 I didn't believe it when I discovered exactly what the Amulet was. It's a small, lightweight, pod mod in the form of a watch. Yes, a watch. Complete with strap. Given how small the device itself is, I wasn't expecting much from it. Inside the box, underneath the multi-lingual manual and tightly nestled in foam is the device itself. Tucked under that is the very short mini USB cable.
Unusually, it didn't come with any spare pods (I'll get to that in a bit) but so far, this hasn't been much of an issue. The specification is what you would expect from a small, lightweight device. 2ml volume, 1.6 Ohm coil inside the pod and a 370 mAh battery.
Pods
When you see "pod-mod" you would expect to see something like the MyBlu or a JUUL (or even JUUL-like) set-up where the pod is pre-filled and disposable. Not in the case of the Uwell Amulet. Calling it a pod-mod is stretching the term a little. You see, the Amulet is a refillable pod-mod making more akin to a tank then a pod. Given that inside is a 1.6 Ohm coil, it's a safe bet that it's going to last for a while. Plus, the replacements aren't exactly expensive.
The review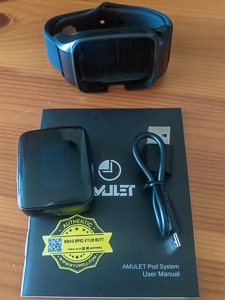 Luckily for me, the Amulet had close to a full charge when it turned up in the post, so it behoved me to crack open the box, fill the pod, strap it onto my wrist and see how it fared.
As a watch it's comfortable except in humid weather – particularly if, like me, perspiration flows freely. But then, that's the same problem for any wrist worn device. Due to the lightweight nature of the Amulet, I barely notice that I'm wearing it – the strap is a nice, squishy silicone. It's also 270mm so it should fit most wrists.
Releasing the Uwell Amulet from the wrist is a simple case of pressing the button at the base of the casing to release the mod and gently ease it out. To refit, slide the mouthpiece end in first and push the bottom section into the casing. There's a satisfying click as it locks in place.
The tank is easily removed from the battery by simply sliding it upwards. It isn't magnetised, but it is a snug fit, so it won't drop off. Flip the tank over and you'll see the silicone bung and the two contact points for the battery. To fill the tank, pull the silicone bung out (it's 'hinged' to the tank so you can't lose it) and fill. Recommend that you use bottles with smaller tips, or a syringe. The larger bottles and droppers will make a mess.
For my review, I got my hands on some Salt flavours which (spoiler) work really well in the Amulet. More on that later.
Using the Amulet
The Uwell Amulet is draw-activated, the button is only there to activate the display for the watch part of the device, flip the screen and to set the date & time.
Turn on/off – 5 clicks
Flip the screen (for lefties/righties) – hold the button for 4 seconds
Set the date/time – 3 clicks
There are also two touch sensitive buttons on either side of the screen to change the number (when setting the date/time) up or down. Once you've got the right number, click the side button to move to change to the next number (minutes, day, month etc). Once the date/time are correct, 3 more clicks on the side button to return to normal mode.
Vaping the Amulet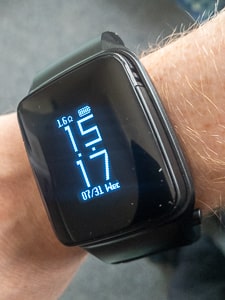 This is where I got my biggest surprise. As mentioned earlier, I got my hands on some Salt flavours as part of this review. Salt are nicotine salt based 50/50 flavours at 20mg. Right on the maximum allowed limit under the ridiculous EU TPD2.
Being the eager beaver, I am when it comes to new things, I stuffed 2ml of Berry Bomb from Salt into the tank. Word of caution: let the device sit for at least 5 minutes after filling for the first time to allow the coil to wick properly. Berry Bomb is a mix of red berries with a subtle menthol undertone and a hint of aniseed (according to the website) so I was waiting impatiently.
As the Uwell Amulet is draw-activated, and sensitive at that, it doesn't take much to activate it. There isn't much in the way of ramp-up delay. For such a small device, it performs well. The airflow is a little loose for my taste but, that can easily be countered by placing a finger (or thumb) on one of the sides to limit, or control, the airflow.
Naturally, limiting the airflow means a slightly warmer vape – the coil is directly under the shaped mouthpiece, but it is never too hot (unless you chain vape, but then this device really isn't for that). Either way, it does produce a good amount of visible cloud – from a 1.6 Ohm coil at 10W. A surprising amount of cloud.
From a liquid perspective, the Salt flavours I've tried (more on that below) were effective. The vape is very smooth and full of flavour. Usually, smaller devices tend to be somewhat lacking in both output and flavour, but this is not the case with the Amulet.
Flavours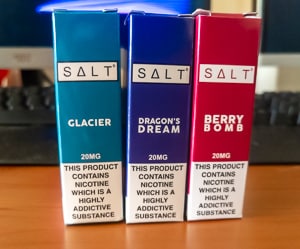 The Salt flavours are impressive. Nicotine salt has many advantages over freebase. Delivery is smoother, and the absorption rate is better. Let's have a quick look at the flavours I tried:
Berry Bomb – those familiar with the old favourite Red Astaire will recognise the combination here. The difference is that it doesn't pack the same menthol/aniseed punch. It's far more subtle, but it's there. This is a very good berry flavour and easily an all-day vape.
Dragon's Dream – A sweet and tropical mix featuring dragonfruit and blueberry. An interesting mix that has a creamy taste without the cream. It's definitely unique, but not one that I would consider an all-day vape.
Glacier – A menthol vape. Unlike most menthol vapes, this doesn't give your sinuses a good scrubbing with wire wool. It is, in fact, mild in strength, but that doesn't mean it is a bad menthol. Prolonged 'use' does give an increasing minty feel, so after two or three puffs it does start to become a little overpowering.
Conclusion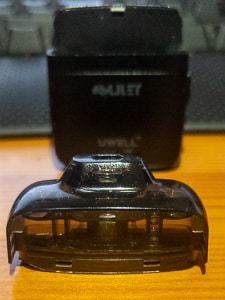 The Uwell Amulet is a surprisingly good device. When attached to my wrist, I just didn't know it was there because it was so comfortable. The front of the device is, as most screens are, a fingerprint and smudge magnet. It also isn't particularly durable as it doesn't take much to scratch it. That's only a cosmetic point though, and it doesn't affect the operation of the device. At all.
Despite only have a 370mAh battery, it does last a decent period of time; during my time with the device a full charge lasted a full working day. It also doesn't take long to charge from flat to full – clocking in at around 50 minutes; admittedly it is longer than most other small devices, but it is easy to charge with a micro USB cable plugged into the base. It even has an animation that displays when it is charging, plus it has pass-through so it can still be used while being charged.
There are a few drawbacks, the tank itself makes it difficult to see just how much liquid is left and you do get a build-up of condensation inside the pod casing which can you make you think the Amulet is leaking. Which it doesn't.
As for liquid consumption, particularly with the Salt liquids, the Amulet doesn't use much at all. 2ml easily lasted a full day.
I went from being entirely sceptical about the Amulet to being thoroughly impressed by it very quickly. It's still a little gimmicky, but for what it is – a draw-activated pod mod – it really is rather good – even the wife wants one.
And yes you might have guessed it, we are selling the Amulet right here on this website. At the special price of just £31.95 too.