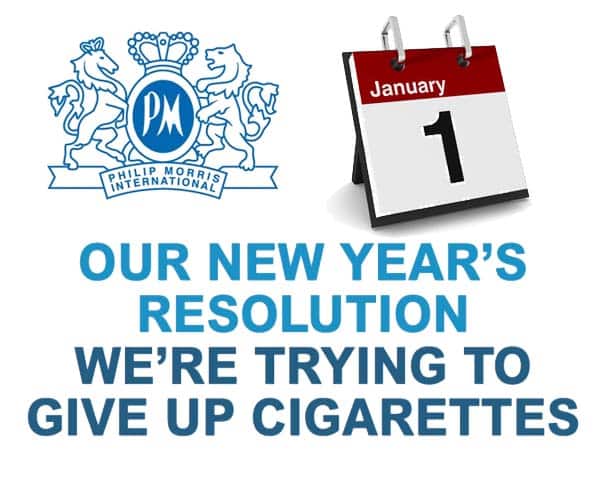 Reading Time:
5
minutes
In the last post we talked about New Year resolutions and how switching to heated tobacco might be one of yours. That turned out to be quite prophetic, because somebody else made a resolution that features HnB products, and they didn't exactly keep it quiet either. That somebody was Philip Morris, the world's largest and most successful tobacco company, and they announced their resolution with a series of full-page ads in major newspapers.
On the 2nd of January, a large PMI advert appeared in three of the UK's best-selling papers, The Times, The Sun and The Daily Mirror. To say it was attention-grabbing doesn't really do it justice. The banner headline read:
OUR NEW YEAR'S RESOLUTION
WE'RE TRYING TO GIVE UP CIGARETTES
Just to make sure everyone got the message there was a big, bold PMI logo at the bottom of the ad, which certainly must have piqued a lot of people's interest. After all, PMI are pretty much famous for one thing, and that thing is selling cigarettes. So why on Earth would they want to give them up?
If you read on, you'll find out. The next line says "Philip Morris is known for cigarettes. Every year, many smokers give them up. Now it's our turn." That doesn't leave a lot of room for doubt – PMI are saying, very clearly, that they want to stop selling cigarettes.
Predictably, this has sparked a lot of comments. Many people are very supportive – we at Heat not Burn UK are, for example. So are most libertarians, many vaping advocates and at least one major tobacco control group, the Foundation for a Smoke-Free World.
Equally predictably, not everyone is so happy. A whole alphabet of agencies, pressure groups and nanny state advocates are jumping up and down, squeaking in outrage. How very dare Philip Morris say they're going to stop selling cigarettes! Isn't it awful that they're allowed to say such horrible things?
Well, maybe not. Let's look at exactly what PMI are proposing, seeing as they helpfully listed it all in their adverts:
Launch a new website, with an associated marketing campaign, to give smokers information on how to quit and what safer alternatives are available.
Offer support to smoking cessation services in areas where smoking rates are highest.
Put a card with information on how to quit or switch to a safer product in packs of cigarettes.
Make more safe alternatives available to British smokers.
Of course PMI have already spent more than £2.5 billion on the last of these, and the first products are on sale in the UK right now – iQOS and the Mesh e-cigarette. Over the next year or two more will follow, including at least one more heated tobacco product and a completely different one that uses chemical reactions to create a nicotine mist.
So what's the problem? Why are people like Deborah Arnott, the perpetually outraged CEO of Action on Smoking and Health, so angry that PMI are willing to spend a lot of money helping smokers to quit? Well, that's where it gets complicated. There seem to be two main themes at work here, so let's look at those.
PMI don't mean it!
The first objection is that Philip Morris don't really mean it. After all, if they want to stop selling cigarettes they could just stop, couldn't they? In fact tobacco control come out with this argument every time a tobacco company does anything related to harm reduction or alternative products – "Why don't you just stop making cigarettes, then?"
Well, mostly because it's not that simple. Last Tuesday, when the PMI advert appeared, the BBC asked a company spokesman the same question, and it got an obvious answer: Basically, "Because if we stopped selling cigarettes tomorrow, smokers would just buy them from someone else."
I suppose you could argue that if all the tobacco companies stopped selling cigarettes there would be nobody else to buy them from, but let's be realistic here: There's a large, organised criminal industry making counterfeit cigarettes already, despite the tobacco companies selling over five trillion real ones every year.
Just imagine what would happen if the legitimate supply dried up. Does anyone seriously think all of the world's one billion smokers would just quit? Not a chance; most of them would start buying on the black market. The people who run that black market would become, overnight, the richest and most powerful criminals in the history of the world. Cocaine, heroin, even America's Prohibition-era bootleggers would pale into insignificance.
There's another point, too. Tobacco companies have a legal duty to their shareholders to make a profit, so if they all trashed their businesses tomorrow they'd go to jail. Meanwhile the pension funds who are the biggest owners of tobacco shares would collapse, leaving millions of pensioners in poverty. The economic damage alone could trigger another global recession.
So, for a couple of reasons, PMI can't just stop making cigarettes. It's only going to work once the majority of smokers have either quit or switched to reduced risk products, like Heat not Burn or e-cigarettes. Philip Morris have already spent a lot of time and money encouraging that, and now they're offering to spend more.
It's against the rules!
Arnott also claims that PMI's second proposal – offering support to stop smoking services – is illegal. The basis for this claim is that under Article 5.3 of the WHO's tobacco control treaty, governments aren't allowed to accept donations from the tobacco industry. This obviously looks like a problem, except for one tiny detail: Somebody is lying here, and it isn't PMI.
Article 5.3 says no such thing, and Deborah Arnott knows that. All the article actually says is that any interaction between government and the tobacco industry must be transparent, so as long as PMI are supporting stop-smoking services openly there's no problem. I've met Arnott more than once and it would be safe to say she is not my favourite person (I'm not hers, either), but it's still unpleasant to have to state that she is being completely dishonest here.
Arnott says that, instead of donating to stop smoking services, tobacco companies should be forced to give the government more of their profits. It's not hard to guess why: ASH has lost a significant amount of its government funding in the last year, and its response has been to push for a Tobacco Levy. This would be an extra tax on the industry, with a big chunk of the proceeds going to – you guessed it! – ASH.
Back to reality
The truth is, it's not hard to understand why PMI are serious about moving to safer products. Why wouldn't they be? There's obviously a demand for safer ways to use nicotine – just look at the way vaping has taken off in the UK, and how fast iQOS is growing in Japan. If PMI don't sell those products they'll lose out to companies that do, and if they are selling them, why not work to steer customers towards them and away from the more dangerous ones?
What it comes down to is that smoking isn't good for you, and everyone knows that. The tobacco companies know it, although they denied it once – but that was decades ago and the people who did it are all long gone. Arnott knows it; after all, she's made a lot of money telling people. You know it, too; that's why you're on this site reading about safer products.
Heated tobacco, and other reduced-risk products like e-cigarettes, have turned the world of tobacco control upside down. Now we have Philip Morris offering to spend their own money to help people quit smoking, while the old guard like Deborah Arnott shout abuse from the sidelines because it's not all about them anymore. At Heat not Burn UK we're just interested in safer alternatives to smoking, and we're on the side of anyone that makes them available. So well done on your New Year's resolution, PMI – we're sure you'll do all you can to make it happen.