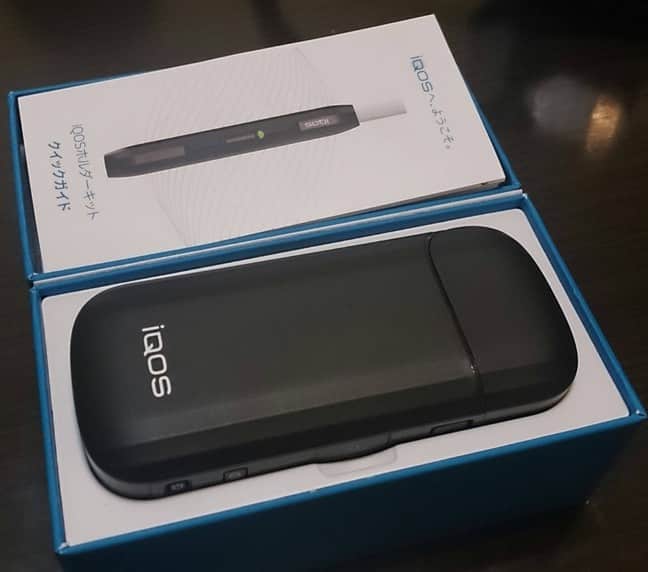 Heat not Burn products haven't gone mainstream yet, but that moment is steadily approaching. Several products are now going through market trials and the most promising of these is Philip Morris's iQOS system. We've looked at this before, but because it's only on sale in a few countries it's been surprisingly difficult to get hold of one to actually try it out. However Heat not Burn UK don't give up easily, and at last month's Global Forum on Nicotine in Warsaw the elusive iQOS was finally run to ground and given a thorough trial.
The iQOS is the latest incarnation of PMI's "HeatStick" concept. The basic idea is that a special short cigarette is inserted into one end of a small electronic device. The device heats the tobacco enough to release vapour – it runs at about 350°C – and you then inhale it by simply taking a puff. Previous versions didn't do very well in testing but the iQOS has been given a big boost by modern batteries and USB charging systems; the technology has finally caught up with PMI's ambitions for the concept.
It's very clear that PMI have put a lot of thought into the design of the iQOS. The device itself is a very sleek piece of gear; smaller and lighter than an eGo-style e-cig, and pleasantly free of things that need to be adjusted, fiddled with and pressed. The vaping industry is working hard to open a gap between itself and tobacco; you could never mistake a modern e-cig for a traditional cigarette, and the user experience is very different too. That's definitely not the case with the iQOS. This product is aimed squarely at smokers, and it seems that the number one priority was to keep it as close as possible to using an actual cigarette. There's just one button to turn it on, and an LED to let you know when it's warmed up. It also feels like a very high quality unit. The body is solid, and has a soft, comfortable rubberised finish.
HeatSticks – like a cigarette, but different
The real heart of the iQOS is the HeatSticks it's fed with. These look like short cigarettes, complete with filter, and come in packs of 20. If you're used to buying a pack of cigs every day you won't notice much difference with HeatSticks, apart from them being a bit cheaper. Handling one, it feels exactly like a cigarette – so much that you're tempted to just stick it in your mouth and light it. Don't do this; it's kind of missing the point, and they won't burn properly anyway.
Instead, what you do is insert the HeatStick into the hole at one end of the iQOS. This looks like it could be quite fiddly, but it turned out to be simple. Once in it's held snugly in place, so you don't have to worry about it falling out into your lap either. Then you just turn the device on and wait for it to heat up to operating temperature. This takes under a minute and you don't have to guess when it's ready. As soon as you press the button to turn it on a green LED starts blinking; when the device is ready to go it stops flashing and glows steadily. After that, all you have to do is puff away.
Does it work?
So the big question is, what's it like to use? Can the iQOS really replace traditional cigarettes? That boils down to whether the vapour it produces has enough flavour, throat hit and nicotine, as well as the quantity of the vapour itself. The answer, you'll be glad to hear, is yes – it works.
It does need to be said that the test conditions weren't perfect. So far there are four HeatStick options available. You can choose from either traditional tobacco or menthol, and they both come in either strong or mild. I never liked menthol cigarettes and preferred lethal, high-tar blends like West or Marlboro Red, so of course the only HeatSticks available to try were mild menthols. Obviously the experience of vaping the iQOS didn't match up to the lung-blackening pollution belched out by my old favourites, but then with these sticks it was never going to. What I can say is that I smoked mild menthol cigarettes more than a few times when there was nothing else available, and the iQOS did match that experience very well indeed. Swap the minty milds for strong regular tobacco sticks and I think you'd get a suitably satisfying inhale from it. The vapour is rich and warm, but doesn't leave a lingering tobacco smell.
Each HeatStick is good for about a dozen puffs or slightly more, so it's roughly equivalent to a normal cigarette. You could probably take a few puffs and power the device down, then finish it later, but I'm not sure what effect that would have on the flavour. I found that, unlike an e-cig, it worked fine when used just like cigarettes; load a stick, fire it up and vape the whole thing.
What also deserves a mention is how familiar the experience is. Yes, you need to load the stick and wait for it to warm up, and the device is larger and heavier than a traditional cigarette. It's not that much larger and heavier though – compared to any of my current e-cigs it's a real featherweight. You can hold it just like a cigarette with no problems at all. The filter is also exactly the same as you're used to, so there's no need to adjust to a metal or hard plastic drip tip; that took me a while to get used to when I started vaping and it's an issue with some HnB products, like the otherwise very popular Pax 2.
iQOS has another advantage over the Pax 2 as well. There's no need to scrape cooked tobacco out of it when you reload; just pull the used HeatStick out and drop it in the ashtray. There's no ash or mess; everything stays self-contained.
Everything about the iQOS feels well put together. The device itself comes in a neat little charging case, so you can keep its internal battery topped up while you're on the go. The case itself can be recharged with the usual micro USB cable.
So what's the verdict? I have to say I was very impressed with this. It's the closest thing I've ever found to the experience of actually smoking, so if you've tried e-cigarettes and found they didn't really work for you this could be just what you've been waiting for. It's simple, efficient and pretty much fool proof. Right now the iQOS is only available in Japan, Switzerland and Italy, but when it rolls out globally it deserves to win a lot of converts.
If you are wondering exactly what is in one of the HEET sticks then we have a fantastic breakdown of it in another blog post here on this website.
Want to make the change today from years of smoking combustible cigarettes? Then click the banner below to be taken to our UK based online store where we are now selling the new iQOS starter kit complete with FIVE packets of HEETS for just £89.