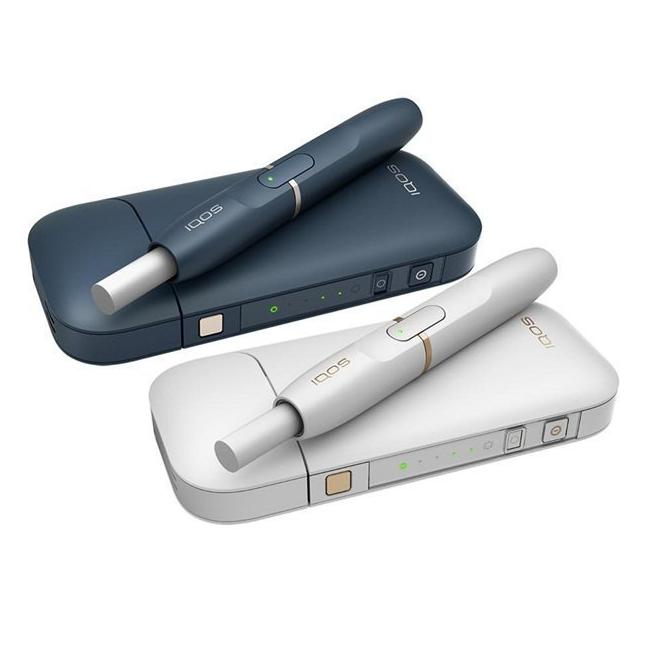 Over the last two years Heat not Burn products have gone from being an experiment on sale in a few selected test markets to an increasingly mainstream product. Several devices are on sale or in consumer testing, and public awareness of the technology is growing fast. There are quite a few exciting systems out there now, but the global leader has to be Philip Morris's iQOS.

iQOS is the latest incarnation of PMI's heated tobacco stick concept. The basic idea is that a short, cigarette-like tube containing a filter and processed tobacco is inserted into the end of a small electronic device. The device heats the tobacco to around 350°C, hot enough to release a vapour but not to cause combustion.
Early versions of the technology didn't do very well in testing, but modern batteries and charging systems have made a huge difference. The technology has caught up with PMI's ambitions for the concept, and the new version is proving to be a big success. Japan was an early test market, and iQOS has already built up a 13% share of the country's tobacco sales. Even better, almost all users were already smokers and over 70% of them have completely switched to iQOS.
Heat not Burn UK first managed to test an iQOS at the Global Forum on Nicotine in June 2016. That was only a short trial of a few sticks – not the best sticks, either – but it was enough to prove to us that this was a device with a lot of potential. Since then we've had a lot more experience of iQOS, including a visit to PMI's research centre in Neuchatel to see how the tobacco-filled Heets are made. In fact this site is now offering some great deals on iQOS and Heets.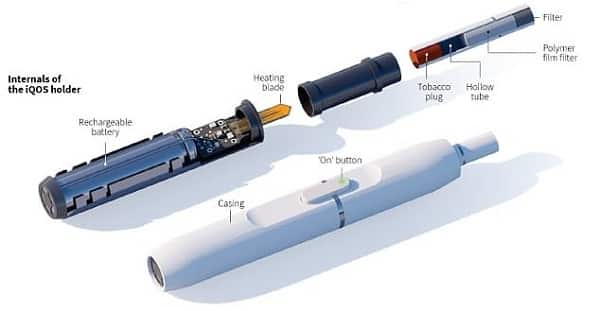 Introducing iQOS
iQOS itself is a very compact and sleek device. It's much smaller than a modern e-cigarette, roughly the size of the battery from a vape pen. It's also simple; there's just an LED and a button. A hole at one end lets you insert a Heet. This isn't built for hobbyist vapers, who love being able to fiddle and customise; it's aimed at smokers who want something that's as close as possible to being as simple as a cigarette.
The device feels solid and well made, and the body is covered in a soft, comfortable rubberised finish. It also comes with a personal charging case; after each session the iQOS slips neatly into the case, and the case's battery tops up the charge in the device. That's an essential feature, as we'll see.
Heets – the cigarette replacement
The iQOS, for all its neat efficiency, is just a sophisticated heater. What really makes the system work is the Heets you feed iQOS with. These look like short cigarettes (although they're very different inside) and come in packs of 20, so buying them is a familiar experience for any smoker. In fact so is handling them; apart from the length they look and feel exactly like cigarettes – so much that, five years after quitting smoking, almost every time I take a Heet out of the pack I instinctively stick it in my mouth.
Don't do that. Instead, insert it into the hole at the top of the iQOS. It looks like this might be fiddly, but in fact the hole is shaped to make Heets easy to insert. There's a bit of resistance for the last half inch, because a blade at the bottom of the hole will be slicing into the plug of tobacco. This blade heats up to create the vapour.
Once the Heet is in place, just press the button to turn it on. As soon as the LED starts blinking green, the heater is active. In less than a minute it will stop blinking and glow steadily. At that point all you have to do is start puffing. After ten or twelve puffs the LED will blink again, and the device will automatically turn itself off.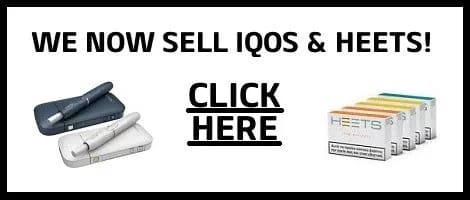 Does it work?
The big question, of course, is what it's like to use. Can it really replicate the feel of smoking an actual cigarette? This is obviously going to depend on how much flavour, throat hit and nicotine the vapour provides, as well as how much vapour there actually is. The good news here is that iQOS can indeed replicate a cigarette pretty well; it's certainly close enough to be a satisfying substitute.
I did have a few doubts after my first trial in Poland. I used to smoke Marlboro Red, and then when they became too weak and bland for me I switched to West Red, a terrifyingly harsh German brand. I was never a fan of light or menthol cigarettes, so of course the only Heets available for my first iQOS experience were mild menthols. That meant I found it less than satisfying, but I gave the device itself the benefit of the doubt and blamed it on the sticks.
It turns out I was right to do that, because when I next tried iQOS there were Amber Heets available; they're a much stronger, plain tobacco flavour that's quite close to a Marlboro. At that point I was totally convinced; this device works. The vapour it produces is rich and warm, there's enough of it to satisfy a smoker (although it doesn't compare to a modern high-powered e-cigarette) and it doesn't leave much of a lingering tobacco smell either.
The best thing of all is how closely using an iQOS mimics smoking. Once you have a Heet in and warmed up, all you have to do is pick it up and puff. There's no fire button to worry about, and no tank to refill. It also feels right. Of course, it's larger and heavier than a cigarette – but it's close enough that you can hold it like one. The filter on a Heet also feels exactly like a cigarette filter; in fact replicating the feel is really the only reason it's there. You don't need to get used to the feel of a hard metal or plastic mouthpiece.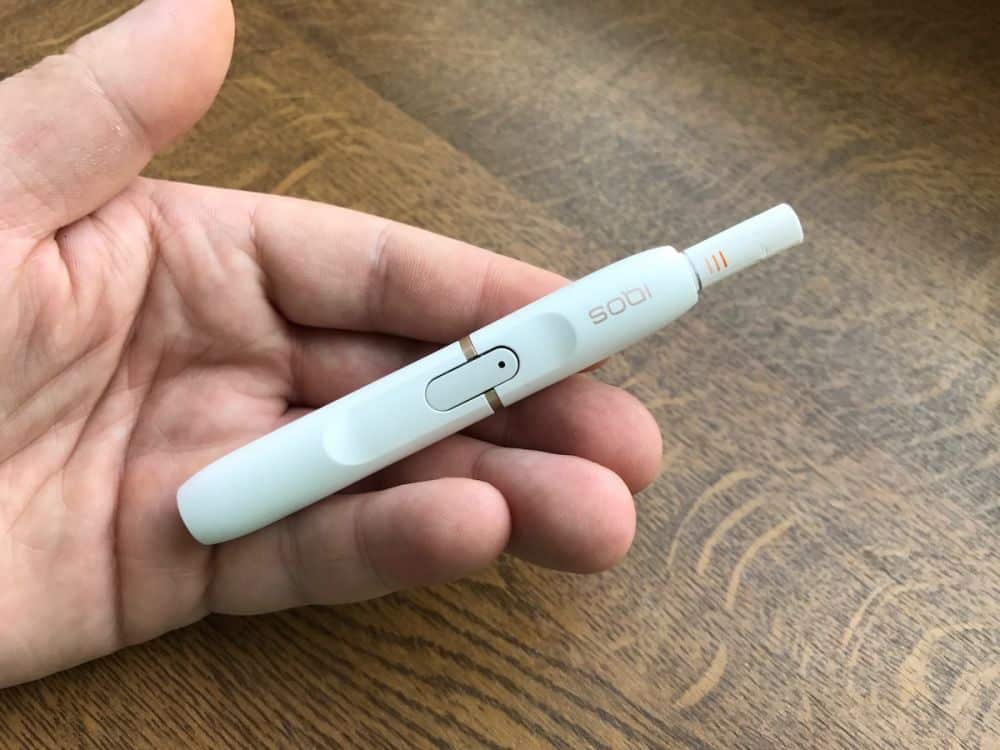 The verdict
Overall, iQOS is a very impressive device. A lot of time and resources have gone into developing it, to get it as close to the smoking experience as possible. Its battery life is short, but the charging case gets round that easily. Using it is simple, efficient and satisfying. If you need any proof of that, just look at how many converts it's picking up. iQOS is now on sale in over twenty countries, and there are already millions of happy users all over the world. If you want to quit smoking, but e-cigs don't do it for you, this clever heated tobacco product is the way ahead.
Want to make the change today from years of smoking combustible cigarettes? Then click the banner below to be taken to our UK based online store where we are now selling the new iQOS starter kit complete with 60 HEETS for just £79!

This review, originally written in July 2016, has been revised and updated because we have a lot more experience of iQOS now.
Also heat not burn technology is always innovating, and so are we. This unit has now been superseded by the new iQOS 2.4 Plus, and we have an excellent review of the new unit right here. We are no longer selling this 2.4 unit but we are selling the new 2.4 Plus.